We're always looking for something to bring more excitement to baseball for our boys. They all really enjoy playing the game but we want to find something that makes things a little more interesting for them.
That's why we thought we'd give Plate Crate a try, especially since it touts itself as the "#1 Baseball Subscription Box."
Does Plate Crate live up to the hype? We'll tell you all about our experience in our Plate Crate review.
Bottom Line Up Front
If you're looking for a way to make sports more interesting for your children, a subscription box might be the way to go. Plate Crate offers a baseball subscription box that comes monthly with various baseball-related items.
What is Plate Crate?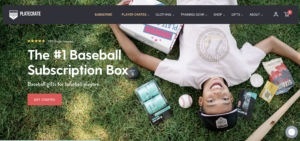 Plate Crate is a subscription box that contains baseball-related items for kids. You'll get goodies for your family delivered right to your doorstep. The company was started by professional baseball player Josh Band, who realized there was no baseball subscription box out there that met the needs of kids.
Every box comes with 6-8 baseball and software items which include gear like baseball hats, shirts, snacks, and other goodies. Plate Crate also sends other items like wrist tape, bat tape, sunglasses, and training tools. Subscribers get a different box every month, so they're never getting an item they already own.
Ordering Process
Plate Crate makes the ordering process straightforward, so you don't have to deal with making a lot of choices. When you start, you'll choose the shirt size you want, the position you want the box catered to, and the age of your child.
Once you enter that information, you'll select how often you want to receive your box. Plate Crate offers monthly, bi-monthly, or quarterly. After you've selected how often you want to get your box, you can choose your plan.
As with most subscription boxes, the longer you agree to get boxes, the cheaper your monthly payment. For one month, you'll pay $55/month, three months is $49/month, six months is $45/month, and twelve months is $43/month.
Next, you'll choose your first crate. Plate Crate offers a box based on the current month's theme, a Walk Off Crate, or a Grand Stand Crate. It would be nice if Plate Crate gave a description of what each of these boxes was so you could make a more informed decision at this point.
When you've made your choice, head to the checkout, fill in your payment information, and wait for your box to arrive.
Additional Crates
Plate Crate also offers crates specifically curated for each position. These include:
Fielding Crate
Fielding Crate Pro
Catcher's Crate
Catcher's Crate Pro
Hitter's Crate
Hitter's Crate Pro
Pitcher's Crate
Pitcher's Crate Pro
Softball Crate
5 Tool 8U
5 Tool 9-12
5 Tool Crate
5 Tool Pro
5 Tool MVP
Any of these crates can be added to your order anytime you want them. Of course, they come at an additional cost.
Delivery
One of the things I like most about Plate Crate is how quickly your box arrives. I expected to wait a week for my subscription to arrive, but it showed up on our door step just a few days after I completed the order.
Plate Crate also keeps you in the loop about when your order has shipped, so you know exactly where it is in the delivery process.
Items
We received several items in our Plate Crate subscription box. Here's a quick rundown of what we were sent.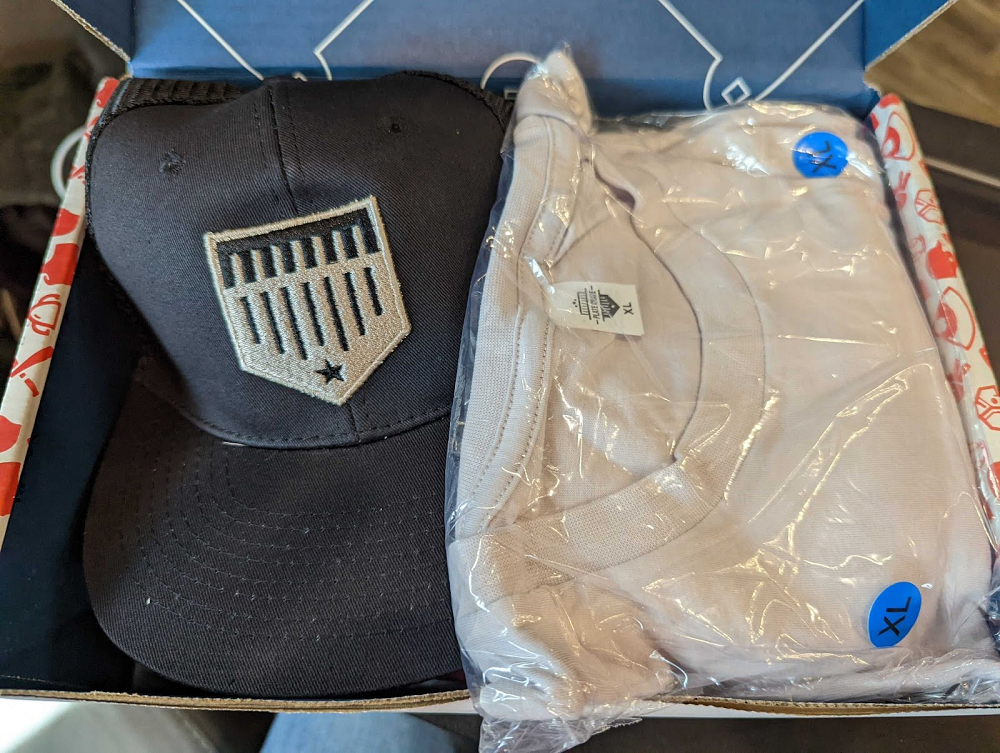 Hat
The first item in our box was a black Plate Crate hat. It's adjustable, which means any of my boys can wear it, but our middle son was the one who latched on to it.
It's a simple hat with the Plate Crate logo, so nothing too fancy. It would be nice if the back was mesh so it could breathe when it's hot outside, but overall it's a decent hat, and the boys have already broken it in.
T-shirt
Also included in the box was a Plate Crate t-shirt. Our oldest son grabbed it and put it on. You choose the size of shirt you want when you're ordering your crate. Again, it's just a plain tan t-shirt with the Plate Crate logo on it.
Stadium Seeds (Char-grilled hot dog)
We went outside to use some of the items that came in our plate crate, and while we were doing so we decided to test out the Stadium seeds. The flavor was char-grilled hot dog, which I wasn't too keen on, but they weren't too bad. The boys loved it, though, and before I knew it the bag was empty.
Gravity Ball
The shape of the gravity ball gives it a lot of movement when you throw it. It's the blue ball in the picture below. Our kids liked trying out different grips and throwing it different ways to see how the ball moved.
We played catch with it for a while, but eventually, the boys became bored with it and tossed it aside.
Unfortunately, it's only a matter of time before they start hitting it, which will probably lead to it getting cracked or broken.
Bat Grip Tape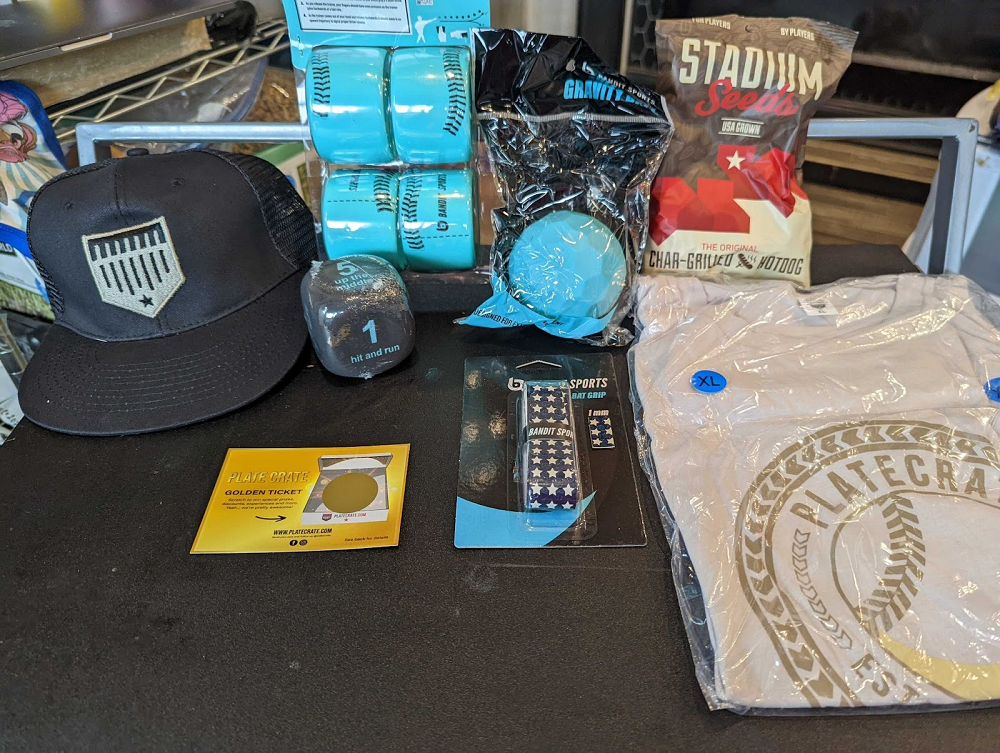 We'll wait to use this until we get closer to the start of the season, but it's always nice to have additional tape to wrap on the bat handle. It will stick to any metal or wood bat, so you don't have to worry about the bat type before you us it. Now I just have to figure out how to keep my kids from using it for something else.
Throw Trainer
These are small cylindrical, hollow items that help train kids how to properly throw. There are two dotted lines on one side of the trainer, which tell you where to place your fingers as you throw.
If you throw it correctly, you should see a little rise in the trainer as the air gets under it and pushes it up. While I'm sure other ballplayers find value in them, my children quickly become bored and stopped using them. Four come in a package, though, which means my children don't have to share, which is nice.
Black Cube
I have no idea what this is for. It has numbers and says things like "Up the middle" and "Hit and run." Either there were no instructions in the box, or I don't understand baseball as much as I think I do. I looked on the site but couldn't find it anywhere. Another item the kids quickly lost interest in.
Golden Ticket
Your Plate Crate box also comes with a golden ticket. Scratch it off to receive discounts on orders, apparel, free months, and other Plate Crate rewards.
Alternatives
There aren't very many baseball subscription boxes on the market, but here are a few you might consider if Plate Crate isn't what you're looking for.
Inside the Batters Box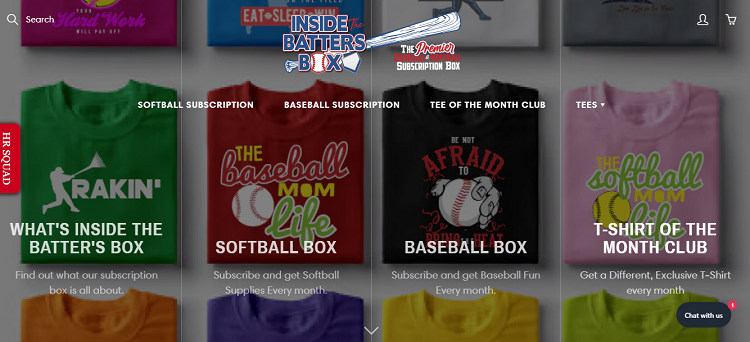 A great subscription box for anyone who loves baseball. Inside the Batter's Box comes a variety of baseball-related items, including gum, seeds, training tools, apparel, cards, and much more. You can sign up for one, three, six, or twelve months, and subscriptions start at $39 a month.
The Baseball Box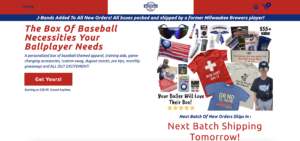 With The Baseball Box, you'll get a personalized box full of apparel and other baseball-related items. Boxes also include snacks, customer swag, accessories, training tools, and more. You can choose between one-month, three-month, six-month, or year-long subscription packages that start at $38.99 a month.
Batter Up!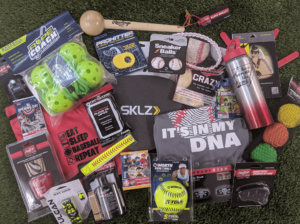 The nice thing about the Batter Up! box is that you can choose a box based on the level of the ballplayer. Boxes come in Tee Ball, Coach Pitch, Kid Pitch, Sr. League, Softball Fun, and Softball options. Subscription plans start at $31.99, shipping in the United States is free, and you can cancel anytime you want.
FAQs – Plate Crate Review
Here are some commonly asked questions about Plate Crate:
Question: Is Plate Crate Worth it?
Answer: If you can afford the monthly subscription charge, Plate Crate is a solid option if you have children who love to play baseball.
The box comes with a variety of options that your kids are sure to love. While all items may not be a hit, your little ones will forward to opening each box and discovering the baseball-related items within.
Question: Does Plate Crate Ship Internationally?
Answer: At this time, Plate Crate only ships to orders located within the United States. If you live internationally, you will not be able to receive a box from Plate Crate.
Question: How Long Will it take for Plate Crate to Arrive?
Answer: If you place your order on the last day of the month or on the 15th of the month, your order will typically ship in 1-3 business days. Your order will be billed on the 15th of each month.
If you're placing a new order, your box will ship out within 24 and 72 hours of the order being placed, so long as the order is submitted on a weekday.
Should You Give Plate Crate a Try?
Personally, I felt the $55 price tag wasn't worth the items we received from Plate Crate. The kids really enjoyed the hat, shirt, and sunflower seeds, but everything else in the box was used once or twice before it was discarded for something else. We will use the bat grip tape before the season starts, but that's something I can pick up at any sports store.
Overall, the experience was underwhelming. The order process was easy, and the delivery was fast, but the items in the box don't add much value to us. If you're into baseball, I would say it's worth it to give one box a try. For us, Plate Crate wasn't quite the homerun we were looking for.
Updated on