Wilson A2K and A2000 baseball gloves are among the most popular baseball gloves in the MLB and all around the world. Whether you are a professional or an amateur baseball player, these Wilson gloves are some of the best gloves used in baseball.
Choosing a new glove can be a bit overwhelming. That's why we've done a series of research for some weeks, and we have now reviewed both Wilson A2K and A2000. This article will give you our recommendations based on our experience with these baseball gloves.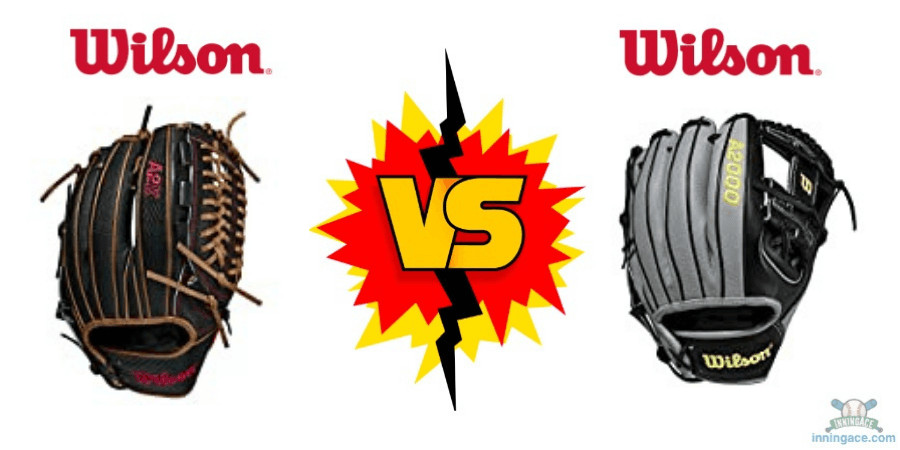 BEST RATED
A2K Gloves
A2K gloves are used by different professionals, including Tony Kemp, Mookie Betts, Dustin Pedroia, Jose Altuve, and Brandon Phillips. The A2K model is considered the brand's top-of-the-line model.
Below are some of its features:
A Wilson A2K glove is a lightweight glove made with a durable Superskin. The glove is built to last for a long time, thanks to its durability. It is designed with a double Superskin, stronger than traditional pro stock leather, and reduced in weight by half.
A2Ks are made from the most premium base glove material across the globe. They are designed with flawless top 5% Pro Stock Select Leather, the high-quality and most consistent hides. The double palm construction means it has a more stable pocket, ensuring that the glove can hold its shape for a longer time than other types of gloves.
Wilson A2K has three times more shaping than Wilson A2000 gloves. This property reduces its break-in time. The glove technicians used their hands to pound and shape the glove to give it three times better shape, reducing the break-in time.
They are also characterized by rolled dual welting that also supports the quick break-in and long-lasting shape.
Some A2Ks are also accustomed to flat-finger binding for players who put one finger outside the glove. This property helps the players to have greater control and comfort in the field.
They are designed to fit both high school and adult-sized hands.
Wilson A2Ks are characterized with Dri-lex wrist lining that offers an ultra-breathable moisture-wicking material.
They are available for both left and right-throwing fielders.
Generally, A2Ks are ideal for quick performance, comfort, and added durability.
A2000 Gloves
BEST RATED
Wilson has started their baseball glove series for a long time. Wilson first introduced the Wilson A2000 baseball glove in 1957. It changed the trajectory of the baseball game ever since then.
Currently, the Wilson A2000 glove is used by many MLB players, including Carlos Correa, Clayton Kershaw, Robinson Cano, Starlin Castro, and several others. It is more adopted by Major Baseball League players than the A2Ks. We will discuss the reason later in the article.
Let's check below for some of the features of A2000:
It is made of Super skin and pro stock leather that ensures that it is durable. The leather functions for an unmatched feel and rugged durability.
It is designed slightly with a rolled dual welting integrated into the liner of each of the pitcher, outfield, and infield models. It is beyond the cosmetic effect. The welting offers better support in holding the glove in better shape for a long time.
A2000 gloves are made with flat finger binding to give players who put a finger outside the glove more control and comfort in the field. It reduces the space between the back of the glove and the finger to ensure the player does not experience much pain when making plays- a feature present for all Wilson glove models.
Difference Between Wilson A2K vs A2000
Now, we are at the stage that will interest you. Many have attempted to examine the differences (and similarities) of the Wilson A2K vs A2000, and today we will attempt to do the same.
This section will compare the two and determine the differences to know the one you should opt for. The major difference between the Wilson A2K vs A2000 is in their prices and designs.
Table Comparison Between Wilson A2K vs A2000
| | | |
| --- | --- | --- |
| | | |
| | Wilson A2K Baseball Glove | Wilson A2000 Baseball Glove |
| | | |
| | | |
| | | |
| | | |
| | | |
| | | |
| Availability for Different Players | | |
| | | |
| | | |
Palm and Heel
A2Ks are designed with a double palm construction, allowing the pocket to be more stable and durable. Thin leather is used underneath the palm to create a softer catch. However, the only disadvantage is that this property will take away the baseball feel from the glove. A2K glove also has more heel padding than A2000.
Leather Selection
A Wilson A2000 glove uses Pro Stock Leather while an A2K glove uses Pro Stock Select Leather. The latter is crafted three times than the former, i.e., A2K is crafted three times than the A2000. It makes A2K tighter, thicker, stronger with a softer hand feel attached to it. It means the leather used for A2000 gloves is not as strong or durable as A2Ks.
Shape
The Wilson A2Ks are designed three times more than the A2000 to ensure a shorter break-in time. A2K also has more individuality associated with it because it is customizable, i.e., a player can order different intricate changes on the baseball depending on what he wants.
Welting
The welting associated with A2000 is a bit rough. It makes the glove harder to "break in," giving it a rugged and tough feel. A2Ks, however, are developed with more rolled dual welting, allowing for an easier break-in.
Liner
The liner in A2K is softer and more comfortable than that of A2000 gloves. Though A2000 has a Dri-Lex wrist lining property that makes it comfortable, the A2K glove edges it with more softening materials.
Durability
A2K gloves are more durable than A2000 because of the leather materials used. Also, it is because of the craftsmanship of three times shaping more than that of A2000 gloves.
Craftsmanship
A2K is crafted by Wilson's technicians three times that of A2000. It gives A2Ks softer leather with lesser break time.
Read this post if you want to learn how to break your new gloves in like the professionals do.
Price
If you consider the price, A2000 gloves are less expensive as compared to A2K. A2000 gloves cost an average of $260. Its price difference to A2k is $100. A2Ks cost around $360. If you want to base your choice on their prices, you will easily opt for A2000.
Watch this video to get a clearer look at the two.
Which One Stands Out?
When you differentiate between two Wilson gloves, each of them will be peculiar for one thing. Perhaps each will have a property that serves as an advantage over the other. The same situation happens with both A2K and A2000 gloves. Even though Wilson both manufactures them, each has an advantage over the other.
A2K glove is Better for its Construction and Durability.
These properties are thanks to the high-end model having superior leather and how it has been crafted. The three times crafting gives it more durability and allows it to last longer than the A2000. Also, a peculiar property associated with the A2Ks is its soft property. It has more softening features that are better than the Wilson A2000 glove.
A2000 is Better for its Price
It is less expensive when compared to A2K. It wouldn't be bad to save over $100, you know? Wilson A2000 is also excellent for its quantity and popularity. Although its quality is not as excellent as that of the A2K glove, it is still an excellent option. A lot of MLB players widely use it.
BEST RATED
FAQs
Check below for some of the frequently asked questions;
How long will a Wilson A2000 last? 
Although Wilson A2000 is not as durable as A2K, it is still considerably durable and will last for several years, depending on how frequently it is used. Martin Prado used his Wilson A2000 for more than eight years. 
Where are Wilson A2K gloves made? 
Wilson A2Ks are made in Japan. It is also the same place the gloves of the professionals are made. A2000 gloves, on the other hand, are manufactured in Vietnam.
Final Words
Irrespective of the glove you want to choose between the two, they are both high-quality products manufactured by Wilson. They have several similarities. If it comes down to deciding which is better, Wilson A2Ks seem to have more quality and durability, which is the main difference.
However, many players opt for A2000 because it offers close to the leather quality offered by A2K. Some MLB players, such as Jose Altuve, use A2K.
Furthermore, Pros get their A2000 gloves broken in by Wilson's glove technicians if they want to. It makes the shaping from the factory less relevant. Both of them are durable, though A2K is more durable. However, Pros usually get many gloves at once, and durability might not be a factor they will consider. They can change their gloves at intervals. There are not many differences between the two.
Many non-Pros also prefer the A2000 gloves because it is the less expensive of the two when you consider the price, and they have many choices to select from, unlike A2Ks. Also, A2000 gloves are more popular among non-Pros; almost all of them opt for A2000, and you will most likely not need to opt for another.
Updated on