The best way to improve your skills is no secret – practice. Sometimes this is easier said than done, and with busy lifestyles, it can be hard to fit in time to practice with a partner or child. Investing in a good quality baseball rebounder will help sharpen pitching, throwing, and fielding skills, and athletes can practice alone without the support of a parent or friend.
Lets dive in and see the top pitchbacks available for the 2023 season!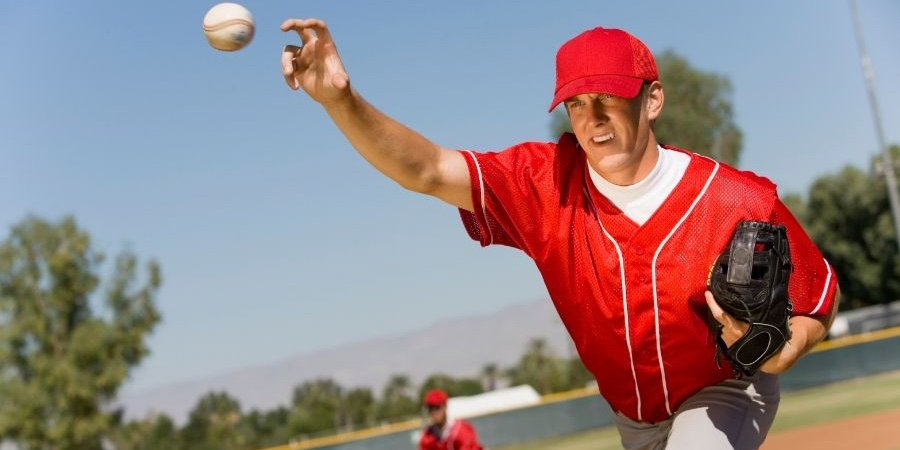 Summary: Our Top 12 Picks for Baseball Pitchbacks
Best Baseball Rebounders in 2023
Finding the best rebounder can be tough as there are many options available. It's worth noting some of the key components which affect the longevity, efficiency, and quality of rebounders before making a purchase. Read on to compare the top products for 2020, as well as a guide on how to choose the right rebounder for you.
SKLZ PitchBack Baseball and Softball Pitching Net and Rebounder
With the added advantage of being able to return the ball back at various angles, the SKLZ is a great choice for throwing, pitching and fielding practice. The metal frames also provide extra support to the frame, making it well constructed and able to take balls at high velocity.
Franklin Sports Pitch Back Baseball Rebounder
The Franklin Sports pitch back is available in different sizes, so you can select one with the right fit. A great feature of this product is the adjustability, so different angles can be practiced and accuracy can be improved. With a 30-ply all weather PE net, the net is great at sending the ball back and is aimed at improving catching and throwing skills.
Rukket 4x7ft Rebounder Pitchback Training Screen
The Rukket 4x7ft Pitchback is a well rated bounce back net for baseball. Its versatility means players can practice catching, throwing and shooting, and the large surface area is great for returning any type of ball throw.
The life-long guarantee that Rukket offers also makes it an attractive competitor, as you can be confident that any faults will get replaced by the manufacturer.
Flair Sports Pitch Back Rebound Net
The Flair Sports Pitch Back for baseball is has a durable, long lasting net that delivers the ball back with ease. Multiple angles can be used with this baseball rebound net, and it is quick and simple to adjust. Many customers also praise the quick responses and help they get provided by the manufacturer when installing the net.
Franklin Sports MLB 2-in-1 Switch-Hitter Flyback Return Trainer
The Franklin Sports MLB 2-in-1 baseball pitchback uses a 30-ply PE all weather net and boasts the ability to be switched around, making it suitable for both left and right handed batters. The adjustable legs also mean that various angles such as pop ups and fielding grounders can be practiced.
Aceletiqs Rebounder 5×7 Feet Practice Net Screen
The Aceletiqs baseball net rebounder boasts rubber feet which make it suitable for indoor use as well as outdoor. In addition, players can get almost 35 square feet of ball bounce-back without any dead zones. The product can be folded away for storage and comes with a spare bungee for custom configurations.
Rukket Pitch Back Baseball/Softball Rebounder
Made with a sturdy, thick metal frame, the Rukket net offers a lifetime guarantee, in addition to a paracord pull handle to easily switch between the four pitching angles. In addition, the thick metal poles used for the frame guarantees it doesn't lose its stability.
SKLZ Baseball and Softball Rebounder Net for Pitching and Fielding Training
The SKLZ Rebounder Net for Pitching and Fielding is great for those who want to switch quickly between positions and angles, as the construction is sturdy and stable. It can be assembled easily following the guide and can be compacted to store away easily.
Rukket Pitch Back Baseball/Softball Rebounder PRO
The Rukket Pitch Pro is a direct upgrade from the original Rukket rebounder. This newer version of baseball throwing net has been improved by adding angled top and bottom edges which helps to improve pitching. The lifetime warranty ensures that any faulty parts will get replaced by the manufacturer.
Franklin Sports MLB 60″ Elite Touch Pitch Return
The Franklin Sports MLB 60″ allows players to 'lift and lock' the net into five different positions quickly and with ease. Using an all-weather net and constructed with steel frames, this baseball rebounder net is built for durability and withstand outdoor conditions. Additionally, it offers simple installation and dismantling.
EASTON PLAYBACK ELITE Practice Net
The Easton Playback Elite offers quick installation and adjustable hinges which allows players to practice different drill positions and pitches. The solid base ensures stability even for high velocity throws, and there are additional spikes to hold down the front part of the structure.
Louisville Slugger Quad Pro Rebounder Net
The Louisville Slugger Pro offers an 18-gauge steel tubing to increase durability, in addition to quick installation with no tools required. Due to the solid nature of the construction, no stakes are required to keep the frame in place even when faced with hard hitting pitches.
Check Out How to Use a Rebounder Net:
Things to Consider Before Buying a Baseball Pitchback
With the many variations of nets available to be purchased, it can be overwhelming to know how to make the right choice. To make it easier to decide, follow the guide below which outlines the different aspects that should be focused on when shopping around.
Construction
Finding a pitchback made from good quality materials can save having to repurchase numerous times in the future. A cheaply constructed net could end up torn, with broken legs or a bent frame after a few months of practice.
Here are some things to look out for when checking the construction:
A popular choice is the 7×7 Rukket pitchback net due to its galvanized steel legs and frame, 16 gauge allied flo-coat, and enhance the durability of up to 4 years of use.
Multiple Angles
The ideal rebounder for baseball should allow the player to be able to practice multiple angles such as ground balls, short hops, pop flies, and line drives without any obstruction or interference.
Look into purchasing a baseball pitch net which is sturdy and has a solid frame so it doesn't lose its position when the weight of the ball hits the net and can be easily adjusted to suit the drill.
SKLZ Youth Pitchback Rebounder Net and the 7×7 Rukket Pitchback Net are both good examples of baseball rebounders that are suitable for practicing different angles.
Assembly
With advances in technology, assembling a net should be straightforward and easy. A modern made net should be quick to install and dismantle, creating extra time to spent practicing.
One aspect of the assembly is how compact the net is when it has been dismantled, as many people like to store their pitcher net away after they have finished using it.
Accessories
Accessories can be anything from a hitting tee, strike zone, or weighted baseballs. Depending on what you want to gain out of the net, it's worth checking to see which manufacturer include accessories with the base product.
Some manufacturers will include extension and replacements nets, which will increase the longevity of the investment and save you having to purchase more separately.
Budget
When it comes to a pitch back, it's worth paying slightly more for a good quality net. This can range close to $100, but the quality and longevity should make up for the investment and provide years of good use. Alternatively, there is some rebound net for baseball which costs $50-$60, however, they may not last as long due to poor quality and weak construction.
Stability
To gain the most out of a net, baseball athletes should ensure the rebounder has a solid frame that stays stable. Unstable baseball pitch backs can easily fall or alter the direction of the ball into a different angle.
Whilst it's easier to identify the stability when buying in person, checking the reviews of online products is a great way to determine if the baseball rebounder has good stability.
Amazing Video of a Pitch Back Juggler!
Conclusion
Choosing the right pitchbacks for baseball can be tricky with the number of options available, but following the guide above will help you narrow down the choice and find something which suits your needs. The right net will provide you and your children with hours of valuable practice and fun.
Updated on