Joining a baseball team is exciting and exhilarating, and will continue to be, as long as the athlete feels comfortable to play. As the sport requires a lot of standing and running, having comfortable cleats is essential to keeping youths interested and engaged in baseball. Uncomfortable feet at the end of each training session or game would be off putting even to the most enthusiastic player, so a little research into the best cleats goes a long way.
It's important to know the different types, sizes, and purposes to decide which is the best fit, as well as popular choices that don't cost exuberant prices.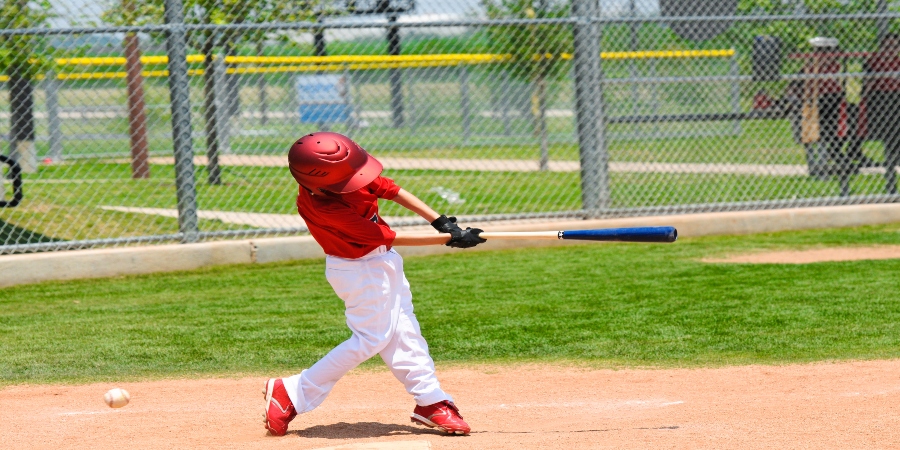 Summary: Our Baseball Cleats Top 10 Picks
| | | | |
| --- | --- | --- | --- |
| | Under Armour Kids' Leadoff Low Rm Jr. Baseball Shoe | Designed to allow air flow | |
| | New Balance Kids' 4040v5 Molded Baseball Shoe | Lightweight and comfortable | |
| | Under Armour Kids' Leadoff Mid Rm Jr. Baseball Shoe | | |
| | Adidas Kids' Afterburner 6 Grail Md Cleats Baseball Shoe | | |
| | Nike Kids' Hyperdiamond 2.5 Keystone Baseball Cleats | | |
| | Under Armour Kids' Harper 4 Mid Rm Jr. Limited Edition Baseball Shoe | | |
| | Under Armour Kids' Harper 3 Mid Jr. Rm Baseball Shoe | | |
| | Under Armour Kids' Boys' Leadoff Low RM Jr. Baseball Shoe, Medium Little Kid | With rotational traction technology | |
| | Nike Kids' Alpha Huarache Pro Mid Cleats | Great for protecting the ankles | |
| | Nike Kids' Force Trout 6 Keystone Cleats For Baseball | Full length foam cushioning | |
Best 10 Best Youth Baseball Cleats in 2023
Finding the right pair of cleats can make all the difference in how a player performs. Although it can be daunting to start the search with the many variations and brands available, there are some fundamental guidelines that make choosing the right pair easier. Below are 10 best youth baseball cleats, based on comfort and flexibility.
Under Armour Kids' Leadoff Low Rm Jr. Baseball Shoe
BEST BUY
These cleats are a popular choice, made from synthetic leather with a rubber sole. They have a mesh tongue which is great for keeping your feet from excessively sweating, and the EVA midsole is beneficial to providing an even weight distribution to maintain the foot's balance.
New Balance Kids' 4040v5 Molded Baseball Shoe
TOP PICK
These New Balance baseball kid's cleats have a range of quality shoes designed to provide comfort and durability. Made from the lightweight material, the cleats are porous allowing the feet to remain cool and dry. A great feature of this range is the extensive sizing available, and with half sizes available too, they're perfect for baseball cleats for toddlers.
In addition, New Balance baseball cleats for youth were designed similar to running shoes, so a good level of comfort is given. They're made from synthetic leather and have a metal sole, with an insert at the front so that the feet are protected at all times.
Under Armour Kids' Leadoff Mid Rm Jr. Baseball Shoe
BEST RATED
These youth baseball cleats for tball offer great support around the ankle, whilst containing plenty of padding on the collar and heel for maximum comfort. With rubber soles and synthetic leather, the UnderArmour youth baseball cleats are porous and even contain perforations in the toe box for added breathability.
In addition, these Under Armour boys cleats for baseball have a double overlay on the toe cap for extra protection from collisions or balls.
Adidas Kids' Afterburner 6 Grail Md Cleats Baseball Shoe
Designed with speed in mind, these youth baseball cleats for kids don't weigh the feet down but do have an abrasion-resistant layer to help with durability. Made with a synthetic sole, the shoes offer breathability, and wide laces contribute to the shoe supporting the foot.
Nike Kids' Hyperdiamond 2.5 Keystone Baseball Cleats
These Nike baseball youth cleats stand out with their unique designs. The 12 stud outsole provides powerful traction and is also suitable for any baseball surface. Synthetic leather is used for durability and to allow air flow, in addition to an EVA liner to absorb impact.
The Nike boys baseball cleats are good quality, focusing on comfort and performance.
Under Armour Kids' Harper 4 Mid Rm Jr. Limited Edition Baseball Shoe
These youth baseball cleats are a special limited edition, with the design based on the Bryce Harper collection. Using molded cleats made from rubber, these shoes offer great support and also evenly spread the weight of the foot to avoid injury and discomfort.
Under Armour Kids' Harper 3 Mid Jr. Rm Baseball Shoe
With a variety of color choices, the Under Armour Kids' Harper 3 makes for a popular choice. Children love the designs and the velcro strap makes a great addition for supporting the ankle. Despite having a mid height top, they are also extremely lightweight, keeping them great for running.
Made from synthetic leather, these shoes were designed with comfort in mind. The soles are rubber which is great for durability and offering traction on different surfaces.
Under Armour Kids' Boys' Leadoff Low RM Jr. Baseball Shoe, Medium Little Kid
Made for young children, these youth baseball cleats for boys are a popular choice and come in a range of colors and designs. The midsole uses cushioning to absorb shock and protect the feet, whilst patented leather allows for breathability. These boys' cleats have full accessibility for movement as the materials used are flexible.
Nike Kids' Alpha Huarache Pro Mid Cleats
Featuring foam cushioning and a durable upper part to allow for airflow, the youth baseball Nike cleats are slightly less known than the previous cleats covered. Although they are heavier than other shoes, for stronger children this shouldn't hinder their running speed.
The shoes are durable and also provide good support for the foot and ankle.
Nike Kids' Force Trout 6 Keystone Cleats For Baseball
Available in black or red, the Nike Kid's Force Trout 6 brings a different style to baseball cleats. Designed with a rubber sole and a 12-stud configuration, there's plenty of traction when running on all surface types.
The addition of a synthetic toe cap to resist abrasion is also a great feature, as well as a midfoot strap to hold the foot in place.
Understanding How a Baseball Cleat Should Fit
The best youth baseball cleats can come in a variety of styles, so it's a good idea to become familiar with the differences before beginning your search. In addition to knowing what the advantages are for each, understanding the correct way to fit a cleat is also key to finding the right pair.
Learn How to Buy Baseball Cleats Here:
Different Style of Cleats
There are three main styles of cleat, and each serves a very different purpose. In terms of fashion, the trend seems to change with each generation, but one thing that remains consistent is how the different heights of the cleat can affect the athletes performance.
High Top
Put simply, a high top has a raised area that reaches up the ankle. The extra material used to create the high top means they can often be heavier than other types of cleats, however for those with weak ankles or in need of full support around the foot and ankle, they are a great option.
Low Top
Low-tops have the opposite design to high-tops, with the profile of the shoe being lower. Although they don't offer the same support as high-tops, they are a preferred choice for those who wish to increase speed and agility. Their low profile means they don't weigh as much, allowing the athlete to run faster.
Mid Top
Mid-tops are the best option for those who are unsure of which style they prefer, as they offer a good balance of both. They aren't as heavy as high-tops but are better for the ankles than low-tops. They're a popular choice because they give stability to the athlete, and don't hamper their speed or agility too drastically.
Different Type of Cleats
It is important to know the different types of cleat available, as many leagues have specific regulations regarding which type they allow to be worn. Metal and molded cleats tend to be more popular, whilst the concept of the hybrid cleat offers an efficient medium between the two.
Check This Out:
Metal
During the '80s, metal cleats were actually banned in the high school play, due to the fact that they were considered too sharp. Many leagues also banned the use of wearing them as they easily caused injury when two players collided.
They have now been made slightly safer, although there are still some risks involved due to their hard nature. The benefit of having them is that they offer a lot of traction across the whole range of field surfaces, helping athletes during practice and play.
Molded
A much safer alternative to the first type of cleat, these shoes are made from molded rubber or plastic. Molded cleats tend to be more durable, and they don't pose much of a risk of injury.
In general, they are cheaper than metal cleats, however, molded cleats don't always grip hard ground as well as the former does. They are more suited for softer grounds and can be worn on indoor surfaces.
Hybrid
Hybrid cleats allow you to change the bottom of the shoes, choosing between metal or plastic. This allows the athlete to decide which material will serve them better, depending on the type of surface they are playing on. They aren't as popular or as common as the first two types of the cleat.
Why do Kids Need Quality Cleats?
For children, the design, colors, and brand are the main focus when choosing a pair of youth baseball cleats, but in reality, they serve a much more important purpose than looking good.
The best baseball cleats for youth are primarily designed to be a safety feature, protecting the foot and ankle. If young athletes wear the wrong type of youth baseball cleat, it can cause many problems, immediately and also later on in life.
Finally, the quality of the cleat can improve the performance of the young athlete, allowing them to excel in areas such as running and agility. Additionally, children are much happier and willing to learn and partake in practice if they're comfortable.
Things to Consider When Buying Youth Cleats
It's important to take into consideration a number of factors when it comes to finding the best youth baseball cleats. Comfort, support, and flexibility should be at the top of the priority list, and although the style isn't the most important feature, for young athletes it can lead to an increase in confidence if they're wearing a pair they chose themselves.
How to Pick Out Baseball Clits
Construction
When trying to choose the best youth baseball cleats, it's important to know what the benefits are from different types of constructions.
Generally, cleats for youth baseball are made from genuine or synthetic leather. Synthetic leather provides more support at the middle and front of the foot, as well as the ankle. In an attempt to increase breathability with synthetic leather, they usually include a mesh tongue that helps with airflow. They are generally cheaper and more commonly found than genuine leather.
Although they come at a price, a genuine leather cleat will be supple, durable, and more breathable. Leather also allows for a more flexible cleat.
When it comes to cleats, youth baseball players should try both materials to determine which they find more comfortable.
Ankle Support
Protecting the ankle is another important aspect of the baseball cleat; youth players may find them more comfortable. There are thee options available, low tops, mid tops, and high tops, with the last option offering the most ankle support.
The downside to this type of cleat is that they weigh more than their other two counterparts, and some children may not enjoy wearing them.
Players who are required to run often and are expected to be agile should opt for low-tops or mid-tops, as they are lighter and can increase the running speed.
Types Of Cleats
The best youth baseball cleats can be determined by a few external factors as well. Although the material and construction of the cleat are vital, taking into account the position of the player and how much can realistically be spent will also help when shopping around.
By Position
For catchers, pitchers and infielders, metal cleats tend to work better. They have better traction and can dig into the dirt, whilst not retaining any mud or grass. As they can dig in quite firmly, the player can maintain their balance and make rapid movements when needed.
For outfielders, metal shoes are also preferred, as they are mostly positioned on the grass and they can be confident that the studs won't get stuck in the dirt.
Budget
When it comes to choosing the best youth baseball cleats, the price can often play a major factor. Depending on the brand, it can become extremely expensive as young children grow so quickly, and most shoes won't last more than a season. Of course, many children dream of having the youth Jordan baseball cleats, or youth Mike trout cleats, but in reality, most parents can't afford to keep buying designer footwear.
Look into buying rubber molded cleats that are made from synthetic leather, as they may be cheaper than genuine leather shoes but still offer good levels of comfort and durability.
5 Things to Know About Baseball Cleats
Properly Size Your Cleat
Determining the right fit is essential, otherwise, all the other factors put into buying them become redundant if they cleat doesn't fit properly. Here are some guidelines to follow:
Cleat Regulations
The best course of action is to get in touch directly with the league to find out which type of cleat permitted. Many leagues, including softball leagues, have prohibited the use of metal cleats due to the risk of injury, however, some still allow the use of them.
FAQs
Which Cleats are Best for Baseball?
Finding the best youth cleats comes down to a number of factors, from the cleat construction to the price and position of the player. Affordable cleats tend to be made from synthetic leather and molded rubber rather than metal, and there are numerous brands that can be compared.
Are Metal or Rubber Cleats Better?
Both have advantages and disadvantages. A rubber cleat is strong, durable and can be worn on and off the field. Metal cleats offer better traction as they dig further into the ground, however many leagues prohibit the use of this type of cleat for safety reasons.
Conclusion
Young athletes and toddler baseball cleats are an investment in the child's progression and performance. Time should be taken to research and get the most suitable type of cleat, based on the needs of the athlete and how the cleat will help them excel at their position in the sport.
Some brands like Under Armour and New Balance offer affordable shoes that come in different ranges, so there are options for most sizes and styles, whilst others like Nike offer great quality and stylish designs. Ultimately, finding the right pair will come down to trying them on and seeing how well they support the foot.
Updated on