What is Marucci?
Marucci Sports, formerly known as Marucci Bat Co., is a sports brand that specifically caters to baseball players and fanatics. They have a wide range of high quality professional and amateur baseball equipment, apparel, and accessories. These guys are well known for promoting Maple over Ash Wood bats.
Marucci's Growth
Jack Marucci, the founder and training director of Louisiana State University, started this brand in 2002 and now you'll find that baseball players Joe Lawrence and Kurt Ainsworth have now become part owners of this awesome baseball line!

Jack's bats spread like wildfire amongst Major League Baseball Players when he started making bats for a good friend of his and an MLB first baseman, Eduardo Perez. 2005 is the big year when Marucci's bats had become approved by Major League Baseball and since then has expanded from Maple Wood Bats to Aluminum Bats, other baseball equipment and even brought in some street style to their apparel inventory.
You'll recognize some of these famous names that have since become members of the Advisory Board at Marucci Sports:
Why is Marucci the Best Baseball Brand?
Marucci's athletes are large in number in the Major League Baseball playing field as they've adopted creating Co-owners out of many famous players, which is a pretty good sign because if the Major League Players are digging it enough to invest, it must be an awesome brand.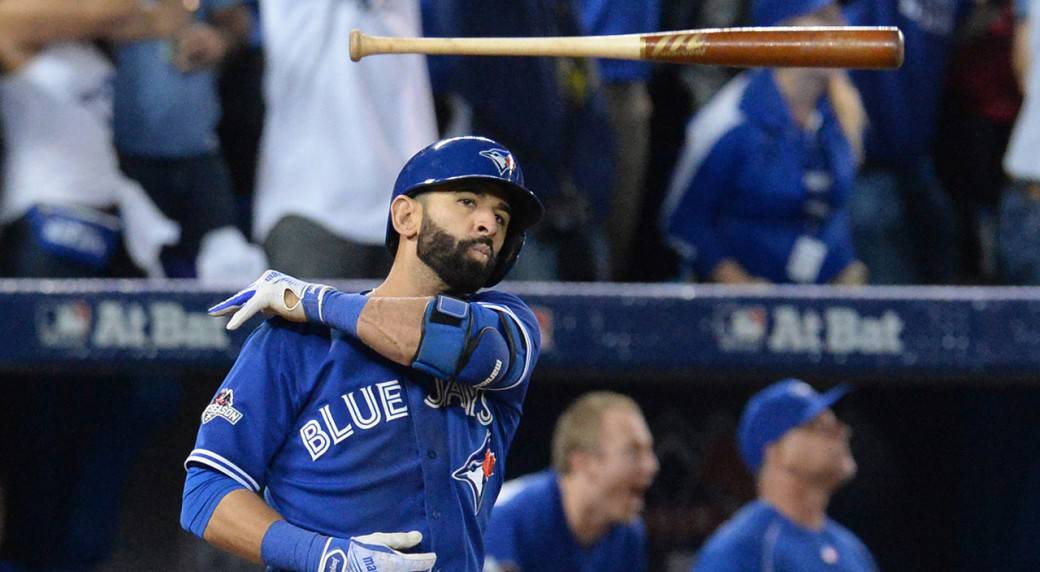 Jose Bautista throws his Marucci bat in the air. Image source: citynews.ca
If you know baseball, you must have heard about the now-iconic "Bat Flip" that started in 2015's Game 5 of the American League Division Series, where Toronto Blue Jay's very own Jose Bautista hit a three run home run, and then tosses his Marucci bat in the air signifying a historical moment in Marucci Sports and Baseball altogether. Take a look at this iconic photo which is now hanging in Co-founder Kurt Ainsworth's office and full news article about the bat flip on Forbes here.
Marucci Baseball Bats
Marucci has many bats available that tend to all sorts of players. They customize and handcraft for their sponsored athletes and for those who wish to have a bat made just for them. But let me bless your lives with a list of Marucci bats that are available and ready to hit!
Customize Your Own Wood Bat. Image source: maruccisports.com
Marucci Wood Bats
Take a quick glance at some of the amazing Marucci wooden bat up for grabs! Here you'll find divisions of Training Bats, Marucci Pro Model Wood Bats, Custom Pros, and Marucci Professional Cut Wood Bats and are sculpted from both Maple and Ash. There are currently no Marucci Bamboo Bats available, but these wooden Marucci maple bats are all for a good hype anyway. So let's take a look at the Marucci wood bats for sale!
Marucci Training Bats
These training bats are specifically designed to improve your batting skills such as speed, power, and accuracy during practice! Here are the currently available training bats from Marucci.
The Various Marucci Training Bats

Bat Model

Drop

Sizes (in)

Improves

Feel

Knob

Barrel

Handle

Smart Bat (sensor)

-2

31, 32, 33, 34

Technique

Balance

Traditional

Traditional

Medium

Smart Bat (no sensor)

-2

31, 32, 33, 34

Technique

Balance

Traditional

Traditional

Medium

Smart Bat Youth (sensor)

-4

28, 29, 30, 31

Technique

Balance

Traditional

2.25″

Medium

Smart Bat Youth (no sensor)

-4

28, 29, 30, 31

Technique

Balance

Traditional

2.25″

Medium

CS2 Fungo

-3

34, 35, 36

Power

Balance

Traditional

Large

Medium

On Deck Bat

0

Standard on Deck

Speed

EndLoad

Custom

Custom

Custom

One Hand Trainer

-3

25, 26, 27, 28

Accuracy

Balance

Traditional

Traditional

Medium

Wiffle Stick

N/A

Standard Wiffle

Proper Swing

–

–

–

–
When it comes to training, it's imperative that there is some improvement going on, so whatever aspect you need to work on for a better swing, make sure you grab the right training bat. An interesting one is the Smart Bat with Sensor, the bat comes with a Swing Tracker sensor that you can connect to any iOS device via the Swing Tracker app. To learn more about micromanaging your swing with this feature, take a look here.
Professional Cuts
Big league players always have their bats custom made, these baseball bats are the ones that have been created to a specific player's cut but haven't passed the player's required size, weight, knob, handle, balance point, etc. So you can't pick professional cuts by models, and there is no series, but you can be guaranteed a professional grade baseball bat that can be sized down and colored to your preference, a great option from wooden Marucci bats.
Look at these new professional cut maple Marucci bats:
Marucci Pro Models
These are Marucci's ready made professional bats, Ink Dot Certified, created with love, and each bone rubbed. These bats are best for those who are already used to hitting with wooden bats, and even include Marucci youth wood bats. These bats can all be customized to your specific preferences, we'll talk about options for Custom Pro Models in the next section, as these are also Marucci wood baseball bats.
Various Marucci Pro Bat Models

Bat Model

Drop

Sizes (in)

Improves

Feel

Knob

Barrel

Handle

AP5

-3

26, 27, 28, 29, 30, 31, 32, 33, 34

Maple

EndLoad

Tapered

Large

Taper

CU26

-3

26, 27, 28, 29, 30, 31, 32, 33, 34

Maple

Balance

Traditional

Traditional Large

Thin

JB19

-3

26, 27, 28, 29, 30, 31, 32, 33, 34

Maple

Balance

Traditional

Traditional

Medium/Thick

CUTCH22

-3

26, 27, 28, 29, 30, 31, 32, 33, 34

Maple

Balance

Thick Tapered

Large

Taper

POSEY28

-3

26, 27, 28, 29, 30, 31, 32, 33, 34

Maple/Ash

Endload

Traditional

Large

Thin

JOEYBATS19

-3

26, 27, 28, 29, 30, 31, 32, 33, 34

Maple

Balance

Traditional

Medium

Thick

RIZZ44

-3

31, 32, 33, 34

Maple

Balance

Traditional

Medium Tapered

Medium

LINDY12

-3

31, 32, 33, 34

Maple

Balance

Slight Fare

Medium

Thin

DO34

-3

31, 32, 33, 34

Ash

​

Balance

Traditional

Large

Thick

JR7

-3

31, 32, 33, 34

Maple

Balance

Traditional

Traditional

Thin

CB15

-3

31, 32, 33, 34

Maple

Balance

Traditional

Large

Thin

VW10

-3

31, 32, 33, 34

Maple

Balance

Traditional

Medium

Medium
Custom Pros
All-Pro Models in the above table are available for further customization along with several other models by Marucci Sports. To get a deeper understanding of what customization options are offered by Marucci Custom Bats, here's a table for different specs and choices for each.
Bat Grip: 0.5mm, 1.00 mm, 1.75mm
Knob: Standard, Smart Ready
Bat Length: 31″, 31.5″, 32″, 32.5″, 33″, 33.5″, 34″, 34.5″
Weight (drop): -4, -3, -2, -1, 0, +1, +2
Wood Type: Maple, Ash
Metal Marucci Bats
Marucci Metal bats have been on constant progress in performance and build due to the many professional baseball players being co-owners and partners for this brand. Let's take a look at the current available Marucci aluminum bats along with their composite and hybrid bats, such as the Marucci Hex bats.
Marucci Cat 7 Series, Cat 7 Limited Edition Series
All BBCOR approved with twice the sweet spot of the Cat 6. These bats are made with Marucci's AZ4X alloy which has allowed for 7 layers within the barrel without the need of any internal weight rings.
| Models | Sizes | Weight (drop) | Our Rating |
| --- | --- | --- | --- |
| | 34″ | -3 | |
| | 25″, 26″ | -10 | |
| | 30″, 31″ | -5 | |
Marucci POSEY28 Pro Series
Made with AZ4X alloy just like the Marucci Cat 7 and Cat 6 Series, but with the look and similar feel to the bat of yet another Marucci partner, Buster Posey.
There are currently only two bats in the series; the first one is a drop three with available sizes of 31, 32, 33, 34, and a standard barrel. The second bat is a drop 10 with available sizes of 27, 28, 29, 30 with a larger barrel at 2.75 inches.
Marucci F5 Series
This is a one piece alloy bat by Marucci that is big on powerful hits. Three bats with multiple variable walls.
BBCOR
Junior Big Barrel (Coach Pitch)
Senior League
Their drop -3 bat with a standard barrel comes in sizes 31, 32, 33, 34, while they have two options for drop -10; the first has a 2.75" barrel and has sizes of 28, 29, 30, 31, and the other drop -10 Marucci F5 bat comes in sizes 25, 26, 27, also with a barrel size of 2.75".
Hex Connect Series
Marucci HEX Connect 5/8″ Diameter Barrel Bat
These are composite bats and are two pieces connected with larger barrels and minimal negative vibrational feedback.
Their drop -5 comes in 30, 31, 32-inch sizes with 2 5/8 barrels while their drop -8 comes in 28, 29, 30, 31, 32-inch sizes with barrels at 2.75". They have two options for their drop -10 bats, one being a 2.75 barrel in sizes 28, 29, 30, and 31 and the other with the same bat length options but a barrel at 2 5/8 inch measurement.
Hex Alloy 2 Series
Marucci HEX ALLOY 2 Senior Baseball Bat (-10)
The series currently has only one bat, similar to the Marucci Hex Connect Series, but this bat is a one piece alloy at drop 10 and a 2.75" barrel. These are the second released group of products from the Marucci hex alloy bats line.
Marucci Bats to Avoid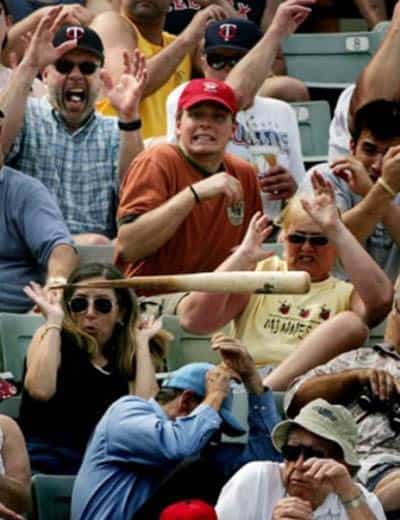 It's a common suggestion to avoid the older versions of the Marucci line because the newer versions of each line are improved versions of the last. The feedback and research done from the predecessors are always used to create a better bat of higher performance. So it's important for you to know that even though the price of these predecessors have been lowered, you might want to hold back a few extra bucks to instead go for purchasing a newer and upgraded bat from the series you are leaning towards.
This doesn't mean the predecessors are not good bats, but a good example is if you like the Marucci Cat 6, you'll want to update yourself on the features of the Cat 7 to see that your money, although a little more, is going towards researching for the next better bat! Simple things like these show your contribution in supporting sports companies to further advance their technologies, plus, you'll have a better bat!
Marucci Fielding Gloves
Marucci Honor the Game Series: HTG1175
As popular as the Marucci bats may be, Marucci also offers some pretty nifty fielding gloves designed by professional players.
Marucci Gloves By Series

Founder's Series

HTG Series

BR450 Series

RS225 Series

Geaux Mesh Series

11.25" I-Web

11.25" I-Web

11.25" I-Web

11" I-Web

Not Yet Available

11.5" H-Web

11.5" H-Web

11.5" H-Web

11.25" Single Post

–

11.5" T-Web

11.5" T-Web

11.75" Single Post

11.5" H-Web

–

11.5" I-Web

11.7" H-Web

12" Pitcher         T-Web

12.5" First Base Mitt

–

11.75" Single Post

12" BT Web

12.5" Outfield    H-Web

31.5" Catcher's Mitt

–

12" 2 pc Pitcher's Web

12.75" T-Web

12.5" First Base Mitt

–

–

12" Pitcher's T-Web

12.5" First Base Mitt

32.5" Catcher's Mitt

–

–

12.75" H-Web

–

–

–

–

13" First Base Mit

–

–

–

–

33.5" Catcher's Mitt

–

–

–

–

35" Catcher's Mitt

–

–

–

–
Marucci doesn't just have baseball bats and baseball gloves, as I mentioned earlier they have plenty of options for apparel and other accessories including sunglasses for when you're out in the field. Helmets and other Marucci protective gear are also available and offer high quality at pretty much decent prices.
Marucci FastPitch
Other than baseball equipment, they also offer a wide variety of excellent fast pitch Marucci softball wood bats and equipment. Just like their baseball equipment, accessories, and apparel, Marucci has plenty of different items in their shop that are just for underhand softball, so it's only fair you get to see what they have to offer for fast pitching as well!
Marucci Fastpitch Bats
Something you might want to take note of is the Marucci CAT FX Fastpitch Bats, they are USSSA 1.20 BPF Certified, ISA Certified, and ASA Certified. The regular CAT FX Fastpitch bats are one piece, while the "connect" bats are two piece bats. All Marucci CAT bats are free of internal weight rings and have very minimal negative vibrational feedback. These CAT FX bats claim to have absolutely no dead spots and also claim to have pretty large sweet spots. The training bat or YG9 Custom Pro may be the only available training bat for Fast Pitch Softball from Marucci but keep in mind that its custom made so you can choose what aspect of your swing you need to work on and have it custom to that.
Marucci Fastpitch Softball Bats

Series

Model & Drop

Available Sizes (in)

Marucci CATFX

Connect Drop -9

33, 34

–

Connect Drop -10

30, 31, 32, 33, 34

–

Connect Drop -11

28, 29, 30, 31

–

Fastpitch Drop -9

33, 34

–

Fastpitch Drop -10

30, 31, 32, 33, 34

Pure

Fastpitch Drop -10

27, 28, 29, 30, 31, 32, 33, 34

–

Fastpitch Drop -11

28, 29, 30, 31

Training

YG9 Custom Pro​ (-4, -5, -6, -7, -8)

31, 32, 33, 34
Marucci Fastpitch Gloves
Marucci Sports offers fastpitch gloves for both fielding and batting with a wide variety of sizes to choose from their fielding gloves, providing maximum comfort for all sorts of players while claiming to be one of the most durable baseball and softball glove brands in the market. Although they have only one batting glove to offer, the quality goes a long way.
Marucci Fastpitch Fielding Gloves

Founder's Series

FP225 Series

11.25" I-Web

11.5" Single Post

11.5" H-Web

12" Spiral Web

11.5" I-Web

12.5" Pitcher's T-Web

11.5" T-Web

12.75" H-Web

11.75" Single Post

12.5" First Base Mitt

12" Two-Piece Pitcher's Web

33" Catcher's Mitt

12" Pitcher's T-Web

–

12.75" H-Web

–

13" First Base Mitt

–

33.5" Catcher's Mitt

–

35" Catcher's Mitt

–
Marucci vs. DeMarini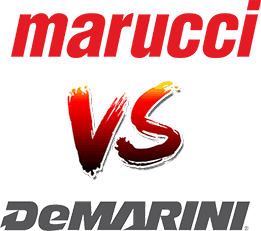 While DeMarini has a good number of ready-made bats, it doesn't come in as numerous as the options that Marucci offers, which leads to the possibility that batters would prefer Marucci over DeMarini because they have a better chance of picking a bat that suits them slightly more. When we're talking about custom made bats, however, it's hard to say which brand would be the winner. As you know by now, Marucci has plenty of professional and famous baseball players as their business partners and co-owners that have invested their cash, time, and efforts into designing their bats, which is something to take note of any time you are comparing Marucci to any other baseball brand.
DeMarini often scores highly in ratings being it a popular and well-loved brand by many Americans. One thing to keep in mind is that the top line DeMarini bats tend to be almost twice the price of Marucci's top shelf bats. Price doesn't always boast of its quality, but if you're looking to save money on high quality and high performance baseball bat, whether it be professional or just for play, Marucci has this one covered.
Marucci vs. Rawlings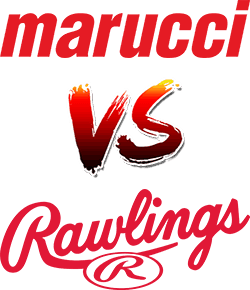 Rawlings always seem to have such great style and personality when it comes to their bat designs, and their logo just screams American baseball classic, compared to Marucci's classy and almost minimalistic looks. Their prices are pretty decent and are somewhat similar if not a little cheaper than a lot of the Marucci designs but without sacrificing quality. Rawlings is very popular when it comes to high school and collegiate games because they seem to be the brand that has created more bats for that specific age group and level.
As Rawlings has a wider variety for all different level players, most people who are not professionals will come running to Rawlings over Marucci, but that doesn't mean that Pros don't love it either. But it's safe to say that Rawlings usually has more "Blem" bats (Blem bats are cosmetic "blemishes" or mistakes), than Marucci- but this doesn't prove that Rawlings is less reliable than Marucci, it should actually be considered a bonus, because these Blem bats by Rawlings are professional grade bats with minor paint mistakes that usually sell for under fifty bucks! When it comes to features though, Rawlings takes on a very classic move and doesn't have the same new and amazing technology that Marucci is constantly blowing minds with.
Marucci vs. Louisville Slugger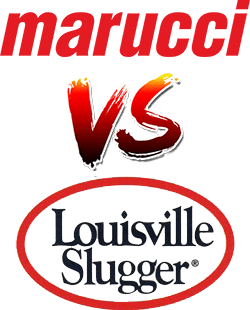 When it comes to pricing, Louisville Slugger causes a bit of confusion, specifically talking about their metal bats. Marucci metals usually have bats with prices that stay in a certain range. This is most likely because when it comes to their metal bats, Louisville Slugger has a wider range of options. When it comes to wooden bats though, Louisville usually has cheaper options, but less variety for weight choices. Although their wooden bats come in much more obviously stylish designs, remember that Marucci is more on simplistic design with all focus on performance.
Again, nothing beats the features that Marucci bats have to offer and their technology when it comes to constantly improving their gear, with a wide variety of custom designs and weight options, Marucci is a tough brand to go against.
Owned by and partnered with many classic and new famous professional baseball players
Wide variety of custom choices
Has the latest advanced features, such as their AV2 anti-vibrational knob, SwingTracker sensor, and app combinations, etc
High quality construction
Currently used by many big league baseball players
A good number of training bats
Marucci Disadvantages
Limited options on ready-made bats
Usually plain cosmetic designs
Training bats are usually built to train one specific swing aspect, but this could be considered an advantage because while it does train only one aspect at a time, it trains well because of specified focus
Marucci Return Policy
Marucci Sports allows returns on all their products within 30 days on certain conditions. Apparels, bags, bats, and gloves should not have been used and returned in new condition, with packaging, documents, and anything else that the item came with should still be there and in original condition. Marucci Custom Wood bats and Custom Pros cannot be returned, as well as any items that have been custom engraved.
If you send in an order on a custom and realize you've made a mistake and want to either cancel or change something, you can call Marucci bats contact phone number below during business hours and ask them about your Marucci order status, results depend on where the bat is with production.
Marucci Warranty
Marucci Warranty is offered only for their bats. Before we get into this, if you didn't purchase your WOODEN bat directly from Marucci, make sure that within seven (7) days your bat is registered here.
For Marucci Wooden bat warranty claims, fill out this form, and for those who want to make a Marucci metal bat claim then this is the form you'll want to fill in, each is the Marucci warranty return form.
Marucci Sports offers a 30 day warranty for Pro Model and Custom Pro bats while offering a 12 month warranty on all aluminum and composite bats, except for clearances under $50 for Marucci bats on sale. Make sure to keep your valid receipt. Marucci Sports warranty covers severe dents and structural cracks resulting for regular use. Take note that Marucci has the right to test the warranted product before the decision to avoid product and warranty abuse.
Contact Marucci
Marucci Sports business hours are from 10am to 4pm CST, Mondays through Saturdays, and closed on Sundays.
If you're looking for a specific Marucci warranty number, you can call the mainline above and they'll hook you up with a warranty specialist.
Marucci Sports Headquarters is located at:
5818 McCann Drive
Baton Rouge, Louisiana USA
With the heart and soul being the dedicated professional baseball players, and the mission to constantly be the game changer in the baseball world, Marucci makes a statement in the market and creates a fun experience for all baseball lovers with all of their equipment made with years of professional experience and tons of love.
Updated on