If you're looking for the best sunglasses for baseball, we've got you covered. Our top picks include a mix of both affordable and more expensive sunglasses, all of which offer great protection and style to baseball and softball players.
We've even included a few baseball glasses for kids, and our guide below will help you find the right pair for you or your youth athlete.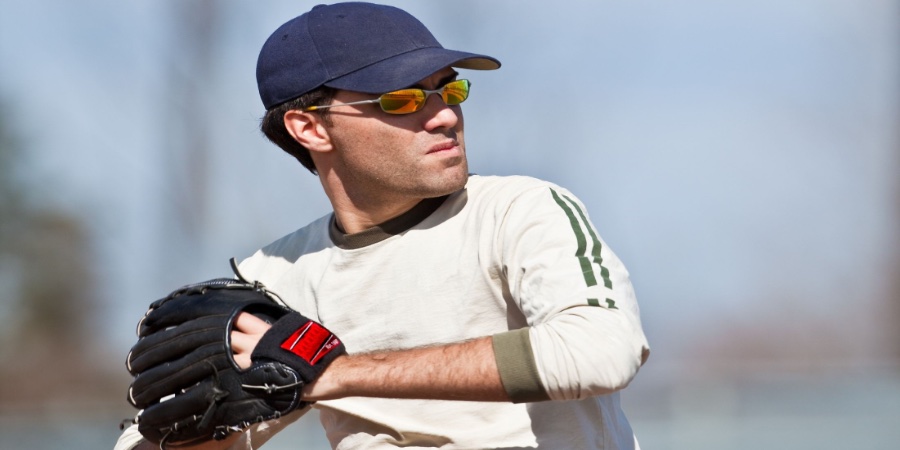 Summary: Our Top 13 Picks for the Best Shades for Baseball
13 of the Best Sunglasses for Baseball (Softball too!) in 2023
The best baseball sunglasses for kids and adults alike should be made from materials like polycarbonate which ensures they are long-lasting and protective. It's also essential for them to be UV protected so eyes aren't damaged during gameplay.
Whether you want coaching sunglasses or baseball sunglasses for youth and adult players, we've put together the top 13 picks for 2023.
TOREGE Polarized Sports Sunglasses with 3 Interchangeable Lenses
With 3 interchangeable lenses all offering 100% UV protection, these TOREGE sunglasses can be worn regardless of the time of day. The polycarbonate lenses are incredibly durable as well as impact and scratch-resistant.
For a comfortable fit, the frames have a soft rubber nose pad that won't rub, and a lightweight, cool design means hot weather is no problem with these sunglasses.
Under Armour Unisex-Adult Igniter 2.0 Sunglasses
Designed with a plastic frame and durable polycarbonate lens, these Under Armour Unisex sunglasses feature AmourSight lenses that are impact-resistant and give baseball players full vision and clarity. These sunglasses also have screwless cam-lock hinges, keeping them lightweight yet robust.
Also, the AutoGrip temples allow for a secure, flexible fit without being uncomfortable or tight, whilst adjustable nose pads can be customized to suit your face – a feature every baseball player needs.
Oakley Men's Oo9208 Radar Ev Path Shield Sunglasses
If you're searching for a pair of Oakley baseball prescription glasses, these Oakley Radar are a handy option. They're designed with Unobtainium ear socks and nose pads for a snug yet comfortable experience, whilst the Plutonite lenses offer 100% UV and blue light protection.
So that baseball players can see in full focus, Prizm lens technology is used to enhance and contract colors, whilst Oakley Radar Patented High Definition Optics are used for precision and clarity.
WOOLIKE Polarized Sports Sunglasses
Woolike has designed these sunglasses to offer the ultimate protection to your eyes – they are 100% UV400 protected and give complete, clear vision to baseball players. The use of TR90 material in the frames means they are stress-resistant and durable.
In addition, these low-cost sunglasses have a soft rubber nose pad and temple tips, designed to stay on comfortably, even in hot weather.
TOREGE Polarized Sports Sunglasses
Designed for both and women, the TOREGE Polarized sunglasses are a great, affordable option with plenty of colors to chose from. The REVO POLARIZED lenses are scratch-resistant, shatter-resistant, and offer full UV protection.
The polycarbonate frame is durable yet lightweight and the soft rubber nose pad makes these sunglasses comfortable for baseball players to wear all day.
Oakley Boys Oo9200 Quarter Jacket Rectangular Sunglasses
These Oakley youth baseball sunglasses are prescription ready and designed to fit comfortably on youth players. As well as coming with a protective case, these sunglasses feature a UV protection coating and lightweight frame.
For a pair of cheap Oakley baseball sunglasses, these serve well both youth players and adults with small/narrow faces and there's no compromise on quality.
JOGVELO Polarized Sports Sunglasses
For a pair of sunglasses that won't break the bank but offer complete protection, consider the JOGVELO polarized sunglasses. Baseball players will benefit from the frame made of TR90 as they're extremely durable yet lightweight.
The lenses are designed with anti-fog technology so vision is never hampered. JOGVELO also includes 3 interchangeable lenses (100% UV400 protected) so that the sunglasses can be used in any type of conditions.
Under Armour Unisex-Child Menace Wrap Sunglasses
If you're searching for kids' baseball sunglasses, Under Armour offers the perfect option. These wrap sunglasses for youth baseball give enhanced peripheral vision and have co-molded temple arms and a rubber nose pad for long-lasting comfort.
And to make these non-polarized youth sunglasses for baseball even more tempting is the ArmourSight lens, designed to withstand impact and offer 100% UV protection.
Oakley Men's Oo9275 Radar Ev Path Asian Fit Shield Sunglasses
The Asian fit of these Oakley sunglasses for baseball means they have a narrower fit on the nose bridge perfect for smaller noses, and the lightweight frame ensures complete comfort at all times. Using Oakley's Plutonite lens, these sunglasses offer 100% UVA protection, essential for every baseball player.
In addition, these Oakley Radar lenses have Prizm technology to increase contrast and enhance colors, perfect for when you play on a sunny day.
Rawlings 26 Men's Baseball Sunglasses
Rawlings has designed these stylish yet affordable baseball sunglasses with a sweat-resistant wraparound closure and wraparound frame, making them fit the face perfectly with no sliding or bouncing.
The lenses have a high-quality, scratch-resistant coating and they're made from polycarbonate for extra durability. Additionally, these easy to clean lenses offer 100% UVA protection.
Oakley Men's Oo9343 M2 Frame Xl Shield Sunglasses
The Oakley Men's M2 Frame sunglasses use Patended High Definition Optics for maximum clarity and vision, and the Plutonite lenses offer protection against blue light and UVA rays.
But if what you're searching for is a lightweight pair of baseball sunglasses, these will be the perfect match thanks to the light, durable, stress-resistant frame. Also, the interchangeable lens system allows you to adapt the sunglasses to suit your playing conditions.
EASTON FLARE Sunglasses with Interchange Lenses
If you're looking for the best baseball sunglasses on a budget, this Easton Flare baseball sunglasses is a great option. Featuring a flexible and ergonomic frame, the design is durable and long-lasting. An adjustable rubber piece around the nose ensures that you have a comfortable fit.
Also, Easton has included an additional yellow lens for when the weather calls for it, so you can wear these glasses in most conditions comfortably. The lenses are made from shatter-resistant polycarbonate lenses.
Oakley Men's Oo9188 Flak 2.0 Xl Rectangular Sunglasses
Using a mix of Prizm lens technology, UV protection filtering, and Patented High Definition Optics (HDO), these Oakley glasses for baseball ticks all the boxes.
The lenses are lightweight, but provide razor clear clarity and vision, whilst the Plutonite lens material protects the eyes from ultraviolet radiation and impact. These baseball sunglasses also feature Unobtanium nose pads and ear socks for a snug yet comfortable fit that will stay on even if you perspire.
What to Look for in the Best Sport Sunglasses
When buying the best baseball sunglasses, you need to consider how they fit, how much UVA protection they offer, which color suits your playing condition, and whether you need an option for prescription lenses.
Just as with buying the best men's softball cleats, you must find a pair that fit comfortably without hindering your performance. We'll start with the frames:
Frames
The frame design can impact how well you see through the sunglasses, as well as how durable they are. It's important to buy a pair of sunglasses that meet STM F803 standards as they will be shatter-resistant (essential for protection).
The best material to look for in sports glasses for baseball frames is polycarbonate as it's long-lasting, strong but lightweight.
Fitting
The last thing you need distracting you is your sunglasses sliding down your face or bouncing when you move. That's why the fit of your baseball sunglasses is an essential feature to look out for.
In general, the best baseball sunglasses will be adjustable at the temples, with some even having an adjustable nose piece as well. Also, sunglasses with gripped stems will move around less and stay secure on the face and behind the ears.
Lenses
The lenses, as well as the frame and fit, are equally as important to get right. You need to make sure you find the right color, as well as having adequate UV rays protection and durable material. Here are some of the key features to look out for:
Color
The lens color will depend on many factors. If you play at night, light or clear lenses are best, but for daytime, a darker tint will provide better vision and reduced glare against the sky.
If you want the best of both, interchangeable lenses will save you having two pairs of sunglasses, or you could go for photochromic (transition) lenses that will change automatically depending on the conditions you are in.
Material
When it comes to baseball gear, everything from sunglasses to the best youth catchers gear depends on the materials used. In terms of durability, polycarbonate is the best material to go for sunglasses frames and lenses. Here are some of the features to look for:
It's also best to opt for high definition or polarized lenses as they reduce reflected light and allow you to view the field and ball clearly.
UV Protection
UV protection is a non-negotiable when buying the best baseball sunglasses. UV rays can seriously harm your eyes over time, so this isn't an area where you want to save money. Go for a pair of baseball sunglasses that have at least 99% UVA and UVB blockage for the best protection.
You'll also benefit from buying sunglasses with an anti-reflective coating so that you can see the ball even on bright, sunny days.
How to Choose Sport Sunglasses
Price
As with any sport-related products, the price can vary massively. From spending $15 to $200 or more, the cost of the best baseball sunglasses truly depends on the quality and the brand.
But it's important to consider your safety when it comes to wearing sunglasses – don't compromise quality just to save a few bucks. Other factors might also increase the price, such as needing prescription glasses for baseball.
Looks
Fortunately, most brands strive to create sunglasses for baseball and softball that are stylish yet protective. There's also usually a range of colors to choose from, and you can customize them by choosing the color you prefer.
Weight
Having a pair of sunglasses that distribute weight evenly over your nose bridge and ears is important. Without it, you'll be prone to developing headaches or aches on your nose and around your ears, which will be highly uncomfortable.
Polarized and Prescription
Polarized lenses only allow light to filter in vertically. It blocks out horizontal rays of light so that there's less glare and you can see clearly and is highly recommended when looking for sunglasses for softball or baseball.
Prescription baseball glasses are perfect for anyone who needs glasses to aid their vision, and most brands such as Oakley, Nike, and Addidas offer this option. For parents, some brands will even offer youth prescription sports glasses for baseball and softball such as these Oakley baseball prescription glasses.
Lens Color Guide for Sports Shades
The right sunglasses for baseball players will depend on the conditions you play in as you'll want to adjust your lenses accordingly. Some are designed for sunny conditions whilst others are better suited for cloudy days or night time.
Clear
Clear is your go-to option if you play at night – they'll allow for perfect, clear vision but still protect the eyes from any artificial light.
Gray
Grey lenses are best used on sunny days when you need to keep clarity and focus, but reduce the glare and brightness from the sun.
Brown/Copper/Amber
For bright conditions, brown is the best option. It blocks out light better than copper because it's denser. Copper and amber are suited for cloudy days and they'll contrast the ball against the sky better than other colors.
Orange and Yellow
For days that are a mix of sun and cloud, orange and yellow lenses work well. They allow for some brightness but they block out a lot of glare, allowing the ball to still be contrasted against the sky.
Green
For a balanced view with great protection, green offers the perfect mix. They stop blue light from entering which reduces reflective flares, and worn on sunny days they improve contrast and allow for clear visibility.
Red/Blue/Mirrored
Whilst these types of lenses look good, they tend to be for aesthetics and nothing more. They're not protective against glare or blocking out sunlight, so be careful if you want to wear lenses like this every time you play.
Check This Out!
FAQs
Conclusion
Even though sunglasses are considered an accessory and not a compulsory baseball item, they offer a lot of protection to the eyes that would otherwise be harmful.
When you're searching for the best sunglasses for baseball, it's important to find a pair that fit comfortably and offer full UV protection, but that also have the right color lens so that you can see clearly at all times.
Updated on