More than just a stylish addition to the wardrobe, baseball pants offer protection, flexibility, and comfort when moving around the field. Due to the movements used in baseball, there's often a fair amount of strain applied to the pants, so finding a pair that offers durability is essential for allowing a player to perform their best.
In addition to choosing the right pair, it can also be overwhelming when faced with the many options available online. Whether you're an experienced player or buying for the first time, we've put together a handy features guide as well as some top picks for you to choose from.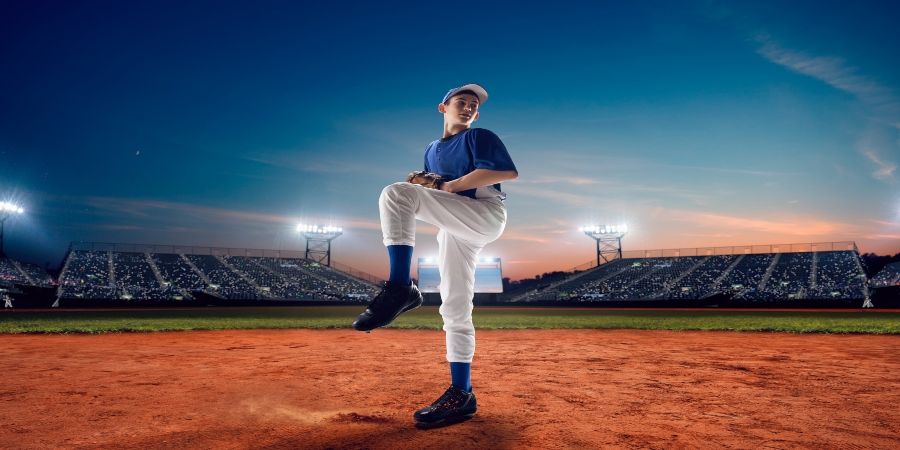 Summary: Our Top 11 Best Baseball Pants Picks
| | | |
| --- | --- | --- |
| | CHAMPRO Youth Triple Crown Knicker | Reinforced double knee construction |
| | Under Armour Men's Utility Relaxed Baseball Pants | |
| | EASTON RIVAL 2 Baseball Softball Piped Pants | Kids baseball pants size available |
| | Rawlings Men's Semi-Relaxed Pants | |
| | CHAMPRO Men Adult Triple Crown Knicker with Pipe | |
| | Rawlings Men's Knee-High Pants | 2-Way stretch elastic material |
| | CHAMPRO Men's Adult Triple Crown Pinstripe Knicker | |
| | Mizuno Men's Premier Short Pant | |
| | Wilson Men's Classic Relaxed Fit Piped Baseball Pant | Fabric made for screen printing |
| | | |
| | Joe's USA Open Bottom Relaxed Fit Professional Style Baseball Pants | |
11 Cool Baseball Player Pants in 2023
Although the style and design of the best baseball pants are down to personal choice, there are some key features to look out for, such as the reinforcement, hems, and moisture wicking properties of the pant. We've compiled a list of the top choices in 2023 for both men and youth sizes, to make your selection process easier.
CHAMPRO Youth Triple Crown Knicker
TOP PICK
Enjoy a full range of motion in the Champro Sports Youth Loose Knicker Baseball Pants. These youth baseball pants are made from double knit polyester that feature a loose design for extra comfort and the abrasion-resistant technology will keep you sliding or diving for longer. These baseball pants for boys also have a double reinforced knee for extra protection.
The youth baseball pant feature a 2.5″ knit waistband with silica gel that ensures an excellent fit on and off the field. The two inset back pockets and pro tunnel belt loops offer unmatched utility while the convenient combination zipper and snap closure provide security and quick access.
Under Armour Men's Utility Relaxed Baseball Pants
BEST BUY
If you are in the market for fashionable mens baseball pants, look no further than the Under Armour Men's Utility range. These pants are crafted with 9oz warp polyester HeatGear fabric and feature moisture-wicking properties, keeping you cool and dry during the hottest of games. Two-ply fabric provides extra durability for those high-activity areas and extra wash cycles.
A double-layered knee ensures that even the toughest games will not damage your pants, while the stretchable waistband gives the pants better flexibility during the game. The seven belt loops keep the belt secure and the double front closure ensures maximum security.
EASTON RIVAL 2 Baseball Softball Piped Pants
BEST RATED
The Rival 2 is Easton's number one selling pants for men, made from 100% polyester, the durability and comfort that they provide is unmatched. The double polyester knees ensure that these pants will last for many seasons.
These men's baseball pants feature a two-color elastic waistband that keeps the pants intact, giving optimal comfort and relaxation while playing. The open bottom hem ensures minimal movement restrictions on and off the field. While the batting glove back pockets give the pants ideal functionality.
Rawlings Men's Semi-Relaxed Pants
The Rawlings Men's Semi-Relaxed Pants are designed to offer a more relaxed, longer fit than other types of pants. These baseball pants for men are made from high quality 100 percent stretch polyester, allowing for more movement out on the field. They feature a zipper fly front, in addition to belt loops for a secure and comfortable fit around the waist.
Pro-dri material is used for moisture management, keeping you cool and dry during practice and games. Two back pockets with tie-downs are also featured on these relaxed pants,
CHAMPRO Men Adult Triple Crown Knicker with Pipe
The Champro Triple Crown Knicker is a knicker-style baseball pants with a modern flair. With elastic leg openings, these knicker pants have a secure fit for comfort, yet unrestricted movement for any game. These tight baseball pants offer 14oz pro-weight fabric allows for a four-way stretch that adapts to the wearer's movements.
Sports clothing must be durable, which is why these pants are made from 100% abrasion-resistant TEK-KNIT polyester. A sliding seat and knees are reinforced with double-ply fabric for extra durability.
Rawlings Men's Knee-High Pants, White
Even at a distance, the quality of the Rawlings Men's Knee-High Pants is evident. The stretch fabric allows for an excellent range of movement, while the flatlock stitching ensures that they are durable without chafing those sensitive areas. The stain release fabric allows for the white pants to look their best, while the two snap closure with the zipper ensures added security.
These short pants come up to the knee and are extremely comfortable. The half pants feature a relaxed fit with a breathable fabric for unrivaled comfort on and off the field. The two back pockets make these white baseball pants perfect for any situation that springs up during a game.
CHAMPRO Men's Adult Triple Crown Pinstripe Knicker
These modern knicker-style pinstripe baseball pants have all of the comfort you want, combined with the durability you require. Equipped with elastic below the knee as well as 100% non-abrasive Pro-Warp polyester stretch fabric, they allow full flexibility and movement on the field. Also available in youth sizes, they are ideal boys baseball pants.
Additionally, they are machine washable and feature a sliding knee with reinforced double-ply fabric to give them the added durability needed for the big game. The 2.5" knit waistband with Super-Grip Gel strips keeps jerseys tucked in even during the roughest play, while the 7 pro-style tunnel belt loops secure the uniform in place.
Mizuno Men's Premier Short Pant
The Mizuno® Premier Short Length range feature a short 18″ inseam, making these 100% double knit polyester short baseball pants sit just below the knee. The double knee design provides the extra durability needed to withstand intense play.
In addition, they also feature a tunnel-belt-loop waist with fly front with extended snap closure to keep them secure during any game. These short length, regular fit pants remove any movement restrictions normally experienced with a full-length pant, while the two back pockets with button closures ensure that you have all of the functionality needed to win the big game.
Wilson Men's Classic Relaxed Fit Piped Baseball Pant
The Wilson Men's Classic Relaxed Fit Piped Baseball Pant is perfect for the fashion-forward baseball player on the move. The pre-dyed fabric is ideal for those athletes who want to be part of a team and screen print their uniform design directly onto the fabric. Made from 100% polyester, these men baseball pants pack all the comfort and function you need to keep your focus on the game.
The classic design features piping on one side with high contrast colors that will make your pants stand out and not fade over time. They also feature two set-in back pockets with ample space to store gloves when not in use.
A4 Men's N6162
These men's baseball pants are fitted with a snug waist with a 1.5" elastic waistband and drawcord that ensures your they will stay on your body during even the most strenuous activities. The 100% polyester baggy cut design lets you move free and unrestricted for maximum mobility and flexibility on the field.
Welted back pockets afford plenty of space for all your belongings, while the double-layered, high quality knee ensures maximum durability.
Joe's USA Open Bottom Relaxed Fit Professional Style Baseball Pants
The pro-classic, 100% polyester, double-knit fabric allows two-way stretch for maximum mobility and durability. The loose fit features a straight leg pattern with hemmed construction and a 2.5" waistband with silica gel to ensure security when you need it most.
The hook and loop fasteners allow immediate adjustment in the inseam and the back pockets afford all the storage that you need for your personal belongings. The pro-tunnel belt loops and zipper closure with double snaps keep your pants where they should be and the cover stitched seams ensure they last for many seasons.
How to Choose the Best Baseball Pants Style
Whilst it can often be tempting to opt for the cheapest baseball pants, especially if you are buying for kids, you may end up spending more money in the long run. Choosing a mid price range will ensure you get the best baseball pants with decent quality materials and construction.
Features
The features really make up the effectiveness of the pants, as without them you might as well wear regular pants. Key things to look out for when searching for the best baseball pants include the reinforcement, as this adds durability to the pant. Hems and moisture wicking material are also extremely important to focus on.
Reinforcement
Baseball can be an extreme sport, which means your pants must stand up to extreme activity. This makes a pant that features some sort of reinforcement very important. Look for reinforced knees and pant seats when searching around, as these are the areas that need reinforcing the most.
Hems
When it comes to hems, there are two available options: closed and open. The closed-hem style is typically best for players who wear their pants right below their knee, or if they run long with their elastic bands. The open-hem style sits directly over your cleats, which is a great option depending on personal preference.
Moisture-Wicking
Baseball is a sweaty sport, so when things get heated, it is important to choose pants with moisture-wicking properties to keep you cool and dry when you sweat. This allows you to play longer and adds much needed comfort.
Features of Baseball Pants:
Styles
There are numerous styles available, with each brand competing to make their pants stand out. The design generally comes down to personal choice, and other factors such as the belt, pant rolling and socks are all aimed at creating the most stylish image.
Designs
Design is more of a personal preference than a functional one, nevertheless, it is still important. Pinstriped baseball pants typically have multiple stripes running from waist to hem to give a contrasting look. Solid baseball pants have no stripes for a clean and modern look, a look that most pro and amateur teams opt for as they match well with most jerseys.
Piped pants are designed with a single pinstripe on either side, this minimal design is a good compromise between the pinstriped and solid pant options. These can typically be worn with any jersey style.
Socks and Stirrups
Most players look for socks that match the color of their jerseys. For striped socks, the main color is typically the primary color of the jersey and the secondary color is either white or black. Stirrups are long socks that cover only the calf, these are typically colored the same way that regular socks are.
Pant Rolling
Pant rolling typically looks best with knicker style pants, and is all about preference. Some players find having theirs rolled to be comfortable, whilst others enjoy the look. It's often associated with the classic old school image of how players wore their pants.
Belts
Most baseball belts are either elastic or leather. Elastic belts are typically a good option for youths with their growing waists to pair with their baseball pants for kids.
Leather belts, with their more personal fit, are more popular among pros and adults. These belts can also be an excellent option for accessorizing as they come in a variety of colors. Either belt is typically one size fits all.
Sizing
Fortunately, pants come in adult and youth sizes that range from small to extra large instead of the typical measurements. Most typically run long regardless of waist size, so it is important to pair them with your cleats before buying to see if they need to be rolled or hemmed.
Tips for Wearing Stirrups with Long Baseball Pants:
FAQs
What brand baseball pants does MLB use?
The preferred choice of baseball pants chosen by MLB is typically made by Majestic and branded for each team's colors and logos.
What are baseball pants called?
Loose-fitting pants that cover the shoe tops and do not have an elastic bottom are referred to as "pro-flare" and they are worn by most major league players. 
How are baseball pants supposed to fit?
The best baseball pants offer a snug, but not too tight fit as you need to be able to move around on the field. If they are too long, you can easily hem them or roll them using a technique called 'rolling' .
What does open Bottom baseball pants mean?
Open bottom pants feature no elastic at the bottom. Many brands now offer adjustable lengths, so the pant can be styled to the preference of the player.
Conclusion
When shopping around for the best baseball pants, make sure to take your time and try a few different styles. If you're shopping for a youth player, it's important to remember that as they grow, they'll need comfortable pants which give them flexibility and the freedom to move around the field easily.
Using the above guide and our recommendations should help with the process of choosing your pants, as we have selected those which offer the best in terms of features, durability, and performance.
Updated on