A tee is a great piece of equipment that can be used by beginners and professionals alike. The aim of a baseball or softball tee is to hold the ball steadily for the hitter, so they can work on improving their technique and hitting skills.
For youth players, they provide the opportunity to practice hitting with support and increase focus, hand-eye coordination, and power. For older players, they reap the same benefits in addition to being able to practice alone without the need for someone to pitch the ball to them.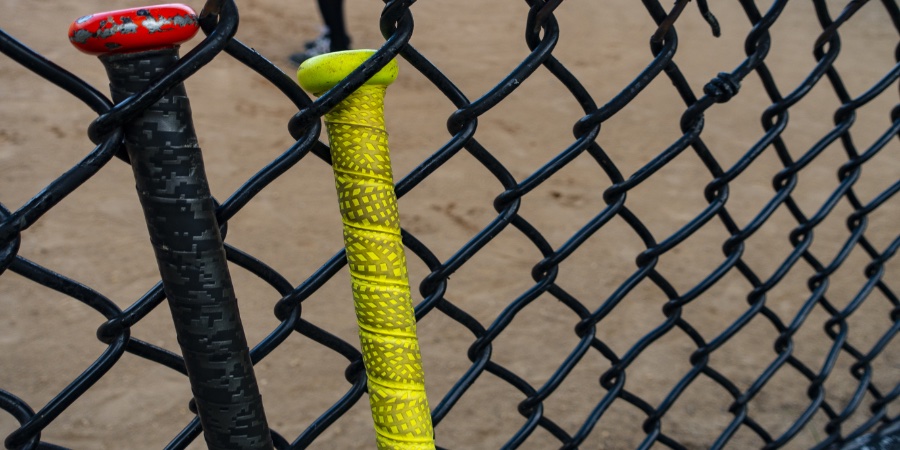 Summary: Our Top 14 Batting Tee Picks
14 of The Best Training Tees in 2023
The best batting tee for practicing hitting skills tends to be adjustable, durable, and sturdy. Depending on individual needs, you might want a tee which is suitable for different playing surfaces, or one which is easy to move around. We've compiled a list of 14 of the best batting tees which incorporate all three of the above mentioned qualities.
Tanner Tee
Tanner Tee is incredibly popular with youth teams. Made from high quality materials, the Tanner Tee is durable yet affordable. With adjustable heights, the tee can be changed for adult and youth players. In addition, Tanner Tees' hand rolled flexible rubber ball rest makes it easier for players to connect their baseball bat with the ball.
Jugs T – Pro Style Batting Tee
The Jugs T is one of the best tees for baseball because it is extremely stable. The baseball tee stand can be used without adding any additional weight, and won't tip over. This tee is designed with a helix-like hand rolled top which keeps the ball in place securely.
In addition, the Jugs T is not made solely from rubber, so it is extremely long lasting and can withstand a lot of heavy usages.
Franklin Sports Kids Teeball and Baseball Batting Tee
One of the best baseball kids batting tee, the Franklin Sports Kids Teeball batting tee is aimed at young players. It can be used as a toddler batting tee and is designed to 'grow' with the player. It is very easy to adjust, and the hanging ball on the T ball tee is great for improving hand-eye coordination. The hanging attachment can be removed for older players.
MacGregor Batting Tee
The MacGregor Batting Tee is a popular choice in youth baseball tees, as it is constructed using heavy-duty rubber components which are designed to be long lasting. The base is made from solid metal, so it's incredibly sturdy. This baseball and softball batting tee is also appropriate for T ball users, as it is easy to adjust the height.
Tanner Heavy | Premium Built Baseball/Softball/Slow Pitch Batting Tee
The Tanner Heavy incorporates some major changes in an attempt to be the best hitting tee. It is designed to be completely stable when used in a batting cage or on the field. In addition, it contains weights in the base so ensure it doesn't move an inch. Suitable as a baseball tee for kids, it has adjustable heights and is made using weather resistant materials.
G Tee GT2653 Batting Tee for Baseball & Softball
Like the Tanner tees, the G Tee is a great batting tee for softball and baseball and can be used for all ages. Made from high density polyethylene, the weight of the post ensures that it doesn't tip over, even with the hardest of hits. Alongside this, the flexible rubber G Tee cup keeps the ball in place during tee work and allows players to increase their accuracy.
JUGS Hit Like a Pro Hitting Tee
The Jugs Hit Like a Pro training baseball tee and softball hitting tees are one of the most affordable on the market. Using their patented Grip-n-Go handle, it's easy to move around. The solid rubber base ensures that the tee doesn't move or fall over, and customers have access to an exclusive video explaining how to correctly use the tee for right and left handed hitters.
Easton Square It Up Batting Tee
The Easton Square It Up tee is centered around being durable and able to withstand regular use. It has a heavy duty rubber base, which keeps the tee upright and stable at all times. Twist and lock technology is used to connect the tee to the base, making it easy to assemble and disassemble.
Champion Sports 90 Deluxe Batting Tee
The Champion Sports 90 Deluxe baseball batting tees are ideal for all players and all ages. It has an easy to adjust design so players can work at different levels and angles, and it can be adjusted for different heights. The steel construction of the tee means that it stays stable and upright no matter how much force it is hit with.
Crown Sporting Goods Youth Adjustable Height Batting Tee
Made from a flexible material, the Crown Sporting Goods Tee is durable and heavyweight. It is designed to withstand strong impacts from baseball bats without toppling over or breaking. The use of a flexible rubber construction allows the tee to absorb impact, making it easy on young players' hands and wrists.
It is also adjustable to suit different heights and grow with the player.
Champro Heavy Duty Rubber Batting Tee
Featuring premium quality rubber, the Champro Heavy Duty Tee is perfect for both inside and outdoor use. It is suitable for young players up to college athletes and can be adjusted to suit different players. The bottom of the base uses a waffle grid texture which allows the tee to have a firm grip on any surface type.
Franklin Sports MLB Spring Swing No Tip Batting Tee
The Franklin Sports MLB Spring Swing is designed to prevent tipping by using momentum deflecting technology. It has adjustable heights and includes a flexible PVC ball holder, which keeps the ball secure and ready to be hit from the tee without knocking it over. The plate has steel rod inserts for added weight.
ATEC T3 Professional Batting Tee
The ATEC T3 uses a smooth telescopic design which allows the tee to be adjusted, so players can practice different positions. It is also suitable for all age groups to use for tee work and is easy to assemble and disassemble. This ease of construction makes it perfect for packing away to travel with it. It also features a unique cone design which decreases resistance and enhances durability.
Rawlings Tripod Travel Tee
The Rawling Tripod Travel Tee is perfect for those who want an easy to assemble tee that can be moved around with minimum hassle. The batters tee design uses a tripod base which keeps the tee standing upright, and it has adjustable heights making it suitable for all ages. It doesn't include the ball rest, which needs to be bought separately.
Benefits of a Batting Trainer
Most people assume that batting tees are only used by tee ballplayers, but in reality, even college and professional teams use them for practice.
The best hitting tees can improve your concentration on the ball, which in turn results in more accurate swings. It is also a great way to improve the amount of power thrown behind a swing. When batting using a tee, the ball is stationary so being able to hit it all the way into the outfield when there's no momentum behind the ball is a great practice tool.
Below are some more reasons why baseball and softball batting tees can improve your swing.
Learn the Benefits of Practicing with a Baseball Batting Tee
Hand-eye Coordination
Hand-eye coordination is one of the most essential skills a baseball or softball player needs. There are numerous drills that are designed to sharpen the hand-eye coordination, and using a baseball hitting tee is one certain way to improve this skill.
Once the player is confident batting using a baseball, try using a tennis ball instead. Using a smaller ball will force the player to concentrate, even more, resulting in better batting abilities.
Increased Power
The best batting tees can really help with increasing the power behind each swing. As the ball is stationary when it is on a tee, the player can use all their power behind the swing whilst ensuring that they make contact with the ball. Repeating this exercise regularly will continue to strengthen the player when hitting the ball.
Perfect Your Batting Technique
Using baseball batting tees are great for players who want to practice alone, as they don't need a pitcher. Baseball hitting tees are usually made from extremely durable materials, so they can be practiced on for years, allowing the player to improve and develop their technique at their own pace.
Watch This Amazing Video on How Make a DIY Batting Tee
What To Look For When Buying Batting Tees
Knowing what to look for when shopping around for the best baseball tee will save you time and money. There are plenty of variations and different styles that come with each brand, but ultimately the best baseball tees should be centered around improving performance. Here are some key features to look out for:
Durability
A baseball or softball hitting tee needs to be durable enough to last a good couple of years. They need to be able to withstand being hit at speed, carted around, and adjusted multiple times a week. As this is a product which is going to be used frequently, it's worth looking for batting tees which are made from long lasting materials.
Price and Quality
It's well known that the more you pay for something, the better the quality should be. That's the case certainly with other baseball equipment, like youth catchers mitts for example. Surprisingly, this rule doesn't always apply for softball tees and batting tees for baseball.
It's common to find good quality baseball batting tees at very reasonable prices. There are plenty of well known brands which mark up their prices significantly, but sometimes you end up paying for the name rather than the quality, so don't be afraid to test out some cheaper alternatives. There are brands like Tanner Tee which are well known but still keep their prices fair.
Adjustability
It's important to buy a baseball tee for hitting which can be adjusted. This means that multiple people can use the tee, whether they're adult or youth players. It also means that a youth player can use the same baseball practice tee as they grow in height, so it saves money in the long run.
Base Design
The last thing you want is to be fiddling around trying to assemble or dismantle your tee. The best batting tees should be easy to put away or carry around in a bag if you need to travel with it.
It's also a good idea to consider how the tee will be used. You should take into account surface types, whether you'll be playing inside or outdoors. If you need a baseball training tee for indoor use, you may need a base design that grips the floor more securely.
A final point to consider is whether the base needs to fully cover the home plate. Luckily, there are a number of options for light-weight bases if this isn't a requirement.
Materials
The best batting tees will usually be made from a combination of rubber and metal. The metal acts as a reinforcement which improves durability. In the past, heavy duty rubber was used as the primary material, and whilst it can generally withstand some impact, it made the tees quite heavy and hard to move around.
Ratings
Ratings a great way to know whether products are worth investing your money on. It's always sensible to read trusted reviews, especially ones which deliver a fair analysis of the product, such as the pros and cons. In terms of baseball tees for hitting, looking at the online ratings can give you a good starting point and an idea of what to look out for.
Features
Although the primary focus of a hitting tee for baseball is to improve the focus and power of a player's swing, there are small differences between different tee batting products. Some may have better adjustability than others or use higher quality materials, so it's important to compare and weigh up the different features before purchasing.
Check Out The Top 10 Baseball Tee Drills:
FAQ
Conclusion
Whether you're looking for batting tees for toddlers, youth players, or adults, it's important to know what features to look out for. Start your search with the mindset that the best batting tee should last a couple of years at least, and it should be easy to move around or pack away.
When used correctly, softball and baseball practice tees can greatly improve a player's power, focus, and confidence when hitting the ball, so it's definitely a piece of equipment worth investing in. We hope the above guide and our comparison makes it easier to choose the best tee for baseball and softball for your needs.
Updated on