Whilst most people put more importance on buying baseball gear (gloves, cleats, and bats), they can often overlook the convenience of having a decent-sized, comfortable bag that can carry all their equipment.
And, whether it's for youth or adult athletes, finding the best bat bag involves more than just having enough space for your bats. Other factors like storing your helmet or being able to hook your bag to the fence all make a massive difference.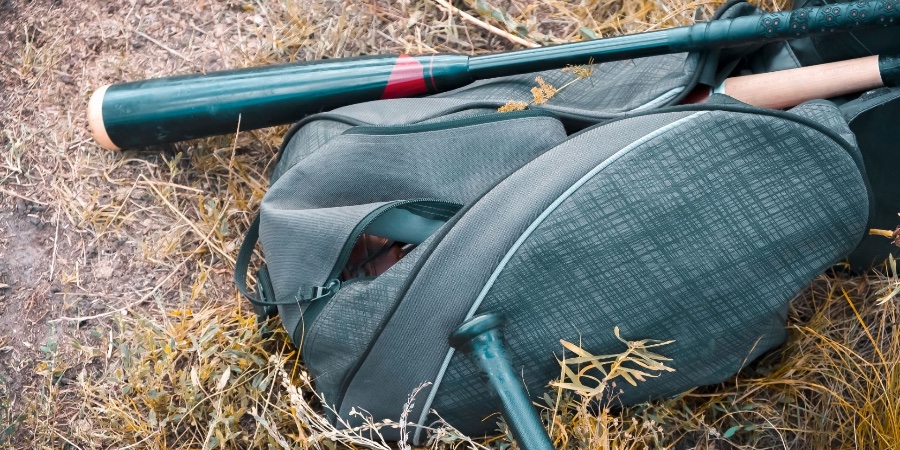 So, in this article, we're going to cover the best bat bags in 2023 as well as the key features to look out for when choosing a bag to suit your needs.
Our Top 12 Picks for the Best Softball and Baseball Bags
12 of the Best Baseball Gear Bags and Softball Bags in 2023
The best baseball bag should be large enough to hold all your gear, but also be comfortable to carry or roll (if you opt for a bag with wheels).
So, whether you're searching for a backpack, bat bag, or duffel style gear bag, we've got some great options listed below for both adults and youth athletes.
Athletico Baseball Tote Bag
The Athletico Baseball Tote Bag is an all-rounder, it's the perfect baseball bag for kids and adults alike. It has space for all gear, including batting gloves, caps, cleats, and helmets, and there's still room to store two bats. In addition, there's plenty of colors to choose from.
The vented shoe compartment is a great feature so you don't have to worry about bad odors, and alongside the main compartment, there's a personal belongings compartment. Finally, the padded shoulder straps and lumbar protection offer complete support to your back so you can carry heavy equipment comfortably.
DeMarini Voodoo Rebirth Backpack
If you want personalization, this is one of the best baseball backpacks to go for. The Demarini Voodoo backpack has space for gloves, cleats, and your helmet, and the side sleeves can hold up to two bats. Made from waterproof materials, you'll never have to worry about this bag becoming damp or wet.
In addition, there's a fleece-lined section for your phone and a vented shoe compartment. The back paneling and padded shoulder straps can be adjusted, so it's great if you want baseball backpacks for youth players too.
Franklin Sports MLB Batpack Bag
For those on a budget, the Franklin MLB backpack baseball bag is ideal. The main compartment is big enough to accommodate a baseball helmet, gloves, cleats, and batting gloves. There's plenty of ventilation and storage compartments, including one for your valuables like your phone and wallet.
These adult and youth baseball backpacks also feature a fence hook for easy accessibility and have cushioned shoulder straps.
Louisville Slugger Omaha Rig Wheeled Bag
One of the best features of this Louisville Slugger bag is that it's wheeled, making it easy to transport all your gear comfortably. The main compartment is large enough for your helmet and glove, and the zippered bat compartment can hold up to four bats.
In addition, there are integrated fence hooks and an outside valuables pocket. Everything about this design is aimed at ease of accessibility and comfort. Finally, there's a removable customization panel so you can have unique bat bags for baseball or softball.
Rawlings Covert Player Duffle Bag (EA)
For an easy to carry and durable baseball gear bag, the Rawlings Covert Player Duffle Bag ticks all the boxes. With two extra-long shoulder straps, it's comfortable to carry the bag around and durable, moisture protection vinyl material is used so the bag can support heavy equipment.
Featuring two bat sleeves and a mesh pocket for your personal items, there's plenty of space in the bag even for catcher's gear and the addition of a vented shoe section means no bad odors can build up. Finally, there are options to customize this adult and kids batting bag.
Easton Walk-Off IV Bat & Equipment Backpack Bag
The Easton Walk-Off IV baseball bags with helmet holder on the exterior means there's more space internally for all your baseball or softball gear. The use of a fence hook means it's easy and convenient to get your stuff in and out of the bag, and the top pocket for personal items further adds to this.
There are two side bat sleeves in this adult and kids baseball backpack, and it can be personalized to suit your taste. Finally, these baseball bat backpacks are thoroughly well-ventilated making them one of the best baseball options with lots of color choices.
No Errors NO E2 Wheeled Catchers Gear Bag
If you're searching for the best catcher's bag look no further than this No Errors NO E2. Perfect as a travel baseball bag or just a regular baseball bag, there's space for up to three bats and all of your baseball or catcher's gear. These baseball bags feature a main compartment and nine pockets, some of which are ventilated.
The use of reinforced stitching means that it can be rolled over most surfaces without suffering any damage, another reason why this makes for one of the best catchers bags as they have a lot of equipment to carry around.
Athletico Advantage Baseball Bag
This Athletico baseball youth backpack is perfect for young players and adults. Featuring padded shoulder straps, it's comfortable to wear even with catcher's gear. There's space for up to four bats and water bottle holders, and plenty of ventilation means this bag stays fresh smelling for longer.
For convenient accessibility, there's a fence hook and an external pocket for all your personal items. The water-resistant material means that this baseball bat backpack can be used in any weather condition.
DeMarini Grind Wheeled Bag
For the ultimate baseball travel bag, this DeMarini covers everything you need. From being able to hold up to 4 bats as well as gloves, cleats, catchers gear, and helmets. The addition of 2 integrated fence hooks means it's easy to hang your bag and access your gear.
The separate vented shoe area means that your gear stays fresh for longer, and the padded bat sleeves ensure no damage or scratches come to any of your equipment.
EASTON GAME READY Youth Bat & Equipment Backpack Bag
For baseball bags for kids, this Easton Game Ready baseball and t-ball backpack are ideal. Designed to fit helmets and gloves, these baseball bags for boys and girls have plenty of space – they can also fit up to two bats.
The addition of a front pocket to keep valuables and personal items makes for easy access, as does the fence hook and rubber zipper pulls. In terms of comfort, these baseball backpacks for kids feature padded shoulder straps and back.
Louisville Slugger Genuine MLB Stick Pack
This youth girls and boys baseball backpack by Lousiville Slugger mean kids can have the MLB edge at an affordable price. The main compartment of this kids bat bag can comfortably hold a helmet, gloves, and cleats, whilst the side pockets fit two bats.
For ease of accessibility, there's a pocket at the front of this Louisville Slugger bat bag for kids to hold personal items, and it's easy and comfortable to wear due to padded shoulder straps.
Boombah Rolling Superpack Baseball/Softball Gear Bag
As far as youth baseball bat bags go, this rolling superpack by Boombah definitely hits the mark. Being able to hold up to 4 bats, these bat bags for kids make it easy to transport gear around. The use of a separate shoe compartment means gear stays separated and clean.
The heavy-duty wheels are designed to withstand any surface, so this baseball bag for boys and girls can be taken anywhere. In addition, there are 17 different colors to choose from.
What to Look for When Buying a Bag
From the size to additional features, you should first evaluate what you need from the bag in terms of your equipment and then find one which matches your requirements. Let's look at some of the main features to take into consideration:
Wheeled/Rolling
If you have a lot of equipment or bats to carry, it's best to opt for a bag with wheels. This will take the pressure off from having to carry everything on your shoulders, and makes for easy transportation.
Shoe Compartment
Having a shoe compartment is great for keeping your shoes separate from the rest of your equipment. The best baseball bags usually have a vented shoe compartment that allows bad odors to disperse and keeps your bag, shoes, and equipment smelling fresh.
Number of bats the bag will hold
The number of bats you have will also be an important decision making factor when looking for the best baseball bags. Some, like backpacks, will be limited on how many bats you can fit in on either side whereas a bat bag for baseball will have room for more.
J-Hooks (fence hooks)
Fence hooks allow you to store your bag firmly on any type of fence that can be latched onto. It's a safe, practical way of storing your bag, and it means the exterior will stay cleaner for longer.
Personal Belongings Compartment
Having a personal belongings compartment is a great feature to look for. Items such as your phone, keys, and wallet can all be stored without the risk of them becoming dirty or scratched by your baseball equipment.
Helmet/Batting Glove Hooks
To ensure that you can fit all your gear in, you might want to opt for a baseball bat bag that has space for your helmet (saves you carrying it by hand) and batting glove hooks so that you can store your gloves safely.
Personalization
From buying the best baseball sunglasses to the best youth catchers gear, there's always the fun element of personalization. It makes the item stand out and gives it a unique edge, and when it comes to buying the best baseball bags, look for options that allow for custom patches to be stitched on.
Another way that you can personalize your bag is by going for a brand that offers lots of color choices, such as the Easton Walk-Off IV Bat & Equipment Backpack Bag which has 14 different colors to choose from.
Price
The price range for the best baseball bags or backpacks ranges from $15 to $200, so it really depends on the standard of quality you want to go for, as well as any additional features such as having plenty of compartments for storage.
Baseball or Softball
Whether you play baseball or softball shouldn't make a difference – baseball bags are designed in a way that suits both sports and they have enough space and compartments to facilitate all your equipment.
Check This Out!
Different Styles of Kid Baseball Bag
As you search for the best baseball bags, keep in mind how much equipment you need to carry and whether you prefer to have your hands-free, or if you are more comfortable carrying or rolling your baseball bag. Here are the main styles of bags:
Tote and Duffel
Tote and duffel bags are popular choices, they're durable and sufficient, with plenty of space for your bats. The only downside though is having to carry them by your side, but if you go for a duffel bag with a shoulder strap you can free up your hands.
Backpack/Bat Pack
Backpacks and bat packs are great for being hands-free. They usually have enough storage space for your shoes and balls, and mesh pockets on the sides for your bats. It's best to buy one that has padded straps so it sits comfortably on your shoulders.
In addition, buy a baseball backpack with a vented shoe compartment so that no stale odors build up and your gear and bag remain fresh for longer.
Wheeled/Rolling
Whether it's rolling softball bags or wheeled bags for baseball, having wheels means you can carry more without lugging it on your shoulder. For catchers in particular (due to the heavy amount of equipment they have), a wheeled or rolling bag is worth investing in.
How to Clean a Backpack
FAQs
Conclusion
Baseball and softball equipment, especially if you're a catcher, can start to weigh you down but instead of juggling your bat, helmet, and personal items, having a good-quality bag will make it much easier to get around.
Just be sure to find one that suits your needs and that has sufficient space for all your gear, once the basics are covered you can start to look out for additional features such as fence hooks, ventilated compartments, and the style of the bag.
Updated on