Catchers face long, grueling hours out on the field, so it's only right that their gear is comfortable and provides the right protection.
But when you start looking for catchers gear, it suddenly gets quite complicated. There is a substantial price range difference, as well as differences in design and features.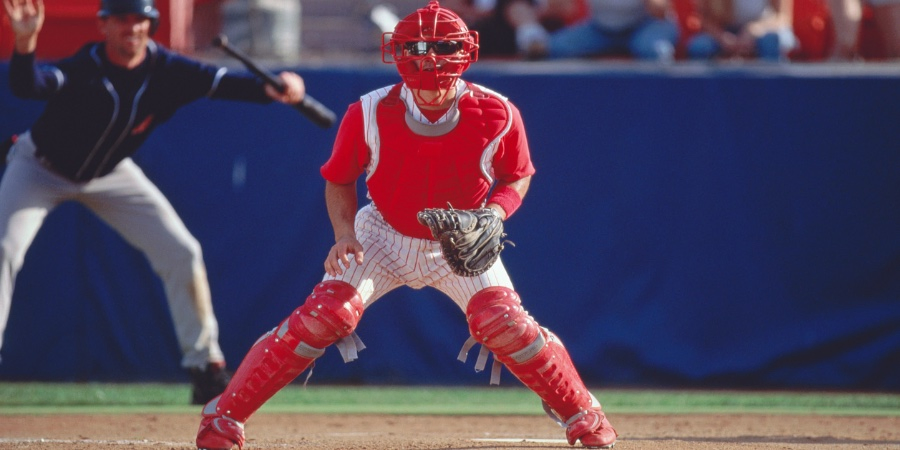 That's not to mention the varying sizes that come with each brand. To make it easier for you to find the right catchers gear for youth athletes, we've put together our 8 top picks, as well as some of the most important features and components to look out for.
Summary: Our Top 8 Picks for the Best Youth & Adult Catchers Gear Sets
Louisville Slugger Youth PG Series 5 Catchers Set

Provides full leg protection

Under Armour PTH Victory Series Catching Kit

Repositionable knee protection

All-Star System 7 Axis Intermediate

Easton Youth Black Magic Catcher Box Set


All-Star Intermediate Players Series Catcher Kit

Durable ABS shell on the helmet

Chest protector certified by SEI

Mizuno Samurai Women's Catcher's Gear Box Set

Lightweight AirMesh lining increases breathability

Easton Elite X Baseball Catchers Equipment Series Box Set

Used in the 2018 Little League Baseball World Series

Ample amounts of high quality padding

Easton M10 Youth Custom Catchers Set

Zero shock memory foam protection in knee
8 of the Best Catcher's Gear Sets in 2023
We know the importance of buying the right gear to suit your needs. Without it, you can't play to your full ability. A catcher's gear set is just as important as having the best infielder glove, and making sure you have the right fit, protection levels, and style all need to be considered.
For the best catcher's gear sets in 2023, check out our selection below which includes a mix of quality, affordable prices, and well known brands.
Louisville Slugger Youth PG Series 5 Catchers Set
TOP PICK
The Louisville Slugger Youth PG Series 5 Catchers gear features a sleek, glossy finished helmet with a moisture-wicking pad at the chin of the mask. This professionally designed catching gear for baseball includes a highly durable and extra-strong helmet, chest guard, and leg protection.
All the materials used are lightweight and resistant to breaking- even during the rigors of play, making it one of the top picks for catchers gear for youth players. The high-density padding and anatomically inspired design keep you as comfortable and safe while freeing your range of motion whilst being behind the plate.
Under Armour PTH Victory Series Catching Kit
BEST BUY
This Under Armour catching gear set for youth catcher's is the perfect choice for players between 9 and 12 years and includes a chest protector, catching helmet, and leg guards. This catcher gear for baseball set is not only flexible but is correctly sized for a comfortable fit combined with durability, so youth catchers can behind the plate as soon as possible.
The AEGIS Microbe Shield technology used in Under Armour catchers gear protects against microbial odor, and the high-impact resistant plastic shell of the chest guard provides maximum protection from dangerous fly balls and other hazards. In addition, the ventilation holes in both the helmet and face mask of this youth catcher's set allow for breathability that ensures a comfortable playing experience.
All-Star System 7 Axis Intermediate
BEST RATED
The All-Star System 7 Axis baseball catchers gear is an excellent lightweight pick for young intermediate or elite players who travel a lot. A Star System 7 helmet and mask, chest protector, and leg guards are included in this kit that can fit easily into the provided bag.
The construction is comfortable with a good ventilation system in the chest protector that combats fatigue or sweat while keeping your movement unrestricted. In addition, this baseball catching gear features the stainless steel two-gloss finish which ensures that your kit will last for years to come.
Easton Youth Black Magic Catcher Box Set
Easton's Black Magic youth catcher's set is the perfect kid's catchers gear for the 6-8 age range. The kit's youth catcher's helmet has a hockey-style mask and an ABS shell for maximum protection, while the dual-density foam liner inside the helmet provides a snug fit and great shock absorption that meets the NOCSAE standard, allowing youth catchers to get behind the plate as quickly as possible.
The chest protector in this Easton catchers gear sets has a full foam padding system that protects from high-speed impacts while the velcro closures allow you to easily remove the chest protector and adjust the equipment. In addition, the leg guards feature a PE shin plate and double-knee design that offers ample protection and mobility.
All-Star Intermediate Players Series Catcher Kit
This catcher kit by All-Star is designed to help players in their early teenage years excel as catchers. This set comes with a catchers helmet, chest protector, and a pair of leg guards. In addition, the helmet and mask have been fortified with an impact-resistant and molded ABS plastic shell, making it one of the best baseball catchers gear for youth players in terms of protection.
The chest protector features built-in sternum plates and multi-layer foam padding that keeps the young athlete's torso safe from top to bottom. The leg guards use shock-resistant, breathable plastic with full wing padding, keeping those vulnerable legs from developing too many scrapes and bruises.
Mizuno Samurai Women's Catcher's Gear Box Set
The Mizuno Samurai Women's Catcher's gearbox set features all the protective gear a catcher needs to play their best game: a chest protector, shin guards, and helmet. The chest protector is constructed with a low rebound foam and a specially-designed grippy surface to keep the balls where you want them to be. The shin guards feature Mizuno's patented K-Pad construction for maximum comfort and knee protection.
Keeping with the Mizuno standard of expertise, the catcher's helmet is designed with a strategic ventilation system and 3-layer EVA foam padding with a strong steel mask for maximum protection.
Easton Elite X Baseball Catchers Equipment Series Box Set
The Elite X set catcher's gear is ideal for athletes ages 9-12 and features 15 color options to choose from. The Elite X catcher's helmet uses an ABS outer plastic shell with air vents to focus on both comfort and protection. The BioDri internal padding with moisture-controlling fabric and breathable air mesh materials.
The chest protector uses a layered foam padding that offers both protection and rebound control for optimal performance. A 4-point webbing strap system with heavy-duty clips provide an optimal and durable fit, while an adjustable shoulder cap and neoprene back liner offer further protection and comfort.
Easton M10 Youth Custom Catchers Set
Any catcher knows that the two areas where you need most protection are the knees and head. The Easton M10 Youth Custom Catcher's set has a zero shock memory foam in its inner knee pads to keep your knee safe regardless of what is thrown at you, making it one of the best catchers gear for youth players.
In addition, the knee pads in this Easton youth catchers gear set are removable and adjustable to ensure that it fits everyone perfectly. An EXOS ventilation system in the chest protector ensures proper airflow to keep you cool, calm, and collected during the big game and the ABS plastic shell helmet is sturdy enough to withstand the rigors of the game without compromising your full field of view.
Components of Catcher's Gear
The key required pieces of gear are a catcher's helmet (or mask and skull cap), chest protector, leg guards, and a catcher's mitt. You have the freedom to pick and choose individual pieces of gear if you value choice. Or, you can buy the complete set of the required gear (typically minus the catcher's mitt).
If you are new to the position, it is typically advised to purchase a complete set.
Leg Guards
Leg guards are arguably one of the most important pieces of your set (as well as helmets), as they protect your shins, ankles, and knees from rogue pitches and cleats. It's a good idea to invest in durable, high quality leg guards as they are bound to take a beating.
Masks
Masks are there purely to protect the face, ears, and eyes. The last thing you want or need is to be hit in the face by a fast flying ball, so it's important to purchase a set with a strong, durable mask.
Chest Protector
A chest protector is vital for shielding the collarbones and ribs. With high velocity balls flying around and cleats which can cause damage (especially if they are metal), it's important that the chest protector fits properly.
Mitts
Catcher's mitts have more padding than conventional gloves because they are designed to slow down and lessen the impact from the moment the ball touches the mitt. This is an essential piece of protection for the hand and can reduce stinging and other injuries.
Other Accessories
Other accessories include neck and throat protectors, to ensure that the upper body is completely protected. A cup and jockstrap may also be used to protect private, sensitive areas from wild balls.
How to Take Care of Your Catchers Gear? Watch This!
Benefits of Purchasing Full Catchers Gear
Although you might be tempted to source and buy your catcher's set everything separately, it works out cheaper and time efficient to buy a full catcher's gear set. Here are some reasons why:
Economical
Typically, when you buy bulk, you save. The same can be said about catcher's gear, and it can start to become pretty expensive if you try to buy everything individually.
Convenience
It's more convenient to buy a full catchers gear set as you won't have to waste time searching for each component individually, and your order will come all together as opposed to having to wait for different pieces to come through from different sellers.
Matching Sets
The sets match more so than individual pieces might, which will give a complete and professional look to both adult and youth catchers. This comes down to personal preference though, as some athletes are more concerned with the appearance and style than others.
How to Find the Best Catchers Gear
Finding the best catchers gear to use can be one of the most difficult decisions for your young athlete. A catcher will be committed to wearing this gear for a very long time throughout some hot summer days, so choosing wisely is important.
As with buying any type of sporting gear, from catcher's gear to the best cleats for flat feet, it's important to look for protection, durability, and comfort, whilst keeping a balance with your budget.
Check This Out!
Major Aspects of Catcher's Equipment
When searching for your catcher's gear, it is imperative to first figure out your needs. If you are a competitive catcher, you may need all the bells and whistles. If you are a catcher for your local house team, you may just need a simple set to get by for the year. These are the main features to look out for when shopping for catcher's gear:
Protection
Protection is probably the most important factor to look for when choosing gear. The best catcher's gear set should provide you with enough protection while maintaining your sight and movability.
The chest or leg guards need to be sturdy to protect you from deflected balls or other dangers, while the helmet should be flexible enough for your neck to move around while searching for balls. The chest protector serves are a shield between the catcher and any rogue balls.
Comfort
If you are a young catcher, buying loose-fitting catcher's gear in the hopes that you will grow into it and make your gear last longer is not a good idea. That compromises both the comfort of the gear as well as the protection. You should aim for catcher's gear which has a snug fit. For adults, making sure you go for the right fit is essential to having a comfortable gear set.
Durability
Durability aids protection in many ways. While the catcher's gear is protecting your body, you want to be sure that the gear is going to last. You don't want your gear to break or become compromised after only a few rogue pitches. Therefore, it is important that you make sure you have a durable set of equipment.
Price
Price is always an important consideration when buying almost anything. This is especially true with catchers gear sets because it can be quite expensive. It may not be worth getting the best catcher's gear available if you are only planning to use the gear for a short time, so go for cheap catching gear or used catchers gear instead of breaking the bank.
Those athletes who are looking to make catching their full-time position typically should not be so concerned with the price.
Brand
There are many popular names when it comes to the sports equipment industry, and many of them also produce catchers gear sets. These brands include: Under Armour, Rawlings, Adidas, Mizuno, and Louisville. Typically, choosing whichever brand is more about personal choice based on price and quality.
Size
Finding the right sized catching gear sets is crucial to staying comfortable and well protected. We put the following guidelines for you to follow, but the best way to ensure that you buy the right size is to try the product first. It's also important to note that different brands may have slightly different sizing measurements.
A Video Explaining the Catcher's Equipment Here:
What Do Pro Catchers Wear?
The following brands are commonly seen being worn by the professional in MLB. These brands will be common in the sports industry, and they offer high quality products that can be purchased by any level of athlete.
All-Star
All-star is considered the most frequently used brand amongst the catchers. Their chest protectors and leg guards are used by many MLB players across the world, making All-Star a very popular brand.
Louisville
Louisville is widely known for its durable, slugger baseball bats, in addition to a range of other well produced baseball equipment.
Mizuno
Mizuno is a Japanese brand that is known for its high-quality and durable products. The Mizuno Pro series has reached an impressive list of customers.
Nike
Nike is a catcher's gear brand for athletes of all ages. Recently, Nike has been the dominant brand in the fields of many professional leagues.
Rawlings
Rawlings is the one that you should count on if you are looking for mitts. Rawlings is also popularly known for being the supplier of MLB.
Under Armour
Under Armour is known for its extensive and rigorous testing. It is also worn by many top-level professional catchers currently in the big leagues like Buster Posey, Brian McCann, and Yasmani Grandal.
Wilson
The Wilson A2K and A2000 claim to be made of the most high-quality feather in the market. They are a reputable brand that many athletes enjoy due to their high quality products.
Great Video as What a Major League Catcher Sees:
How to Size Yourself or Your Child for Catchers Gear
While most equipment is one size fits all, there are still three pieces of equipment that have sizes to choose from.
Most face masks in a catcher's set on the market are available in two sizes: S/M (young) and M/L (adult). Users who find that they need to adjust the size can do so easily by adjusting the sliding pads or strap for a secure fit.
Masks need a comfortable but loose fit. They must be comfortable because the catcher wears them constantly, and yet loose because they must remove them frequently as well to catch rogue balls. Some manufacturers size their masks using hat size so it is important to know the hat size of the player.
Chest guards in catching equipment typically have more measurements to deal with than the helmets. Most of them are sized from 11 to 18 inches and measure from your collarbone down to your waist. If the width is a concern, there are typically straps for small adjustments located at the back.
The leg guard is the most important to size. If they don't properly fit, then you can't properly move. The length of the knee down to the ankle is the measurement you use to fit your leg guards.
FAQs
What catchers gear do the pros wear?
Professional catchers typically have their favorite gear sets that come from many top rated sports brands such as Rawlings, Mizuno, All Star, Under Armour and Wilson.
How long does catchers gear last?
Each component has different lengths of durability. For example, the cup typically depends on the pitching style whilst the shin guards and helmet can last 1-2 years (if treated well). The gloves can last from 2-4 years but that depends on usage and wear and tear.
What equipment does a catcher need?
Typically catchers have at least four pieces of essential equipment: one pair of mitts, a helmet, a chest protector, and leg guards.
Final Thoughts
Whether you're in search of adult catchers gear or for youth baseball players, the best catchers gear set should have a high standard of protection. This isn't an area to skimp on and buy cheap catcher gear (unless you rarely plan to use the equipment) because the different components will need to withstand a lot of use, so they should be very durable.
The best catchers gear should also be comfortable, as you'll be wearing it for many hours, and sometimes under hot conditions. The brands included in this article all provide good quality, long lasting gear, so we hope we've helped in making your decision easier.
Updated on