In addition to wearing comfortable cleats or shoes, a good quality pair of baseball socks are extremely important to wear when playing baseball. The best socks tend to have a mix of support, protection, and comfort, and there are numerous styles, designs, and colors to suit individual needs.
Whether you're in search of toddler baseball socks, girls and boys baseball socks or adult socks, we've put together a varied combination so there's an option for every player.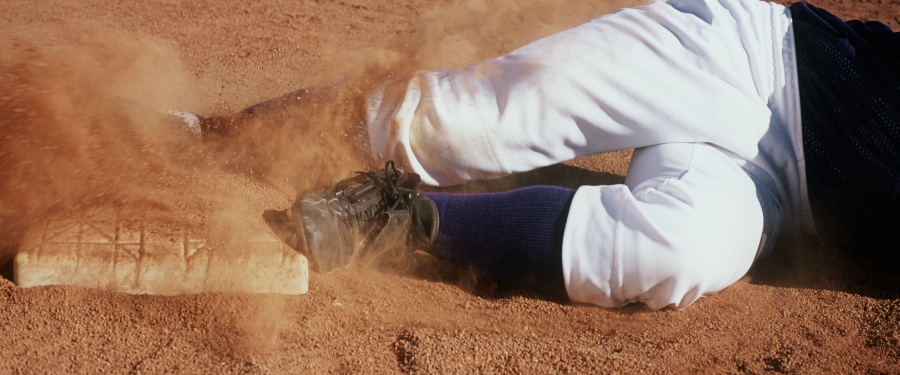 Summary: Our Top 8 Picks for the Best Baseball Socks in 2023
| | | |
| --- | --- | --- |
| | TCK Prosport Performance Tube Socks | Over-the-calf tube design |
| | Adidas Rivalry Field OTC Socks | Arch and ankle compression |
| | Sof Sole RBI Baseball Over-the-Calf Team Athletic Performance Socks for Men and Youth | Seamless toe and a full cushion sole |
| | Stance Men's Diamond Pro OTC MLB on Field Calf Sock | |
| | | |
| | Mizuno Performance OTC Sock | Padding for extra comfort |
| | CHAMPRO Sports Multi-Sport Socks | |
| | TCK Sports Striped 7 Inch Baseball Softball Stirrups | |
8 of the Best Socks to Wear with Baseball Cleats in 2023
The best baseball socks don't need to break the bank, and with online shopping offering a wide selection, buying a pair of baseball socks is quick and easy. To help when it comes to narrowing your selection, we've listed the top eight choices of socks in 2023.
TCK Prosport Performance Tube Socks
TOP PICK
The High-Performance TCK Prosport Performance Tube Socks are a durable, double welt top sock that removes the worry of slipping down your leg when playing baseball. The over-the-calf tube design delivers comfort and security when you need it most.
With the technical performance yarn keeping moisture away from your skin, pesky odors and blisters are a thing of the past. Additionally, these hydrophobic, wicking and moisture managing pair of baseball socks will keep your feet dry and comfortable so you can keep your mind on the game throughout any weather conditions.
Adidas Rivalry Field OTC Socks
BEST BUY
The Adidas Rivalry Field OTC Socks are an excellent choice for athletes of all ages, including baseball socks for toddlers. These machine-washable pair of socks are made from polyester, Spandex, and Nylon for maximum comfort and durability to ensure your socks keep you looking as good as you feel.
In addition, the moisture-wicking yarns keep your feet dry and free of those painful blisters and smelly odors thanks to the quick evaporation rate of the material. With the added arch and ankle compression, these baseball socks are sure to provide security and stability to your athletic wardrobe.
Sof Sole RBI Baseball Over-the-Calf Team Athletic Performance Socks for Men and Youth
BEST RATED
The Sof Sole RBI Baseball Over-the-Calf Team Athletic Performance Socks are an excellent choice for any athlete, child, or adult when playing baseball. Teams and players who wear the color red will have an easy time picking these red baseball socks which are designed to be high-performance socks.
These baseball socks also feature an acrylic, polyester, and spandex blend which aids the fabric in preventing blistering. This pair of baseball socks for youth or adults have a deep heel pocket that ensures that these socks will retain a natural fit and while keeping your socks securely in place.
Stance Men's Diamond Pro OTC MLB on Field Calf Sock
This machine-washable sock made from Stance is an excellent choice for playing baseball. The built-in stirrup ensures a comfortable fit while delivering the needed support during those crucial plays. This pair of baseball socks for men have a durable polyester blend construction and thick padding that provide maximum breathability and enhanced protection.
In addition, the seamless toe ensures that this comfortable sock is more durable and can be used for many seasons in a row, making them the perfect choice for men's baseball socks.
Rawlings Baseball Socks
This Rawlings Baseball Sock's nylon construction ensures that this sock holds up through even the toughest games. This pair of baseball socks also feature a high quality mesh venting, which keeps your feet cool and comfortable. In addition, the cushioned footbed and ankle protects you from harsh impacts when playing baseball, while a deep heel cup keeps your socks secure and well fitted to the foot.
Mizuno Performance OTC Sock
These Mizuno socks for baseball players are made of elastic nylon mixed with acrylic material to ensure durability as well as flexibility all the time. Additionally, the pair of socks are designed with Y-Hee locks to always keep in place no matter how you move, staying secure and comfortable at all times when playing baseball.
To further increase the comfort element, the socks' foot is also padded, and it has ankle support as well. In terms of selection, this pair of socks are available in different colors for you to choose for your preferred style.
CHAMPRO Sports Multi-Sport Socks
These multi-sport socks by CHAMPRO are a simple sock for serious athletes on a budget. Their modest price also makes them a tempting offer when looking for youth baseball socks. The 78% polyester ensures that this pair of socks will have all the durability to last many seasons. In addition, these baseball socks come in a variety of options when it comes to color, so you can select the correct color for your team. These cheap baseball socks are the perfect choice for any athlete.
TCK Sports Striped 7 Inch Baseball Softball Stirrups
The striped TCK Sports 7-inch stirrups are a premium quality sock made in the USA. This pair of baseball socks feature a durable construction and a double welt top, remaining comfortable at all times throughout practice or game. These youth striped baseball socks also come in a variety of colors.
These baseball socks with stripes are perfect for Little League, High School, or adult Rec Uniforms. They feature a 7" cut on both sizes, and come in two overall lengths: Medium (Intermediate) at 17″; and Large (Adult) at 19″. Made of 100% Nylon, this material will keep you comfortable and ready for any play. They are also ideal for those looking for striped softball socks.
How to Choose the Best Baseball Socks
Choosing the best pair of baseball socks requires understanding how they should fit in order to best support your feet during a baseball game. When it comes to buying any baseball equipment, from the best baseball cleats for catchers to the best baseball pants, you can save time and money by knowing these key factors listed below before making your purchase.
Level of Comfort
A good quality pair of baseball socks are an essential part of the athlete's wardrobe. If your feet aren't comfortable and secure, you won't get the traction you need to move around comfortably on the field.
Wearing cleats without socks almost guarantees blisters on your toes and heels. An important aspect when it comes to comfort is to look for a pair of socks that have moisture-wicking technology to keep your feet cool and dry.
Support for Your Feet
Baseball socks have a certain level of support that a regular pair of socks just don't give you. Typically, when purchasing a baseball sock, you should look for additional padding in the toe and heel areas.
You should also keep an eye out for a pair of baseball socks that provide breathability and comfort. Socks with these features will usually help reduce irritation and blistering. Also, for those intense games, it's good to go for a baseball sock which has some form of ankle and arch support to avoid intense shock, keeping you safe from injury.
Learn How to Wear High Baseball Socks Here:
Just the Right Size
Size is arguably the most important quality to look for in your baseball socks. Baseball players need maximum comfort, and if they don't fit right, none of the above features will work properly.
A pair of baseball socks should be elastic enough to wrap around your legs without being too tight or too loose. This will ensure that the socks do not spend the whole game sliding down your leg, so you remain focused on playing baseball.
Sock Construction
The construction of the baseball sock is key to ensuring that it is comfortable, protective and provides sufficient support to your foot. Baseball can be intense and it often gets hot when playing out on the field, so it's necessary to have a good pair of socks that allow you to perform your best.
Padding
Manufacturers may add padding to high-impact areas of the sock-like the toe and heel areas. This additional padding means that a lightweight summer pair of socks can have the comfort and support of a thicker sock, but without all the weight and warmth.
Protection
Some socks have extra protection in high-impact areas. This protection is similar to padding, but not the same as some socks use a thickened piece of fabric in the heel and toe area. This will ensure that the fabric will be more resistant to abrasion and counteract the friction that tries to eat through the socks, making them much more durable.
Support
Though foot support will largely depend on your shoes, a sock with good support can make a difference when it comes to comfort. Some socks can add to support by compressing the arch and ankle area. Both your sock and shoes need to have support if you want your feet to have a solid base.
Breathability
When searching for the best baseball socks, breathability is definitely an element worth paying a little bit more for. Some manufacturers employ mesh-like areas in the socks that improve air circulation. This technology can make less breathable, synthetic socks more comfortable in warm conditions, making baseball games much more enjoyable all year round.
Which is Better: High Baseball Socks or Low Pants?
Sock Fabric
When searching for the best pair of baseball socks, it's important to consider the type of sock fabric which will suit your skin, allow adequate breathability, and which doesn't break your budget.
Cotton
Cotton readily is soft, and breathable, but it absorbs moisture and does not dry quickly. This can quickly cause blisters, irritations, and foot fungus. Some manufactures still use cotton, however, and to get around the unsavory features of cotton, they use proprietary fibers that can have antioxidant and anti-inflammatory properties.
Synthetics
Synthetics fabrics are commonly used in athletic socks. Fabrics like nylon or Lycra have properties and benefits that natural materials do not possess. These fabrics are usually blended in with other materials, like nylon, which adds durability and dries quickly, perfect for those who want cool baseball socks.
Merino wool
Merino wool is expensive and less commonly used in socks, however, it imparts some unique properties that other fabrics do not. Merino wool can absorb up to 30% of its weight in water, which helps keep your feet dry. It is also a very comfortable fabric in both cool and warm conditions. Unlike other wools, the fine fibers will not make your feet itch, but this material isn't ideal if you are looking for cheap softball socks or baseball socks.
Silk
Silk is typically used as a liner in socks as a natural insulator solution that wicks moisture and keeps the skin comfortable. The only downside to silk is that it is not as durable as other fabrics, so these types of socks shouldn't be used as your primary pair.
Types
Knowing the different types available will help when it comes to selecting the best baseball socks for your needs. Regardless of whether you need youth baseball socks or men's baseball socks, it's important to find a style that fits comfortably and securely.
High Socks
High baseball socks are more of a traditional sock, they can be worn in two different styles and are typically a relic from history. The first professional team forced all of its players to wear long baseball socks.
Stirrup Socks
Originally, baseball stirrups were worn because players wore knickerbockers, also known as knickers. Stirrup socks could be worn easily with knickerbockers, and they were important to ensure the safety of the players.
More recently, because knickers have fallen out of fashion, stirrup socks aren't as popular. If you don't want to wear socks and baseball stirrups, a baseball sock is the best choice.
How to Wear Stirrups with Long Baseball Pants? Check This Out:
Sanitary Socks
In the past, instead of high socks, players typically wore long, colored stirrups over plain white socks. These sanitary baseball socks are known as 'sanis'. The purpose of these sanitary socks for baseball is to provide a sanitary layer between the skin and the stirrup.
FAQs
How to put on baseball socks?
For regular baseball socks, slide the socks on to just below the knee, whilst gathering the material of the pants in the process. Make sure the socks are comfortable, and that you have positioned the toe and heel area correctly to snugly fit your feet.
How to wear high socks in baseball?
The easiest way to begin is by having your baseball pants on, rolled up to the knee. Then pull on your baseball knee-high socks as high as you can, making sure there are no creases or sagging points.
Where to buy stirrups for baseball?
Stirrups are a good choice for people who wear pants cuffed at the knees, and there are plenty of options online. Sellers such as Amazon have a wide selection but there are also a number of independent online retailers which offer custom made stirrups.
Conclusion
Following the above guide should help make your search for the best baseball socks easy and it should be clear which factors are important to keep in mind. Once you have aspects such as comfort, material, and fit sorted out, the rest such as color or style will come down to personal preference.
Updated on