Batters who want to improve their hitting skills and swing techniques can benefit from having a pitching machine to maintain and improve their skills in baseball and softball. With numerous advantages for using one, it's no wonder that they're even used at pro levels in Major League Baseball.
With the many options available, all offering different specifications, price ranges, and features, it's always a good idea to weigh up a couple of options before selecting one type of pitching machine. The player's skill level, as well as the type of training they wish to benefit from the machine, are just a few of the factors that should play a part in your decision to purchase a pitching machine.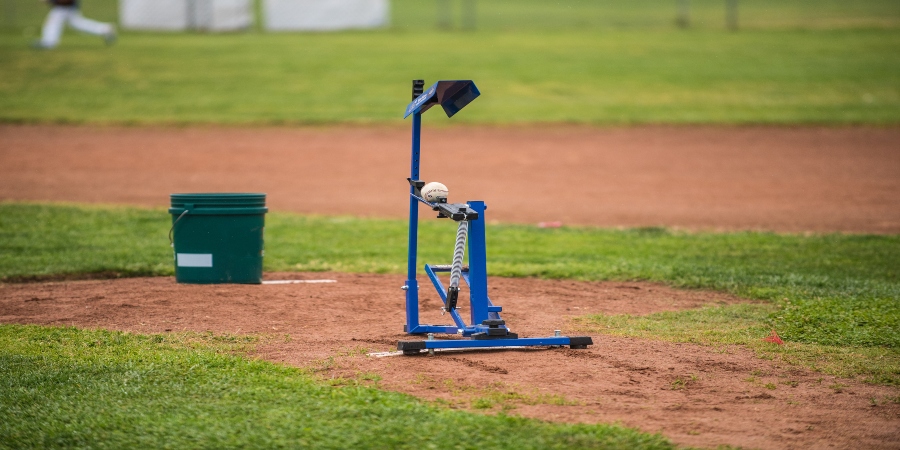 Summary: Our Top 10 Pitching Machines Reviews
JUGS Lite-Flite Machine for Baseball and Softball

Louisville Slugger Blue Flame Pitching Machine

No electrical cords needed

HEATER SPORTS Slider Lite Curveball Baseball Pitching Machine

Pivot head design pitches many styles

Automatic ball feeder pitches

Louisville Slugger Black Flame Pitching Machine


Low-profile with a portable design

Pitches many types of balls

Heater Base Hit Pitching Machine

Can fit onto a batting cage


Franklin Sports MLB Electronic Baseball Pitching Machine


Great for casual outdoor Wiffleball


Adjustable and budget-friendly


Hack Attack Baseball Pitching Machine by Sports Attack


Available for right and left handed players


Jugs BP1 Baseball/Softball Combo Pitching Machine


Jugs Small-Ball Pitching Machine


SKLZ Lightning Bolt Baseball Pitching Machine


Throws balls at up to 30 mph


Great for repetition training

10 of The Best Pitching Machines for Baseball & Softball in 2023
Below are 10 of the best pitching machines which are guaranteed to improve your or your child's performance when it comes to baseball and softball. There are numerous machines on the market, so it can be tough to narrow down your choices, so we've picked a range that covers all requirements.
JUGS Lite-Flite Machine for Baseball and Softball
TOP PICK
The JUGS Lite-Flite pitching baseball machine is lightweight at 35 pounds and throws dimpled baseballs. It can simulate speeds up to 85mph from 25 feet away. This machine can throw fastballs, curveballs, and sliders for a variety of training options. Additionally, a two-year warranty ensures that you will be using this machine worry-free for years to come.
The easy setup 360 swivel design allows you to train with fly balls and ground balls for versatility in your training. If you're an athlete who needs to train anywhere, the rechargeable battery pack (sold separately) allows you to take pitching machines with you and train anywhere to be at the top of your game anywhere and anytime.
Louisville Slugger Blue Flame Pitching Machine
BEST RATED
The Louisville Slugger UPM 45 Blue Flame Pitching Machine is designed with children in mind. With speeds up to 45mph, this pitching machine for kids is ideal for the young athlete or even larger athletes wanting to improve their defensive drills (like fly and ground balls).
This pitching machine for softball can take almost anything you can throw at it. From hard or fastpitch softballs, dimple balls, Wiffle balls, soccer balls, and even volleyballs. In addition, if you are looking for a portable option, look no further than this kids pitching machine. With no electrical cords needed and less than 25 pounds of weight, you are free to take this machine anywhere you, please.
HEATER SPORTS Slider Lite Curveball Baseball Pitching Machine
BEST RATED
The Slider Lite-Ball Pitching Machine from Heater Sports is an excellent pitching machine for athletes. With the swivel adjustment, this automatic pitching machine holds 12 lite-balls and will throw inside and outside breaking balls, fastballs, and curveballs. The powerful A/C motor throws lite-balls every 9 seconds at variable speeds of up to 80mph.
This is one of the best pitching machines for athletes who want to practice away from the team as it functions independently, so there's no need for any help. The fully enclosed wheel ensures safety, while the tubular steel legs and the adjustable pitch height keep making the training possible at all heights and angles.
Louisville Slugger Black Flame Pitching Machine
If versatility is something you're after, look no further than this professional pitching machine. The Louisville Slugger UPM 50 Black Flame Pitching Machine is the ultimate training tool for any baseball athlete. This lightweight, portable pitching machine throws regular baseballs, softballs, light flight, plastic, dimple, and restricted flight balls with increased accuracy.
In addition, a new interchangeable component allows for switching from throwing strikes to throwing longer and higher fly balls. The low profile and portable design combined with its lightweight make this the best pitching machines for on the go.
Heater Base Hit Pitching Machine
The Heater Base Hit Baseball Pitching Machine can pitch real baseballs at variable speeds of up to 45 mph. The 12-ball feeder automatically releases a ball every 10 seconds, perfect for the athlete who wants to train alone. In addition, it features a 6" enclosed wheel giving you consistent strikes every time and the adjustable pitch height gives you plenty of drill options.
The lightweight, rugged composition and heavy-duty steel tripod ensure as much durability as there is portability. A built in harness attaches to batting cage nets for convenience.
Franklin Sports MLB Electronic Baseball Pitching Machine
Great Value
The Electronic Baseball Pitching Machine from Franklin Sports is a serious training tool for younger athletes. This youth pitching machine features adjustable height and the versatility to train athletes of all sizes, perfect even as young athletes grow up.
In addition, this battery-powered automated machine can pitch a ball at seven to ten-second intervals making it as versatile as it is portable. The Franklin Sports MLB Electronic Baseball Pitching Machine has a capacity for 9 full-sized balls and is a good budget buy.
Hack Attack Baseball Pitching Machine by Sports Attack
The Hack Attack Baseball Pitching Machine pitches major league 100+ MPH fastballs and right or left-handed breaking pitches. Making this professional pitching machine perfect for advanced athletes. The unique three-wheel design allows for a clear view of the ball from feed to throw to simulate a live pitcher.
With its pivoting head, this machine can throw any pitch you want to practice. From fastballs, curveballs, sliders, and split fingers, to ground balls, line drives, pop-ups, and 380 ft fly balls. This machine is also extremely portable and fits into any SUV or full-size car. It is recommended for more advanced athletes at the high school, college, or professional levels. It also comes with a five-year limited warranty.
Jugs BP1 Baseball/Softball Combo Pitching Machine
The Jugs BP1 Combo Pitching Machine is one of the best pitching machines on the market. With a pitching speed range from 15 to 70 mph, this machine is perfect for athletes of all ages.
It is compatible with softballs and baseballs and features a 360-degree swivel head that can launch fly balls, pop flies, and ground balls to ensure that you can train for any situation, not just hitting practice. With the optional battery pack (not included) you can take this machine anywhere and train without limits.
Jugs Small-Ball Pitching Machine
This small ball pitching machine is the best baseball pitch machine for beginners and kids. Its simplicity and size make it the ideal portable training tool for younger athletes. With compatibility for softballs and baseballs, this pitching machine for kids is intended for sharpening hand-eye coordination.
Using manual and automatic feeder options, this pitching machine for kids can shoot ground balls, pop flies, fastballs, and overhand curves at speeds up to 75 mph. The simple-looking heavy steel construction ensures that this pitching machine for youth will be long-lasting.
SKLZ Lightning Bolt Baseball Pitching Machine
The SKLZ Lightning Bolt Pitching Machine Pro is the perfect pitching machine for young athletes. This pitching machine for the little league can give your youth hitter the practice they need to improve their game. Additionally, this pitcher machine can hold up to 25 special soft practice balls in a convenient shagger that can be used for quick pick-up after all the balls have been thrown.
With an adjustable arm, you can change pitching angles, speeds, and wait times between throws. The battery pack, 12 light balls, and lightweight construction ensure that your new little league pitching machine has the portability and availability to start training anywhere at any time.
How to Choose the Top Baseball Pitching Machine
When choosing the best pitching machine, it is important to take into account the different features of the pitching machines, how the machine operates, and aspects such as which types of balls it uses. Other key factors include things such as whether the machine is portable, how durable it is, whether it can fit onto your batting cage, and the power source of the machine. Using a good quality pitching machine can be as beneficial to your game as having the best baseball pants or the best baseball cleats for pitchers.
Take a Look At This DIY Softball Pitching Machine
Features
There are lots of options to pick from when choosing the best pitching machine, enough to confuse even those who aren't new to baseball. Finding the ideal pitching machine is largely dependent on your needs and preferences. It is important to know what these are so you don't wind up shelling out thousands of dollars when you don't have to.
Pitching Machine Style
Some machines are fed balls manually, and others are automatically fed. There are also differences in what types of balls the machines can throw, some throw only one type, others throw many. In addition, some machines are designed for young athletes, older athletes, and even professional athletes.
Arm Style
The two most popular designs are arm action machines and circular wheel machines. The arm action machine simulates the real-life delivery of a pitcher by swinging an arm much like a baseball pitcher in an overhand motion.
The circular wheel design uses one, two, or three horizontal or vertical wheels that spin like a tire. A ball flies towards the hitter after it is fed into the wheeled apparatus. Typically, three-wheel machines are more easily adjusted to throw a variety of pitches and they can be used for a wide range of other practices outside of hitting, making them some of the best baseball pitching machines.
Wheel Pitching
Wheel Pitching machines are typically more portable and offer a larger range of pitches. Three-wheeled machines have the most control and pitch variety of all the machines. They can throw the most style of pitches, but it comes at a cost. They are the heaviest and most expensive variety. These machines typically best serve older and more professional athletes, whilst a single wheel and two wheels offer different advantages.
Single Wheel
The single wheel variety is typically closer to arm-style machines in that they can only throw fastballs, however, they are usually lighter and cheaper than their counterparts. The single wheel machines are typically best served as pitching machines for little league or younger players.
Two Wheels
Most two-wheeled machines can throw fastballs and breaking balls at higher speeds and accuracy than their one-wheeled counterpart.
Swivel
A machine with a swivel head allows for turning on the horizontal plane a certain number of degrees. This movement allows for pitching withing a range of space instead of a fixed spot, which helps with fielding practice.
Vertical Pivot
In machines with vertical pivot, the head rocks front to back which changes the angle of the pitch. This also allows the machine to simulate fly balls, ground balls, and pop-ups for defensive drills.
Feeder
A feeder holds many balls and feeds them into the machine one at a time. Feeders are typically sold as a separate item or as an add-on. Feeders allow for the use of the machines without additional human help, best for athletes who want to practice alone.
Power Source
Most pitching machines operate on 110vAC/1000 watts, which allows them to be plugged into a power source or generator. It is advised to check which type of generator is recommended by the manufacturer before purchasing one.
Check This DIY Baseball Pitching Machine
Type of Balls
Most machines typically require dimpled machine-safe balls. These last longer and are often safer to use in the pitching machine. Some of the newer machines allow for the use of actual baseballs, however, care must be taken when using actual balls, as these can sometimes cause additional wear and tear on the machine.
Portability
Most current machines are relatively portable, however, if you want maximum portability then there are a few things to keep in mind. Some machines are more lightweight than others, and some machines have special battery packs that are rechargeable and allow for use without an extension cord. The most portable options have folding legs or removable components.
Durability
With any investment in this site, you want to be sure that these machines will last for a long time. One of the best ways to check for quality is to check for any warranties your machine comes with, the longer the warranty, the more confidence the manufacturer has in their product.
Speed
Speed is a factor you should keep in mind if you want an optimal practice that simulates actual play. Distance is a very important factor in how much speed matters in your practice.
If you intend on setting up your pitching machine at a regulation distance, speed is an important factor to consider. If you intend to be much closer to the machine, speed is much less of a concern as the ball will get to you quicker and reaction times will be the same.
Types of Pitches
A machine that can throw a variety of pitches may be important if you are looking to hone your hitting skills against anything a pitcher can throw at you. However, if you are looking to just test reaction times, you may only need a cheaper machine that throws fastballs.
Baseball Pitching Machine Made of Wood
Skill Level
For obvious reasons, skill levels play a key role in choosing the best pitching machine for baseball. Whether it is for kids who have no experience and are fresh to the sport, or high school and college athletes, you'll need to choose a machine that can produce pitches that are compatible with their skill level.
Beginner
For kids just starting out, these machines can be a worthy investment. A tossing machine is a great way to get them in the game whilst increasing their confidence and reducing any fear they might have. Tossing machines can pitch at speeds as low as 10 mph and are easy to carry around.
Little League Baseball
If pitching machines for the little league are what you're after, there are some things to consider. Adjustability, durability, portability, and safety indoors are all important for the young athlete just starting out.
Remember to use only RIF (Reduced Injury Factor) balls such as Wiffle or dimpled balls. RIF balls have a maximum speed of around 60 mph, which is aimed at reducing the possibility of being injured.
High School/College/Semi-Pro/Pro
The best pitching machine for serious athletes is one that can pitch a variety of balls at different speeds. Two and three-wheeled machines will pitch fastballs, sliders, curveballs, and even knuckleballs at speeds from 80-90 MPH and above. The machines are ideal for indoor and outdoor training, as well as fielding practice.
How To Use a Pitching Machine
Sport
A final point that is extremely important is to determine which sport you require a pitching machine for. There are differences in design that optimize the performance of the machine in line with the training that needs to be done for each type of sport, so keep this in mind when shopping around for the best pitching machine.
Baseball
A baseball pitching machine is designed to pitch baseballs, whether using real baseballs or dimpled machine safe balls. It's important to remember that real baseballs can shorten the lifespan of a baseball pitching machine.
Softball
Pitching machines for softball are designed to enhance the skills of the player but can only be used for softball pitching, so if you or your child decide to take up baseball instead, you'll be required to purchase a new pitching machine as the softball machine won't pitch baseballs.
Combo
Combo machines are perfect for those who want a machine that pitches for baseball and softball. For young players, this might be a good option as they find their feet and try their skills at both sports.
FAQs
Do pitching machines help your hitting?
Absolutely. These machines allow you to work with a predictable pitch so you can work on timing, rhythm, and different phases of your swing.
What pitching machine does MLB use?
The M3 Offensive Pitching Machine is built to train professional-level ballplayers and is the official machine of Major League Baseball. The three-wheel design allows for hitters to have complete visibility of the ball and can throw at 105 mph for accurate simulation of Major League speed fastballs.
Can you use regular baseballs in a pitching machine?
Real baseballs can be used in these machines, however, it is typically not advisable to use them. They can cause undue wear and tear on the pitching machine. Machine safe balls can be used instead and are just as effective.
How fast does a pitching machine throw?
Depending on the machine, the speed can range on anything from 30 mph to 100 mph. The difference in speed is often designed to accommodate youth players as well as adults.
Final Thoughts
Pitching machines for youth and adult athletes are a fantastic way to improve your baseball and softball skills. Not only do they allow you to practice as well as learn new skills, they are an enjoyable addition to your training routine which can be used for hours on end.
One of the best aspects of using a pitching machine is that you can train alone, without the need for a teammate. Alongside our guide on buying the best batting tee, we hope the recommendations above makes it easier for you to know what to look for in the best pitching machines!
Updated on