Repetition is the key to becoming an outstanding baseball pitcher. You have to do batting practice over and over to improve your swing mechanics and train your muscle memory. That is easier said than, though, especially because you would need someone to keep pitching you the ball. Not everyone is fortunate to have a coach or friend willing to pitch to him constantly. You can use one of the best batting tees but those cannot simulate a live pitch.
Fortunately, there is a way for you to do so, and that is by using a baseball pitching machine. Such a tool can help you hone your batting skills while improving your hand-eye coordination and concentration. Check out one of the best pitching machines numerous players have used — the Louisville Slugger pitching machine. Here, we will compare the Louisville Slugger Black Flame vs. Blue Flame Pitching Machine models.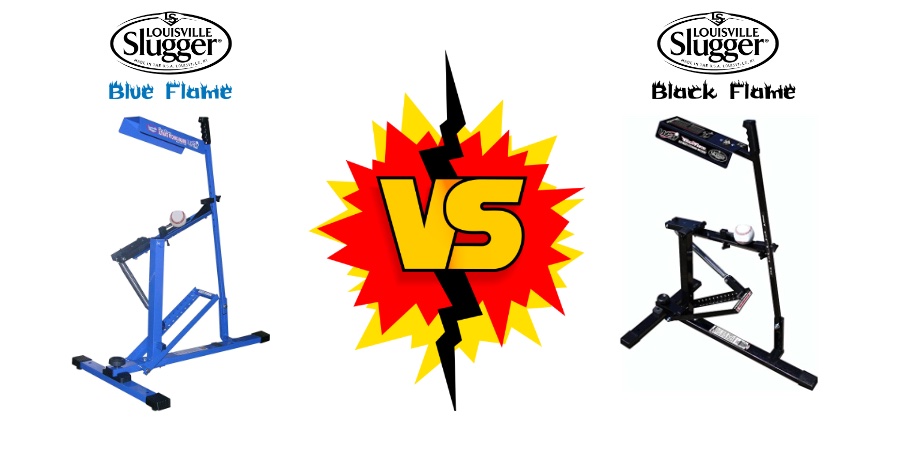 Black Flame Ultimate Pitching Machine
The Black Flame Ultimate Pitching Machine (UPM) is an excellent entry-level pitching machine. A common review among customers it has received is that it is helpful for various sports. Any ball can be used on the machine, including baseball, softball, tennis ball, cricket ball, and more.
The equipment can be used to simulate different forms of baseball and softball pitches, such as ground balls, fly-balls, and straight pitches. It can be set to a slow pitch at a speed of 18 MPH or fast pitch. It can throw hard baseballs and softballs up to 50 MPH, while it can pitch light fight balls up to a speed of 60 MPH.
The UPM 50 Black Flame pitching Machine is the official pitching machine of the Babe Ruth League and Pony Baseball and Softball.
Check How Black Flame is Used
Blue Flame Ultimate Pitching Machine
The Slugger Blue Flame Pitching Machine (UPM45) was released years before the Black Flame version. They are similar in that they can be used to throw any type of ball. A major difference between blue flame and black flame pitching machine, however, is that the former can pitch only up to a speed of 45 MPH.
This Blue Flame UPM 45 is approved by the Little League as well as hundreds of leagues, such as Dizzy Dean and Dixie.
Blue Flame Vs Black Flame Pitching Machine
Baseball enthusiasts might have a hard time choosing between the two similarly designed pitching machines, which is why a review of the similarities and differences is presented below to help you come up with an informed decision.
Table Comparison Between Blue Flame Vs Black Flame Ultimate Pitching Machine
Features
A major reason the brand is considered the best pitching machine by numerous baseball newbies or trainees in the U.S. and Australia is its features. However, in terms of this criterion, the Louisville Black Flame Pitching Machine does not differ that much from the Blue Flame model. Some of the similarities they have are the following:
The Black Flame operates the same way but it has a couple of improvements over the Blue Flame:
Price
Many players and coaches have recommended using any of these pitching machines because of their cost effectiveness. Compared to other equipment with similar purposes, the Black Flame and Blue Flame come at a cheaper price. Between the two, however, the UPM50 is generally more expensive as it serves as an upgrade over its predecessor, the UPM 45.
Check the Blue Flame Here:
Specifications
In terms of size, the two equipment is not that far off. They are similarly compact, having dimensions of approximately 32 x 14 x 6 inches. They weigh differently, however. The Black Flame is 10 lbs heavier than because of minor variations in design and the aforementioned power lever and throwing arm.
Consistency and Accuracy
The UPM is known for laying consistent strikes right down the plate and accurate ball speed, depending on the setting that had been selected. The Softball Pitching Machine can also consistently throw a 10- to 12-foot arch softball pitch. Games and pitchers' throws can be simulated well by the equipment, which allows the hitter to feel like he is in a real match environment.
Performance
A review of the performances of the UPM will show that the tool is capable of tossing similar pitches every single time. The machine can be adjusted to determine the speed, height, or kind of pitch the batter wants to hit. Stacking the ball is also quite straightforward and does not require any special maneuver or setup.
The spring of the equipment is also known for its durability and longevity. It is estimated the spring will last for at least 20,000 pitches.
Care and Maintenance
One good thing about either of the two equipment is that they do not require heavy maintenance. Like every machinery, though, they would still need some simple caring procedures to ensure the quality of their performance when pitching balls. If the products were found to have flaws in materials or workmanship, there is a 60-day manufacturer warranty to cover the defects.
Hitting Off A Pitching Machine
Which One Stands Out?
With more similarities than differences, you might still be on the fence on which alternative to buying. Below are the summaries to help you decide between UPM 45 versus UPM 50.
Black Flame Ultimate Pitching Machine is Better For a Wider Range of Use
The Black Flame is more versatile because it has more speed options and a wider range of adjustments. For players or coaches who wish to see a variety of pitches, this model would serve as the better choice. Keep in mind, however, that you would have to shell out more money to purchase the UPM 50.
Blue Flame Ultimate Pitching Machine is Better For Casual Practices
If you want to save financially and are willing to use a machine with fewer functions, then the Blue Flame model is the right choice. The equipment can serve its purpose for casual or younger athletes who do not need to practice hitting different types of pitches. But even this cheaper model can still help improve one's proficiency in batting.
Final Words
As far as baseball pitching machines are concerned, coaches and trainers recommend any Louisville Slugger models because they are generally less costly than the competition while still being able to deliver quality performance for their users. The ability to transport and use the equipment just about anywhere also provides them a competitive advantage. Choosing which model to buy, however, hinges on what you need out of the machine. Thus, be sure to review the similarities and comparisons well to ascertain which product is the most appropriate for you.
One thing is for sure, you will be batting line drives with whichever one you choose to go with. Opposing pitching will fear you!
Updated on