Launched in 2013, this simulation has revolutionized the way in which baseball can be practiced. Players can get in-depth, highly accurate and fully comprehensive stats on their performance and technique, allowing them to accurately pinpoint areas of improvement.
Due to the simulation's design, it is fun and entertaining for all age groups, and promotes healthy competition through rankings on their online leaderboard. It has over 16 thousand registered users in North America, and many high schools, athletic facilities, and universities have bought into the program. The University of Notre Dame was the first institution to use the simulator and it has even be used by professional league teams to utilize their practice sessions.

How Does HitTrax Work?
HitTrax is unique in the baseball and softball market. It is the first simulator that allows players to analyze their statistics and become more in-tune with their playing techniques. Using technology such as the VCAM (video capture and analysis module), it essentially turns the batting cage into a high tech analytics and stats center. Players can look back at their hitting and pitching techniques, find areas of weakness, and improve their performance all before stepping onto a field.
The Hittrax leaderboard offers percentile rankings for all players, so different groups can see each other's rankings and use it as a measurement against how individual players are doing according to their group.
What are the Benefits?
As well as individual players being able to see their statistics, coaches are also able to capture real-time videos and analyze the measured outcome of the player's swing. Using the VCAM, they are also able to put two videos next to each other so they can visually compare a player's technique. Coaches can also add more value to their coaching programs and memberships by being able to offer instruction alongside quantitative data when using the simulator.
Baseball and softball players of all ages and abilities can increase their technique and skills using the machine and have the added element of competition and immediate assessments to motivate progress.
The new system is available to be used on a mobile device, so players and coaches have the convenience of downloading data to their phones.
Check out this video:
Features
Some of the new features include:
HitTrax Analytics
According to HitTrax, the analytics that players have access to provides a comprehensive and in-depth view of their baseball techniques. These are some of the features that are listed as part of the package:
Hitting
Pitching
Catching
Tools such as the baseline assessment report also allows players to be able to track and monitor their progress, making it easier to identify areas of weakness and strength. All of the stats are backed up to a central cloud, enabling players and coaches to watch back videos and analyze data away from the batting cage.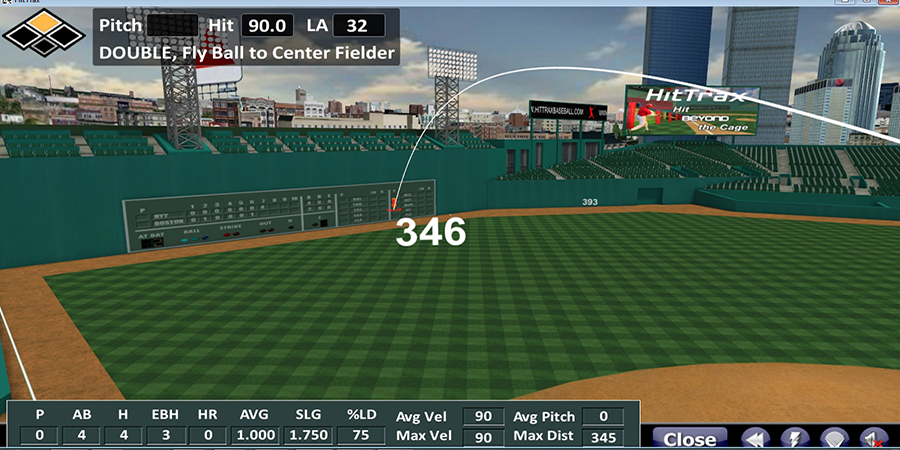 Entertainment
To keep young baseball athletes engaged, training facilities and coaches are always on the lookout for engaging activities and materials. The simulator contains a game engine built-in for home run derby competitions and even has imagery of Major League ballparks, so players can simulate playing in different stadiums. This is all done in the hope of encouraging children to take up the sport and enjoy learning and training sessions in a new and innovative way.
FAQs
What is a HitTrax?
The first baseball simulator of its kind, it analyzes the player's performance metrics in order to improve their skills before they enter the field. A HitTrax batting cage will record all the data for the player, such as hitting and batting and allow them or their coach to watch it back and analyze their technique. The HitTrax cost is high, however, for individual users, the simulator can be rented.
Dicks Sporting Goods has an option to find 'HitTrax facilities near me' as they have facilities based around the country.
How Do You Use HitTrax?
As an individual, to gain access to Hittrax you will need to rent the simulator and set up your own HitTrax account. Once you have the account set up, practice and training will be monitored and all stats and data will be available for review.
Players can also check the leaderboard to see what ranking positions other players are in. Coaches will be able to oversee all the players' stats and can use the information to prepare future training sessions.
What is the HitTrax Baseball Price?
The official HitTrax for sale price is approximately $20,000 plus subscription fees. Batting cages with HitTrax can be rented for individuals who want to improve their performance. The HitTrax price depends on the membership, most offering packs of five or 10 sessions with full access to all the features of the simulator.
Is HitTrax Accurate?
According to TechGraphs, InMotion reported by the Hit Trax system are accurate to within one mile per hour, and also claimed the distances reported were accurate to within five percent of the actual distance, as measured manually with a tape measure.
One thing the system does not take into account, however, is the ball's spin, which does have an impact on how far the ball travels.
Disclaimer: HitTrax logo is property of InMotion Systems, LLC
Updated on