A pair of batting gloves are one of the most important pieces of equipment that a player needs. Not only do they provide comfort and protection against injury from the bat, but they also improve grip and give the hitter the confidence and security they need to hit a great pitch.
We have compiled a list of the best baseball batting gloves in 2023, as well as an informative guide on how to choose the best gloves for you or your child.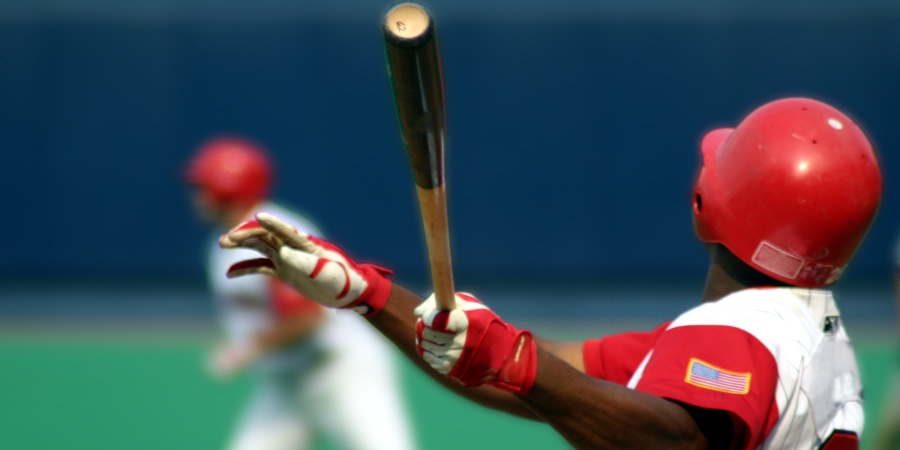 Summary: Our Top 9 Picks for Batting Gloves
Franklin Sports MLB CFX Pro Batting Gloves

Official batting gloves for MLB

Louisville Slugger Genuine Adult Batting Gloves

Great flexibility and mobility

Franklin Sports MLB Digitek Batting Gloves

Multiple colors available

Seibertron B-A-R PRO 2.0 Signature Batting Gloves

Reinforced sections for durability

Franklin Sports MLB Powerstrap Batting Gloves


Made of high quality leather


Comfortable and supportive


DeMarini CF Batting Gloves

Franklin Sports MLB Shok-Sorb Neo Batting Gloves

Fantastic shock absorption

Made of high quality leather

Floating thumb technology for unrestricted grip

Spiderz Adult Hybrid Batting Gloves

Palm pad for comfort and durability

Variety of designs and colors

EASTON WALK-OFF Batting Gloves

Made of high quality materials
9 of The Best Batting Gloves for Baseball and Softball in 2023
With many brands to choose from, it can be hard to narrow down to one choice, whether you are looking for the best youth batting gloves or the best softball batting gloves. There are numerous factors to take into account, from the grip on the bat, protection from cold weather, and more. The list we have compiled offers a diverse range with different specifications so it is easier to work out which gloves will suit all your needs.
Franklin Sports MLB CFX Pro Baseball and Softball Batting Gloves
TOP PICK
Franklin CFX Pro are well known as being a favorite amongst pro players. Using premium Pittards Digital sheepskin leather, the flexibility and softness of the gloves lasts even in harsh weather conditions. The flexibility is also enhanced by a Dual-Layered Lycra-Flex Bridge, which adds flexibility behind the knuckles for a natural fit.
Franklin's Quad-Flex Creasing design adds the style of the gloves, with a single piece of reinforced leather used on the palm to eliminate awkward seams and increase the clutch on the handle. They are also suitable batting gloves for girls as they have been designed to suit the dimensions of a female hand.
Louisville Slugger Genuine Adult Batting Gloves
BEST BUY
Louisville Slugger's Genuine Gloves are made using one piece of synthetic material, which creates a no-slip grip from the palm to the thump. In addition, stretchy lycra is used on the backhand, aimed at increasing breathability and flexibility. Available in black and white, the range is small yet well designed.
With a snug fit on the hand, these gloves stay in position when batting and provide protection and support around the hand, also shielding against cold weather. Additionally, they are designed to also be used as youth softball batting gloves.
Franklin Sports MLB Digitek Batting Gloves
BEST RATED
Designed with flexibility in mind, the Franklin Sports MLB Digitek Gloves uses a digitally-etched microfiber palm which gives an optimal grip. A high quality leather heel patch also provides cushioning and protection to avoid blisters occurring.
Available for youth batters as well, the Franklins batting gloves for boys, girl, and adults incorporate porous materials which allow the skin to breathe, in addition to genuine leather in certain areas for durability and strength.
Seibertron B-A-R PRO 2.0 Signature Baseball/Softball Batting Gloves
The Seibertron B-A-R Pro offers great anti-slip silicone fingertips which help hitters grip the handle with confidence. To lessen the impact when catching the ball, a gel pad on the gloves acts as a barrier to cushion the blow.
Additionally, the Seibertron Pro gloves offer great ventilation through the side of the fingers and the palm, avoiding sweat build up.
The gloves also come with a Velcro wrist strap which is aimed at supporting the wrist and top of the hand. These are great padded youth batting gloves that provide ample protection for the hand.
Franklin Sports MLB Powerstrap Baseball Batting Gloves
Worn by the famous Joey Votto, the Franklin MLB Powerstap Gloves are designed using high quality Pittards smooth single-piece skeepskin leather. The leather not only ensures a soft feel, but gives the gloves a durable finish for an enhanced lifespan. These girls and boys batting gloves are great for withstanding harsh weather conditions such as cold weather.
With Powerstrap wrist technology, the gloves fit snugly and support the wrist area. The gloves also include strategically placed flex points for enhanced flexibility and performance.
DeMarini CF Batting Gloves
The DeMarini CF Gloves have a digitally embossed sheepskin leather palm, which acts an efficient and secure barrier against high impact balls. The Pro Grade wrist strap with a molded pull tab gives the perfect combination of comfort and support to the batting glove.
Using a 4 way stretch jersey mesh, these baseball gloves for batting are flexible yet still offer breathability, to avoid excess sweating. They are also suitable to be used as boys and girl softball batting gloves and offer great protection against cold weather.
Franklin Sports MLB Shok-Sorb Neo Batting Gloves
As the name gives it away, the Franklin MLB Shok-Sorb Gloves are designed to be the best protective batting gloves, due to their shock absorbing feature. Additionally, one of the best features of these MLB batting gloves is the floating thumb design which creates a free and flexible thumb. This helps grip the bat handle better, and enhances the movement in the glove.
Using a Lycra mesh material on the batting glove, the Franklin Shok-Sorb gloves are extremely thin and porous, allowing for plenty of air to keep the hands cool and comfortable in all weather conditions.
Spiderz Adult Hybrid Batting Glove Silicone Web Palm
Spiderz hybrid batting gloves for softball and baseball use a one-piece design, with their signature spider web fused on top. This is designed to give the ultimate grip on the bat, for increased accuracy and swing. The hybrid batter gloves have a flexible yet snug fit, with those preferring a tight fit advised to select a size down.
Flex cut knuckles offer a great fit, making the batting glove shape the hand comfortably, whilst still maintaining flexibility. These padded palm batting gloves also offer plenty of support as the wrist strap has been triple reinforced.
EASTON WALK-OFF Batting Glove Series
The Easton Walk-Off Gloves feature flexible Lycra on the back of the hand, and a smooth goat skin leather palm. A great feature is the pull tab on the strap around the wrist of the batting glove, designed with flexible neoprene to provide excellent comfort.
Used by Pro. World Champion Alex Bregman, these gloves are designed to fit the hand snugly, maintaining the support of the wrist and back of the hand. Additionally, there are plenty of colors to choose from.
What To Look for in Cool Batting Gloves for Baseball and Softball
With many different options available, choosing the best batting gloves for softball and baseball will come down to your personal needs and requirements. You might need batting gloves with padded palms for shock absorption and comfort, or breathable, lightweight gloves to avoid excessive sweating.
Many of the best gloves tend to be aimed at a specific feature, such as grip or flexibility. Regardless of whether you need women or men's baseball batting gloves, it's important to know how the different components of the glove contribute to durability, breathability, and wrist support.
Learn How to Buy a Batting Gloves Here:
Grip
The grip is generally viewed as one of the primary components when looking for the best batting gloves. A strong grip gives the batter the confidence and control over their bat and swing.
The material which makes the grip is usually across the palm and tends to be some form of leather. This enables a secure grip on the bat, one of the fundamental requirements when aiming for those tricky swings.
Protection
Batting gloves with padding offer a small layer of extra protection to the hands. Some contain plastic inserts on the back of the hands, which protects the area well from wild pitches. Adult and youth padded batting gloves which contain high-impact resistant padding is great as a shield for the hand, but can also make the glove feel heavier.
Good quality padded softball batting gloves and baseball gloves are worth investing in, as they will save time and pain in the long run.
Shock Absorption
In addition to padding, shock absorption is a key element in protecting the hands. After hours of practice and games, the sheer volume of the ball to bat contact can take its toll on a player's hand. When the ball smashes against the bat, it sends shock waves across the entire length of the bat, which can sometimes result in painful vibrations.
Baseball and softball leather gloves are designed for shock absorption and quality grip, which eliminates the shock waves, reducing the chance of bat sting. This allows the player to practice longer, and with more comfort and ease.
Blister Prevention
Blister prevention is one of the main reasons why players began using gloves during games. Ken Harrelson is believed to be the first player to use gloves to prevent worsening an already painful blister. The materials tend to be thick enough to provide a barrier between the skin and the bat, which reduces the chance of friction.
Find Out the MLB Players Who Don't Wear Batting Gloves!
Wrist Style
The wrist style depends on the need of the player. Those with pre-existing injuries tend to wear gloves with a higher wrist which extends further down past the hand. This helps to support the wrist and avoid further injuries from taking place.
In general, most gloves end at the base of the hand, which doesn't provide as much support but may be more comfortable for some players. Many players also use baseball wrist tape for additional support.
Materials
The materials of the gloves are one of the best features in terms of comfort, protection, and durability. This greatly affects the cost of a pair of gloves, as some use expensive high quality leather which is long lasting. Goat and sheepskin leather are commonly used, with many gloves containing a leather palm.
Batting gloves for cheap prices tend to use materials that lack quality, and this can decrease the comfort levels and durability of the gloves. It can also decrease the protection from the bat; gloves with cheap materials might not offer as much friction control.
In addition, if you're looking for cool baseball batting gloves, it's important that they contain breathable materials that don't allow the hand to overheat and become sweaty. Alternatively, many gloves are aimed at cold weather use and use warmer materials to keep the hand relaxed and warm.
Style
Choosing the right gloves comes down to individual preference. There are a number of styles and features aimed at different requirements. Some players will be more interested in gloves aimed at comfort, others will look for wrist support or durability.
This can also be determined by cost, cheap batting gloves tend to have less in terms of style diversity and sometimes look less attractive.
Baseball Batting Gloves and Softball Batting Gloves Buying Guide
The baseball batting glove should fit correctly in order for the full benefits of wearing one to be effective. Understanding their purpose, how to size them, and how much they cost will help when browsing through the many types of gloves available online.
Check This Out:
What Are Batting Gloves For?
Although not every player uses gloves, and it isn't an official requirement to, they offer a lot in the way of support and protection. Many contain straps which support the wrist, and the use of materials such as a leather palm contributes to protecting the hand. They can also be used as a shield from cold weather.
The hand is also better supported and can retain its position during a swing, without sliding. The coolest batting gloves will use breathable material which stops sweat from building up, which also helps the hand to stay firmly in position.
Finally, gloves are great at enhancing the hold around the bat handle, which allows players to take control and have more power over their swings.
How To Measure for Batting Gloves
The most effective way to measure in size is to start the tip of the biggest finger and finish at the base of the hand. Most gloves tend to be sold in sizes small, medium, large, and X-large, so it may be a case of trying different sizes to find which sizing group is the best.
Most companies also provide a sizing chart which will help you determine this, but some sizes may vary from brand to brand.
Batting Glove Sizing Guide
How Should Batting Gloves Fit?
All the above features become useless is the fit of the glove is incorrect. In order to support the hand, a protective batting glove should have a good grip and a snug fit. With that in mind, they shouldn't be too tight, as this will lead to quicker tearing and feel uncomfortable.
If the gloves are too large, the extra material can compromise the grasp on the bat handle, which can result in poor performance.
How Much Do Batting Gloves Cost?
For a standard pair of batting gloves with average specifications, the cost can be anywhere between $20-$30. Gloves that use high end leather can go up to $40.
The best batting gloves for youth players tend to be around $25-$30, and the cheapest batting gloves can go as low as $10.
As with most sports gear, it's best to find a comfortable balance between budget and quality, especially for youth players which may require multiple gloves as they grow.
Are Softball and Baseball Batting Gloves The Same?
Padded batting gloves for softball are also a great investment, as they can greatly improve performance and protect the hands from weather, bat sting, and being hit by the ball.
Baseball and softball batting gloves are generally interchangeable and designed to suit both. Women's batting gloves which are specifically designed for softball use may suit women better in terms of sizing, rather than opting for a standard baseball/softball range as their sizes may be too large.
Sizing
As mentioned before, the sizing can often vary from brand to brand, so a little trial and error will be required before finding the best size for you.
Once you have measured the from the palm to the tip of your middle finger, you may find that you're in between sizes. In this case, it's best to opt for a smaller size. It may feel tight at first, but in some cases it will loosen slightly over time, and is far safer than wearing gloves which are too large.
FAQs
How to Clean Baseball Batting Gloves?
Most gloves are made from leather, so a leather cleaning agent is the safest option. If you don't have access to any, use a mixture of watered down dish soap and a sponge to wipe away dirt, making sure not to saturate the material with too much water.
What Hand Do You Wear a Batting Glove On?
As the gloves come in pairs, they can be worn on both hands. This offers a solid grasp and comfort to the batting hand, and extra protection to non-batting hand in case of a rogue ball or a fall when running around the bases.
Conclusion
Using the guide above should help you when decided on the best batting glove. Baseball and softball players can benefit from wearing a pair of gloves, and there are plenty of options with different price ranges. Following the size guidelines should allow you to find a snug fit which is perfect for practice and game play.
In addition, our compilation of the best batting gloves provides a good mix of specifications, prices, and styles, making it easier for you to find the right pair.
Updated on