In baseball and softball, practice makes progress — just like in all sports. If you want to be a great pitcher, you can make your pitching practice more efficient by investing in one of these best baseball rebounders. If you want to be a top-class hitter, you have to devote time to batting practice and make these practice sessions more efficient as well.
A portable sports equipment that can help you maximize efficiency during practice is baseball or softball hitting nets. It can reduce your number of visits to your local batting cage. It also provides a child the opportunity to practice hitting without his or her parents having to worry about all the broken glasses or windows.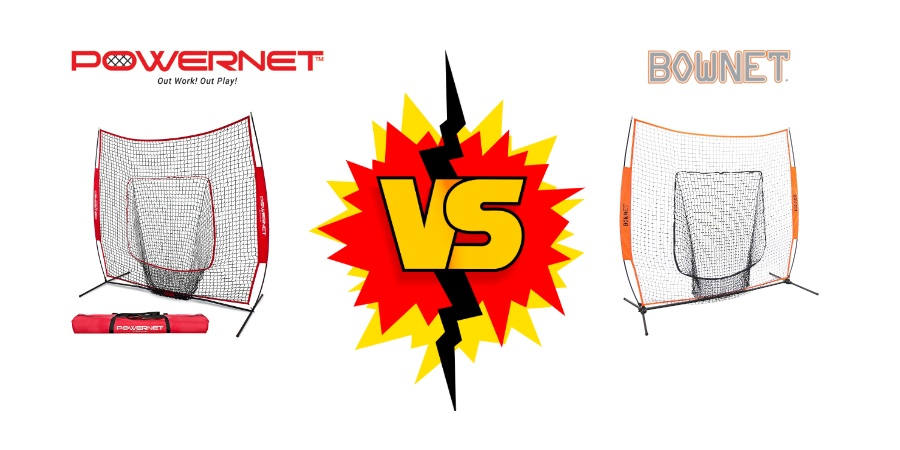 PowerNet
PowerNet is a sporting equipment provider that caters to customers not just in the U.S. and Canada, but also in Australia and New Zealand. They offer a variety of hitting nets that come in different dimensions, providing players the opportunity to obtain a training product that suits their needs. The company also offers various practice nets for other sports, including soccer, volleyball, and more.
Bownet
Another brand that has found renown among players and coaches is Bownet. The company produces baseball, softball, soccer, volleyball, and lacrosse sports nets. All their products are equipped with the trademarked Energy Absorption System technology, which diffuses ball energy and increases the strength and durability of a practice net.
PowerNet Vs Bownet
Either one of the PowerNet and Bownet options is a top choice. They serve their functions similarly well. Also, both are known for their sturdy frame, durable net, and portability (any of the models come with a carrying bag.)
Two of the best baseball or softball practice net models in the market are PowerNet and Bownet. Detailed below are how the two stack up against each other.
Table Comparison Between PowerNet versus Bownet
| | | |
| --- | --- | --- |
| | | |
| | | |
| | | |
| | | |
| | | |
| | | |
| | | |
| | | |
| | | |
| | | |
| | | |
| | | |
| | | |
| | | |
| | | |
| | | |
Product Quality and Durability
One of the first things you should look for when buying a baseball or softball practice net — or any product for that matter — is its quality and durability. This is to ensure that you get your money's worth and not have to wait a long time for replacement parts. In terms of product quality, PowerNet and Bownet baseball nets are found to be almost the same by customers.
PowerNet baseball nets are generally known for durability, with more consumers posting positive reviews than negative when discussing this characteristic. Bownet baseball nets, however, have been known to be more superior than PowerNet in durability, toughness, and capability of staying anchored on the ground. There are even some reviews that show Bownet products can withstand extreme weather conditions.
Price
Your budget plays an all-important part in selecting which product to purchase. Each of the PowerNet and Bownet brands has a wide selection of variants available in the market. But in the matter of price, there is a significant difference between the two.
A PowerNet practice net for baseball, softball, or other sports is usually $50 cheaper than its counterpart from the Bownet brand. This makes the former a more attractive alternative for players or coaches on a tight budget or those who want to save money.
Learn How to Set-up a Bownet
Design
There is not much difference in the design aspect when comparing Bownet vs PowerNet.
Both options can be used by batters who make use of a batting tee or have the ball pitched via a soft toss. These practice nets complement well with a hitting tee. Check out here to find out the best batting tee for baseball and softball.
Both are the same in that they make use of a bow frame, which has poles that are slightly bent to maintain flexibility. The poles will not fall even if the practice net gets hit multiple times by a ball.
Most of the practice nets are equipped with a big mouth in the middle, which could help you develop your techniques properly and ensure that balls hit into the net do not ricochet uncontrollably.
Size
Either one of the PowerNet and Bownet brands is recommended when it comes to the availability of different practice net sizes. Both of them offer customers a variety of choices. The most common size of practice net purchased and used is 7×7.
PowerNet practice nets also come in 8×8 frames for those who wish to have a wider receiving area. There are also smaller variants, such as the 5×5 practice net. That, however, does not come with a big mouth.
Similarly, Bownet also markets different net equipment sizes. Notably, the brand has a 21.5×8 practice net that is equipped with two sets of a big mouth. This allows up to two batters to line up at the same time, but they would each be in front of a big mouth.
Portability
One of the advantages of portable sports equipment is that it can be brought and set up anywhere it is needed. PowerNet or Bownet practice nets are well-liked by hitters because of their portability, unlike a batting cage. The entire fixture, along with the included items, will not weigh more than ten kilograms and can fit in carrying bags. Although you have to make sure to load the bag into a personal vehicle because taking public transport or riding a bicycle while lugging the bag is not recommended.
The PowerNet and Bownet are similarly designed to allow players to practice hitting balls wherever they are — from the backyard to a baseball field. The batting net can also facilitate batting practice regardless of how the ball is delivered, including tee work, soft-toss, or fastpitch.
Watch a PowerNet Baseball Training Here:
Ease of Setup
What users have loved about PowerNet and Bownet is how it quick and convenient it is to piece the net together. It does not require special tools to assemble and can be accomplished in two to five minutes. The ground stakes that come with the product and that are used to keep the net in place when used also require no effort to fix. This lets you, your players, your son, or your daughter get to focus more on actually practicing instead of worrying about how well you have put up the baseball or softball batting net.
Furthermore, you can also easily dismantle the net, store the equipment in the bag, then toss the same right back inside the trunk of the car or at the back of your truck after you are done with it.
Check This Out!
Range of Products
For both Bownet and PowerNet, baseball and softball batting nets come in various dimensions and features. However, it is Bownet that has a wider range of selection with more than 30 variants for baseball/softball. On the other hand, PowerNet has fewer options with just 10 options.
Overall Value for Money
While PowerNet is clearly the cheaper alternative, the more expensive Bownet can give its competitor a run for its money regarding the value it provides in relation to how much it costs. Since Bownet is a cut above in terms of durability, it means it is less likely that you would have to spend on replacement parts or purchase a new item sooner than you ought to.
Which One Stands Out?
In the Bownet vs PowerNet debate, it is unclear which brand comes out on top. After all, it is a matter of the customer's preference.
PowerNet is Better for Casual Players
If you are looking for a less costly deal and will use the net only occasionally, then PowerNet will prove to be the better option. It is designed for light to moderate use or for hitters who want to focus on specific techniques or skills. For parents who are on a tight budget who want their kids to practice casually, PowerNet is also the ideal alternative.
Bownet is Better for More Intense Practices
Bownet is the more expensive option, simply because it is more versatile, made with superior construction and materials, and more durable. For this reason, Bownet is the better choice for team environments. The equipment is known for its longevity, with numerous users saying they have been able to use a Bownet hitting net for more than five years. The brand also has a wider range of products, which can allow coaches to acquire the portable net they specifically need.
FAQs
How do you put a Bownet together?
Setting up a Bownet does not require sophisticated tools or skills. But make sure that your child, especially if he or she is young, does not do it without adult supervision. It can be completed in a matter of a few minutes by following these assembly instructions for big mouth nets.
What is an L screen in baseball?
An L screen is used by pitchers who want to practice and improve new throws, such as heaters, changeups, and curveballs. Because the pitching screen is shaped like an L, the player can throw with ease without having to worry about getting hit by the batted ball.
Final Thoughts
When buying sporting equipment, it is essential to exhaust all your options and get the right advice to make sure you obtain the right product for you at the price you are most comfortable with. There is also the option of checking out other competitors, such as Rukket or Easton, for a hitting net. What is important is you find the product that suits your requirements.
Updated on