A baseball scorebook should encompass everything that a scorekeeper needs, in a compact, easy to use format. For softball or baseball, how to score using a scorebook requires some knowledge of the abbreviations and symbols commonly used, but this is easy to learn.
Many scorebooks that have been designed for beginners even include instructions, but if not we've included a guide below to help out.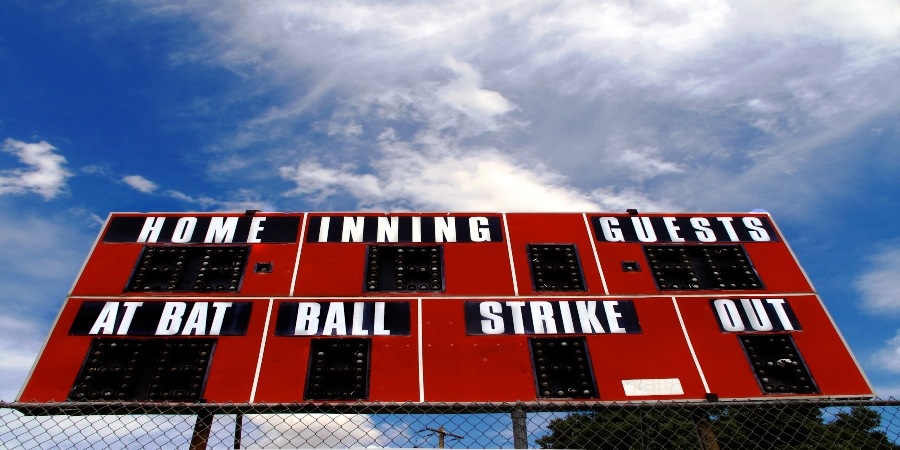 Summary: Our Top 12 Baseball Score Books Picks
Franklin Sports MLB Baseball/Softball Scorebook

Good for little league games

Murray Sporting Goods Baseball Scorebook

Includes a season schedule

SR Baseball/Softball Scorebook "Side by Side"

Track both teams on one page

Can score individual stats

Super 16 Baseball/Softball Scorebook


CHAMPRO Baseball/Softball Scorebook

Perfect Strike Baseball SCOREBOOK with Rules and Scoring Instructions

Can be used with any writing medium

BSN Baseball/Softball Scorebook

Rawlings Deluxe System-17 Baseball & Softball Scorebook

Covey Sports Baseball Softball Scorebook

Two teams on the same page

Includes batting average chart

BSN Baseball/Softball Scorebook (Oversized)

Glover's Scorebooks 9 to 15 Player Baseball/Softball Scorebook

Applicable for both baseball and softball

Markwort Baseball & Softball Scorebook

Instructions for beginners
12 of The Best Baseball Scorebooks in 2023
Although there are scorekeeping online options, many coaches tend to enjoy putting a pencil to paper. Therefore, there's no shortage of baseball scorebooks available to buy. To help make choosing the best baseball scorebook easier, we've put together a list of popular scorebooks that combine quality and decent prices, as well as some information on how to score a baseball game.
The best baseball scorebooks should be good quality in design and construction and have plenty of space for scoring multiple games, so keep this in mind when shopping around.
Franklin Sports MLB Baseball/Softball Scorebook
TOP PICK
The Franklin Sports MLB scorebook lets you keep track of almost double the games of a single team than the previous version of this scorebook. If you are tracking whole game stats you'll be able to score 25 entire games, and can be used for little league or high school level.
With excellent instructions and all of the basic fields for tracking, this scorebook for baseball is a great option for those beginner scorekeepers who are eager to learn, and this baseball stat sheet can also function if you are interested in softball scorekeeping.
Murray Sporting Goods Baseball Scorebook
BEST BUY
The Murray Sporting Goods Baseball Scorebook is the perfect stat-keeper for teams at any level! This spiral-bound scorekeeper for scoring baseball makes the complicated, simple. With space enough to keep all of your team's stats for every game of the season, and a dedicated season summary page, this is the ideal choice for any coach or scoring official.
This scorebook is designed for baseball and softball games with teams of all ages, so great for little league and high school baseball games, and can record 35 games with a 16 player roster.
SR Baseball/Softball Scorebook "Side by Side"
BEST RATED
The SR "Side-By-Side" Baseball Scorebook is the perfect spiral bound is the perfect tool for recording scores. This book will let you track pitch counts, count batting averages and other individual stats, and track up to 16 players.
For ease and convenience, this baseball stat book has a supersized scoring box and the capacity to score up to 30 games, with space to track both teams on one page, no more flipping pages!
Super 16 Baseball/Softball Scorebook
The Peterson's Scoremaster -Super 16- Score Book is a hardback 9 x 12-inch hardback scorebook. In addition, it features scoring capabilities for up to 25 games (both teams), and 16 batting positions per team with a substitution slot. Pictorial scoring examples make this ideal if you are a beginner getting into the world of scorekeeping.
This Peterson's scorebook also features tables for prefigured batting averages, lineup cards (that tear out to hang on the dugout), team schedules, instructions, a season summary, and a team roster. With all of these features, this scorebook is perfect for coaches and parents.
CHAMPRO Baseball/Softball Scorebook
This Champro scorebook for is 52 pages of all the resources you need to keep accurate records of your team's hard work. In addition, there is enough room to accommodate the scores of both teams for 26 games.
Each sheet will have space for 9 innings with 18 players and a substitute for each batter. There is instruction included for those curious users who are getting into the world of scorekeeping for the first time.
Perfect Strike Baseball SCOREBOOK with Rules and Scoring Instructions
This high quality, heavy-duty, PVC banded scorebook is perfect for all your scoring needs and has a dimension of 8.5″ x 11″. In addition, it has the capacity for 40 scoring records on 20 heavy-duty paper sheets. There are 12 Player records and 10 Inning columns, perfect for 9 inning games.
In addition, the classic design features larger scoring boxes and contrasting colors for improved visibility and ease of use. The heavyweight PVC banding and 67lb premium paper ensure that it will last the season and won't bleed your markings through to the next page.
BSN Baseball/Softball Scorebook
The BSN scorebook is the ideal tool, with 16 batting positions, 9 innings per page, and 26 pages, you can score up to 26 games. Each page has space to score keep for both sides so there is no need to flip back and forth between pages. Easy to use, it allows you to keep extensive individual stats, batter roster (including space for one substitution), season summary, roster, and much more.
Instead of the typical scoring squares that other books use, this scorekeeper for utilizes diamonds, increasing the surface area you have to write on. With a tutorial section at the front, this is a perfect option for beginners.
Rawlings Deluxe System-17 Baseball & Softball Scorebook
The Rawling's Deluxe System-17 scorebook is perfect for those who want a lot of space to write. This baseball scorekeeper can score keep a 9-inning game for 17 batters with two substitutions for each batter, which is much more than most entry-level scorekeepers.
The trade-off with this book is that it will only let you log a maximum of 20 games There are, however, large boxes with ample space for all scorekeeping.
Covey Sports Baseball Softball Scorebook
The Covey Sports scorebook is a top-quality tool for scoring in baseball and softball. With space enough to score for 12 batters with 2 substitutes for each, and 10 innings per team, this scorekeeper is an excellent choice for anyone looking to keep track of any game.
In addition, it also has space to keep score for two teams on each page which keeps you from having to flip back and forth between pages, and with 100 pages you can track up to 100 games!
BSN Baseball/Softball Scorebook (Oversized)
This BSN scorebook is oversized to ensure that you have all of the space you could need to write and score for baseball or softball. At (14" x 11"), this scorebook has the capacity for 11 positions with 3 substitutions per batter and 10 innings per sheet, and you can score for up to 30 games per sheet.
In addition, the home and away sides are printed in different colors to help keep track of those extra intense games. With scoring instructions at the front, these scorebooks the ideal choice for any new or beginner looking to learn how to be a baseball scorekeeper.
Glover's Scorebooks 9 to 15 Player Baseball/Softball Scorebook
The Glover Scorebooks 9 to 15 Player Scorebook has space for 15 players and 2 substitutions for each player, and 9 innings per sheet, meaning you get the opportunity to score for up to 30 games in total.
Additionally, these baseball scorebooks also include space to track pitchers with 4 fields and listing pitchers by innings per sheet. With a batting average chart, lineup cards, player information sheet, and an individual player stat sheet, this scorebook is perfect for the scorer at any level.
Markwort Baseball & Softball Scorebook
The Markwort scorebook packs quite a punch in the world of scorekeeping. With space to score for up to 26 Games, including seasonal data, batting, and fielding results, this book has something for everyone. It can record up to 18 Players, with 10 innings per page, and includes perforated line-up cards to hang on the dugout.
This book is made in the USA and uses a blue or black ink print, and with instructions for beginners in the front of the book.
What To Look For When Buying Baseball Scoring Books
When it comes to buying baseball equipment and gear, whether it's the best pitching machines or the best baseball pants, it's important to know what features to look out for. There are a number of factors to look for when buying the best scorebook for baseball. Things you might not consider, such as if the back cover is hard, or the size of the book, actually make a big difference to how your scorekeeping experience will be.
How to Use a Baseball Scorebook? Check This Out:
Overall Quality
It is important to consider the quality and specifications of anything before you purchase a product, but it is especially important when purchasing a scorekeeping book. Typically, a good scorebook will have high-quality bleed proof papers with a good binding that makes writing easy even without a table.
This will ensure that your book will last as long as you need it to. Smaller scorebooks may have limited space for extra notes, which can be important if you enjoy being extra diligent. A final factor to take into account is if the book has spiral binding. Having spiral binding means ease of turning the page, and often increases the durability of the baseball scorekeeping books.
Dimensions of The Scorebook
The size of the scorebook is important when considering portability. Take into account where you'll be taking your book, and how you'll be storing it.
Typically, the bigger the book, the more space to write in. This leaves more room for more games to score, more stats to record, and more seasons to cover. If this is something that does not concern you, you may want to opt for a smaller book.
Printing
Printing plays a significant role because you need high-quality ink that will not bleed if it gets wet. You also need to consider how the layout of the book is printed. You need to ensure that there will be enough room for all your stats and that you can see the scoreboards clearly.
Hard Back Cover
A hardback cover can make all the difference in the world when it comes to writing during the fast-paced environment of baseball. Books with firmer backs will allow you to write without the need for a table, which will keep your eyes on the players longer.
Can It Be Used for Both Baseball & Softball?
The short answer is yes, scorekeeping in baseball is very similar to softball so typically designers ensure that these books can be used as both baseball and softball scoring books.
Number of Score Sheets
When looking around, it is important to decide how many scoresheets you will need for your team and season. Different baseball scorebooks have a different number of sheets. Scorebooks which can score for both teams on the same page will have fewer pages per game.
Price
In general, baseball scorebooks are not a large investment and you don't need to worry about it breaking the bank, but there is no need to spend more on features that you won't use. The price depends on the quality of the binding and paper, and the number of features it has.
When it comes to finding the best baseball scorebook, it is important to keep in mind the features you need and balance that with the amount of money you want to spend.
How to Scorekeep Baseball
Some books will have basic instructions to give beginners an idea of how to score a game. It essentially comes down to finding a way that suits you, as there isn't one right way to scorekeeping baseball. Using symbols, letters, and numbers, your aim is to record down the game in a way that you can replay it when reading back through the pages.
Be sure to use a pencil, as even the most seasoned scorers and referees make mistakes and need to erase certain notes.
Learn How to Score keeping Baseball Here:
Player Abbreviations and Symbols
Using abbreviations and symbols make it easy for a scorekeeper for baseball to quickly record down notes, and allows others to be able to read back the scores. Here is an example:
Player Abbreviations:
Or they can be laid out like this:
Understand Notation for Little League Scorekeeping in this Video:
Letter abbreviations are typically used to mark the type of hit made by a player. This can be confusing at times so numbers can be used to mark positions instead.
Other abbreviations include:
FAQs
How do you keep score in a Baseball Scorebook?
It may seem complicated at first, but the jargon that can easily be learned. Once you know this, it's easy to keep score in baseball. The scorecard is intended to create an accurate record, and you should be able to read a scorecard and recreate the game from beginning to end.
How do you read a Baseball Scorebook?
In order to read a scorebook, it is essential to learn all of the abbreviations so that you understand player positions and the points scored throughout the game.
What is the Best Baseball Scorekeeping App?
GameChanger is a free and simple baseball scorecard app. With advanced statistics, live updates, and team management solutions, this baseball scoring app allows you to score the game, calculate stats, generate a scorebook, and stream live play-by-play to any curious fans. All of these features for free makes this one of the best baseball scorekeeping apps.
Why do people keep score at baseball games?
Baseball players like to know how they perform, if they don't track their progress or stats, they won't have anything with which to compare their performance. Many people have interests in scoring a baseball game. Some scorekeepers just enjoy the game and the process, and parents can use it for their children to make memories for their child.
Conclusion
The best baseball scorebook will need to suit your requirements in terms of size, price, and a number of scoresheets. Other factors such as the spacing and quality will come down to personal preference and your budget, but the great thing about scorebooks for baseball and softball is that they aren't heavily overpriced.
Whether you need scorebooks for little league, high school games or professional league scorekeeping, the suggestions above should help narrow down your choices when shopping around and give you some guidance on how to keep a baseball scorecard.
Updated on