We know how important buying a durable, easy to use catchers bag is. Not only does it save you from lugging all your gear around uncomfortably, but the best designs now keeps all your gear separate and secure, whether it's for you or your child.
In addition to putting together a guide to help you find the right bag for you, we've spent some time reviewing the top brands and their catcher's bags in the hopes that our recommendations will make it easier for you to make your pick.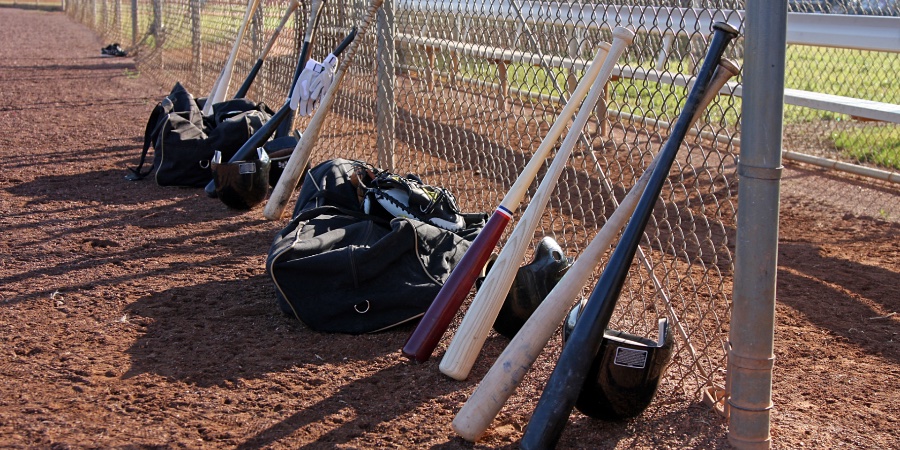 Summary: Our Top Pick for the Best Baseball Catchers Bag
No Errors NO E2 Wheeled Catchers Gear Bag

Easton E100g Equipment Bag

DeMarini Grind Wheeled Bag

Interior valuables pocket

Bownet 'The Commander' Ultimate Catcher's Bag

EASTON E610W Bat & Equipment Wheeled Bag

Louisville Slugger Prime Rig Wheeled Bag

Internal and external pockets

Rawlings R1801 Wheeled Catchers Back Pack

Boombah Brute Rolling Baseball/Softball Bat Bag

Large wheels suitable for all surfaces

Easton E900c Wheeled Catchers Bag

Valuables pocket and vented compartment

Sturdy wheels suitable for any terrain

DeMarini Special Ops Wheeled Bag Series

Can hold up to seven bats

Vented and washable shoe compartment

All-Star Deluxe Pro Catchers Bag

External compartment for bats
11 of the Best Catcher's Bag in 2023
In the selection below, we've compiled a mix of sizes and wheeled bags or backpacks for you to choose from. Whilst it's important to have a budget and style in mind, ultimately your decision should be made on whether the bag works for you in terms of size and mobility. Let's start with a popular brand – No Errors:
No Errors NO E2 Wheeled Catchers Gear Bag
TOP PICK
The No Errors Catchers Bag with wheels is designed to make life easier. Using heavy-duty wheels, this bag can be used over all surfaces smoothly. It contains ventilated compartments designed to help wet gear dry and air out, and nine different compartments and pockets allow you plenty of space to store your baseball equipment.
To carry your gear comfortably and confidently, heavy-duty materials and reinforced stitching ensure that the bag won't rip or tear. Finally, there are four hideaway hooks allowing you to hang the bag wherever is most convenient.
Easton E100g Equipment Bag
BEST BUY
This is the ideal bag for coaches who want to carry the team's equipment. With space for six baseball bats as well as 2 sets of catcher's gear and 10 lockable zippers for durability, these baseball and softball bags for catchers won't disappoint.
It doesn't feature wheels, but the use of high-quality, heavy-duty straps ensures that the bag sits comfortably and without tearing under heavyweight. In addition, the U-shaped zip makes it easy and convenient to get gear in and out of the bag.
DeMarini Grind Wheeled Bag
BEST RATED
The DeMarini catcher's bags are a great choice if you want sturdy, wheeled baseball bags for boys or girls. With individually padded sleeves for bats and a ventilated compartment for wet items or shoes, this bag ensures none of your gear will get damaged (and just as importantly, no bad odors will build up).
As well as bottom rails, this catcher's rolling bag has two integrated fence hooks for ease of access and convenience. The main compartment is large enough for catchers gear, batting helmet, glove, and cleats. Finally, the removable decoration panel means this bag can be customized to suit any team or style desired.
Bownet 'The Commander' Ultimate Catcher's Bag
The name says it all. One of the best in terms of organizing your gear, 'The Commander' by Bownet has 14 pockets, so you can easily and conveniently store your gear and access it when you need it. The removable personalization panel makes it easy to customize these catchers bags with wheels.
The bag is designed to fit three big barrel bats in a separate side pocket, and there's a molded semi-hard case which is ideal for keeping helmets or cleats protected. Additionally, the use of Big Trax Wheels means the bag can easily be transported over different surfaces.
EASTON E610W Bat & Equipment Wheeled Bag
The Easton E610W bat bags for kids and adults offer a stylish design with quality materials. Rubberized zipper pulls ensure they're durable and comfortable, whilst a fence hook allows you to access your gear conveniently. For those who want to customize their bag, there's a removable shoe pocket so you can put your team's logo or embroidery.
The main compartment is big enough to fit all a catcher's gear, and there are vented pockets to ensure any wet equipment can dry out quickly. The bracketed inline wheels and the full coverage of the bottom rails offer complete durability and easy transportation.
Louisville Slugger Prime Rig Wheeled Bag
Louisville Slugger is known to be one of the best when it comes to sporting equipment and their wheeled bag is no exception. Featuring a fleece lined pocket for valuable, four internal accessory pockets, a vented shoe compartment, and interior shelves, this bag makes storing gear easy and organized.
A J-style fence hook allows the bag to be hung, while the wheels and sturdy bottom makes for smooth transportation. All in all, this bag offers everything a catcher needs and more. In addition, you can customize this bag to suit your style.
Rawlings R1801 Wheeled Catchers Back Pack
Another big brand name – Rawlings are a popular choice for many athletes. This bag is designed to be the ultimate for catchers, it can be used as a backpack with storable backpack straps or wheeled using a telescoping, extendable handle.
In addition to holding up to four bats, there's also a specific glove pocket, valuables pocket, pouch for cleats, separate chest protector and mask compartment, and an external area to store leg guards. The use of large fence hooks makes it easy to keep gear off the ground and easy to access.
Boombah Brute Rolling Baseball/Softball Bat Bag
The Boombah catcher's bag certainly stands out from the crowd with its eye-catching color and design. Offering athletes an easy way to store their gear, this bag has a large main compartment that can store all gear, whilst the large wheels can withstand any surface.
To make it easy to move the bag around, there's a handle on either end and J-hooks to hang the bag up. To keep gear protected and clean, there's a top compartment and a bottom compartment for shoes. Finally, plastic runners placed at the bottom ensure the bag has full stability.
Easton E900c Wheeled Catchers Bag
The Easton E900c catchers bag is designed using polyester for durable construction. The addition of an insulated bottle holder comes in handy, especially when playing in hot weather, and an easy to access felt lined pocket provides a safe place to store valuables.
The wheels on this bag are wide set so there's plenty of stability and mobility, whilst the integrated fence hooks allow you to keep your gear off the ground. Finally, this bag can store up to four bats as well as catchers' gear.
DeMarini Special Ops Wheeled Bag Series
For the ultimate catcher's bag, the DeMarini Wheeled Bag Series ticks all the boxes. Large enough to fit up to four to seven bats alongside the rest of your gear in an armored bat compartment. The use of rugged wheels means any surface is easy to transport across, and the telecoping handle makes it comfortable to do so.
The addition of a vented shoe compartment which is also washable means your gear stays fresh and clean, whilst a large main side compartment gives you extra space to store your equipment. This bag not only looks stylish but also practical and durable.
All-Star Deluxe Pro Catchers Bag
The All-Star catcher's bags are designed with heavy-duty nylon to ensure that the bag is durable no matter how much it gets thrown around. For easy organization, there are five interior compartments, with easy top zipper access.
The outer compartment can hold up to five bats, meaning this bag certainly has plenty of space for all your gear. Durable straps ensure this bag can be carried around comfortably, and it's ideal for youth athletes.
Considerations Before Buying Catchers Baseball Bags
As with buying the best catchers gear, you'll need to take into account some of the features of catcher bags to ensure you find the right one. Beforehand, it's a good idea to take stock of all the equipment you'll need the bag to be able to carry.
In some cases, you'll want to put a few baseball bats in there, so it's worth looking for a bag with enough space for up to four bats. At the very minimum, you'll be putting a helmet, mitt, and chest protector in there as well as any accessories.
Will you want to put valuables in your bag with wheels? In that case, you might want lockable zippers. As you can see, a lot will come down to your personal needs and preferences.
Check the Video: Minor League Baseball Player Shows What's Inside His Bag
Size
The size of your bag for catchers gear will depend on what you plan on putting in it. A standard size bag like many of the ones we've linked above will do the trick if it's only for your gear. If you need to carry around the entire team's gear, it's best to go for a larger catcher's gear bag such as the Easton E100g Equipment Bag.
If the catcher's bag is for your child, you'll want to go for a kids bat bag rather than one too large to be easily transported around.
Storage Space
Storage space is one of the most important parts of finding the best catcher's bag, essentially it has to be big enough to fit all of your gear comfortably and without any of the equipment getting damaged or scratched. Usually, there's a main compartment with other side panels to separate gear.
Typically, a catcher will need a catcher's bag big enough to hold leg guards, chest protectors, mitts, masks, and helmets, as well as any other accessories they use.
The good news is, certain features can help, such as hooks placed inside for you to hang water bottles, gloves, hats, and so on. Also, the best catchers bags tend to have separate compartments to store different parts of your gear.
Price
Baseball bags for catchers come in a range of prices, but they also come with different levels of quality. Naturally, for a high-quality catcher's bag, you'll benefit from investing slightly more money rather than relying on a cheap catcher's bag that breaks after a few uses.
But ultimately, your decision should be based on whether the bag suits your needs. Does it have enough storage space? Do the extra features make it more useful for storing your gear? Once you have these requirements ticked off, you can buy with confidence.
Customizable
Going for a baseball bag for catchers that can be customized is a great way to show off your team's colors and make it a unique, personalized bag. It's ideal for anyone who wants to add a little creativity or style to their catcher's bag.
Handles & Wheels
Catcher bags on wheels are a great invention, designed to make transporting heavy baseball equipment much easier. But, there's no point buying rolling baseball bags if the wheels aren't compatible with the type of surface you'll be rolling them on often.
That's why going for the best baseball bags with wheels that are designed for any terrain is a must. But if you want to opt for a catcher's backpack, you can still go for one that has retractable wheels and a handle so it suits all occasions.
Extra Pockets
As we mentioned earlier, the storage space aspect of your new catcher's equipment bag is highly important. But within that, it's also important to look out for any extra pockets that are inside or outside the baseball bag.
Alongside all your other catcher's gear, you'll want convenient access to your personal items like cell phones and keys, and it's best to keep valuable items away from the rest of your gear.
Breathability
Regardless of the weather conditions, your gear needs to be able to air out and the best catcher's bag will have plenty of ventilation and breathability. In addition to helping your gear dry out, it'll also prevent bad odors from forming within your bag.
Durability
When it comes to durability, opting for a heavy-duty catcher's softball bag or baseball bag will allow you to use it for longer. The best catcher's bag should be made from high-quality materials and be sturdy enough to carry all your gear without wearing down.
Check This Out!
Reasons for Buying a Catchers Bag
A baseball or softball catcher's bag is a must if you need to regularly move your gear around. Not only will it make your life easier, but it'll also increase the life span of your gear since it stays protected and together at all times. Here are some of the main reasons to buy the best baseball bag for catchers:
Easy to Transport
Whether you go for a baseball wheeled bag or the best baseball backpack, your catcher's bag should be easy to take from one place to another. It saves you having to carry around everything, and keeps all your gear safely in one place.
If you prefer a backpack or a catcher's duffle bag, thicker, padded straps will make it easy to carry your gear around and you'll have the added benefit of being hands-free.
Room for Everything
A big baseball bag or even a standard catcher's backpack is designed to hold everything you need to perform on the field, and the best catcher bags even have extra pockets for your valuables. Without this, you'd be constantly trying to cram your gear into bags that'll probably break in no time.
Protection
Some of the best baseball backpacks and wheeled catchers bags have separate compartments so your gear is protected at all times. From the best cleats for catchers to the best youth catchers mitt, you'll want to keep all gear clean, safe, and protected whilst it's being transported around.
FAQs
Is it catcher or back catcher?
The correct term to use is catcher. Back catcher is believed to be a term used in parts of Canada to describe what is usually called the "backstop".
What is the best catchers gear for youth?
If you're searching for the best catchers gear for youth baseball or softball athletes, we've put together a comprehensive, tried, and tested compilation that includes the likes of All-Star, Under Armour, and Mizuno.
What is the best brand of catchers gear?
For catchers gear that the pros wear in MLB, brands such as Under Armour, Nike, Mizuno, Rawlings, and All-Star are the general go to. When it comes to buying for yourself or a youth player, always opt for durability and protection, which many of the top brands offer.
Conclusion
When it comes to buying a catcher bag, an important note to keep in mind is that it's better to invest in a durable, well-designed bag that will last multiple seasons rather than splashing out every year on cheap knock-offs.
So, there we have the best baseball and softball catchers bags for this year – they all offer their own unique features and designs, but one thing is for certain, they do the job to a high standard. We hope our recommendations will lead you to the perfect bag so you can carry around your gear in comfort and ease.
Updated on