There are numerous types of baseball bats in the market. Choosing which to buy can be a chore, especially if you do not know where to start. Among the several things to consider are the length, weight, grip, material, bat manufacturer, and price. Another factor is that in the USA, approved bats hinges on the governing body or league.
These governing bodies, such as USA Baseball and USSSA, create and implement unique standards for bat performance in accordance to the rules of the leagues or tournaments under these organizations. Before heading to a store to purchase a new bat, it is best to understand the standards with which the bat must be in compliance.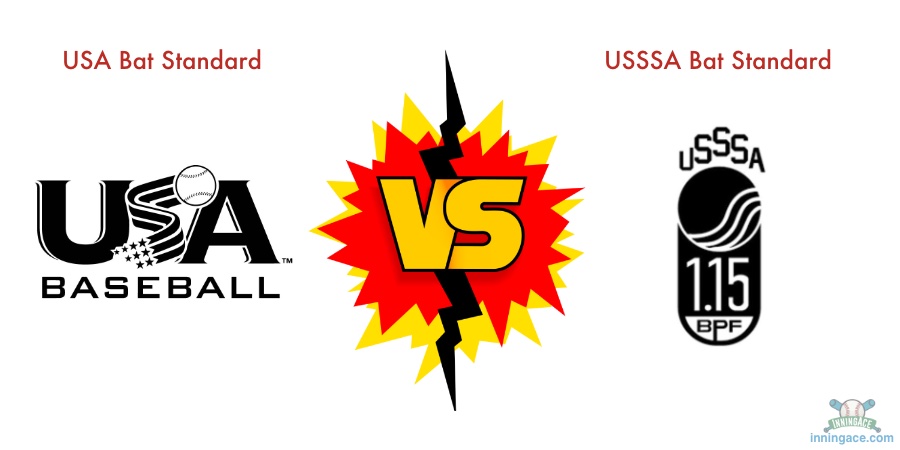 What are USA Bats?
The USA Bat is the bat standard approved by USA Baseball. USA Baseball is the national governing body for amateur baseball in the entire nation. Along with participating in national member organizations, the body developed a new method for measuring the performance and qualities of baseball bats for youth baseball players. This was based on the conclusion they arrived at after determining that the advancements in science, engineering, and technology have allowed any bat manufacturer to create bats that can perform at a wood-like level.
The USA Baseball bat standard (USABat) was implemented on January 1, 2018. The standard applies to bats that are used in leagues below the NCAA and NFHS level of play. Some of the leagues that apply this standard for a bat are the American Amateur Baseball Congress, Babe Ruth Baseball/Cal Ripken Baseball, Dixie Youth Baseball & Dixie Boys Baseball, Little League Baseball, PONY Baseball, among others.
The certification requires non-wood and multi-piece wood youth bats to undergo lab testing to ensure they perform at a wood-like USABat standard. Every bat that complies with the USABat standards can be considered as USA Bats.
What are USSSA Bats?
To start with, you might ask, "What does USSSA stand for?" It means the United States Specialty Sports Association. It is a volunteer, nonprofit organization that governs youth baseball, as well as other youth sports, including basketball, martial arts, and soccer. The goal of the governing body is to promote a higher quality of and fairer environment for sports to increase the engagement of younger players.
The USSSA Baseball Bat rules or standards have not changed since 2005. Even with the enactment of the USABat standards, the regulations provided by USSSA Baseball were not affected. Thus, those playing in USSSA baseball tournaments have to use USSSA baseball bats.
USSSA and USA Bats Comparison
If you are looking to buy the best youth baseball bats, you need to determine the differences between the two standards. Here, we will provide a comparison of USA vs. USSSA Bats.
Table Comparison Between USA versus USSSA Bats
| | | |
| --- | --- | --- |
| | | |
| | | |
| | | |
| | | |
| | | 1.15 BPF USSSA or Certified .50 BBCOR |
| | | |
| | | |
| | | Optimized Hitting Strength |
| Approval of Bat Standards | New Standard Effective in 2018 | |
| | | Players Eligible to Participate in USSSA Baseball Tournaments |
| | | |
Age Criteria
The target age criteria of the USABat standards are those within eight to 14 years of age. The reason for this is to allow the use of lighter-weight bats among the youth. USA Baseball Bat standards help facilitate the improvement of the batting skills of a player early in his or her life.
On the other hand, USSSA Bats do not need to adhere to such a criterion. Regardless of their age, players must follow the USSSA Baseball Bats rules or standards based on the age division they are playing in.
Watch This to Learn More:
Performance
There is a significant performance difference between the USA and USSSA Bats. In fact, this is where the biggest dissimilarity between the two bat standards lies.
Because a USA Bat typically weighs lighter and is designed to allow youth baseball players to swing more easily, the hitting strength is reduced. It allows the hitter to understand the foundation of the swinging and integrity of the game in USA youth baseball. Bats that adhere to USSSA standards, meanwhile, are designed to optimize a batter's production on the field and hitting strength, thereby giving him or her a performance advantage.
Of course, comparing the performances of different bats is not an easy task. There are several things to consider, such as the swing speed, confidence of the batter, swing weight, type of the ball, and more. Also, these are factors anyone cannot easily control or measure.
A study of the performances of USA vs. USSSA Bats showed that there is an average difference of five to 10 percent in total distance and exit speeds between the two bat types.
Approval of Bat Standards
The USABat standards are reviewed and approved by the leagues or organizations written above, as well as, USA Baseball. Youth bats used in sanctioned leagues have adhered to these standards since 2018.
Even with the implementation of USABat regulations, the approval of USSSA Bat standards has remained unaffected. The governing body believes that the standard it has developed and implemented for the past 15 years has worked fairly well. There is the concern that adopting a new bat standard designed to decrease performance can affect the competitive and dramatic nature of baseball.
USA Baseball Stamp Vs. USSSA Stamp
It is uncomplicated to distinguish to which standard a baseball bat complies with by simply looking at the stamp at the barrel or taper of the bat. A USA Bat has a logo of USA Baseball engraved at the bat barrel.
A USSSA Bat must have the 1.15 BPF USSSA or Certified .50 BBCOR stamp somewhere on the barrel. If the bat exceeds a barrel diameter of 2.75 inches, it would not be certified according to USSSA Bat rules.
Moreover, one-piece wood bats do not need a stamp of approval and are considered as the USA and USSSA Bats.
Who Should Buy
If you or your child is participating in a youth league, it is important to ascertain the type of bat players are allowed to use in the league.
Below are the list of leagues that make use of the USA Bat standards:
Meanwhile, the list of tournaments that adopt the USSSA Bat standards is the following:
Check This Out!
Which One Stands Out?
No baseball bat standard really stands out, as the bat you need is contingent on the league, tournament, or game you will play in. However, if you do not plan on joining one but are still intent on purchasing either bat for practice or non-official games, below is a summary of the major difference between USA and USSSA Baseball Bats.
USA Bats Are Better for Developing Batting Skills
One of the benefits of opting for a USA Bat is that it helps players develop their swinging skills. The reduced weight of the bat might mean a slower exit speed, but the hitter will see his batting abilities improve over time. Using even the best USA Bats, even while using the best batting gloves, in a game will put players in a competitive disadvantage against opponents who bat with a USSSA Bat.
USSSA Bats Are Better for Game Performance
A USSSA Bat is generally heavier than a USA Bat. Also, its maximum barrel diameter is greater than that of a USA Bat. With a larger surface and more weight, it can result in increased hitting strength, quicker exit speed of the ball, and higher confidence while at bat. The best USSSA Bats can optimize a batter's performance.
FAQs
Do USA bats have less pop?
Because a USA Bat has less power than the ones used before the standard was implemented in 2018, it has less ping and less pop. Prior to this, most baseball bat models used were made of composite materials that sent balls at higher speeds after getting hit by the bat, which is called the trampoline effect. The USA Bat standard has resulted in decreased performance attribute and fewer home runs, as well. On the plus side, it has made the field a safer place for pitchers and infielders.
What bats are illegal in USSSA?
There are instances wherein a baseball bat has been certified by USSSA, even already having a stamp of approval on the bat, only to see it become ineligible after further checking by the governing body. To make sure the bat you intend to use or have been using is still legal or allowed, you can peruse the USSSA Banned Bats List occasionally.
Additionally, a Senior League bat is also USSSA-certified, however, it is only allowed and used in kid-pitch leagues.
Conclusion
As long as you know the bat attributes or characteristics you want, choosing between the USA and USSSA Bats is very much a straightforward decision. It depends on the league the player is participating in. There is also the option of going for wood bats, because most of them comply with both certifications, especially the one-piece models. Make sure to do your research first to determine which bat suits your need the most.
Updated on