CF Zen and Mako Beast bats are two of the most popular bats in baseball. It's no surprise why so many people have asked which of the two is better.
We have taken the time to write this blog to show you the similarities and differences between them. You'll find our recommendations at the end of this post, which are based on our two-week experience trying out these bats. These recommendations and reviews will help you decide which one you'll likely prefer.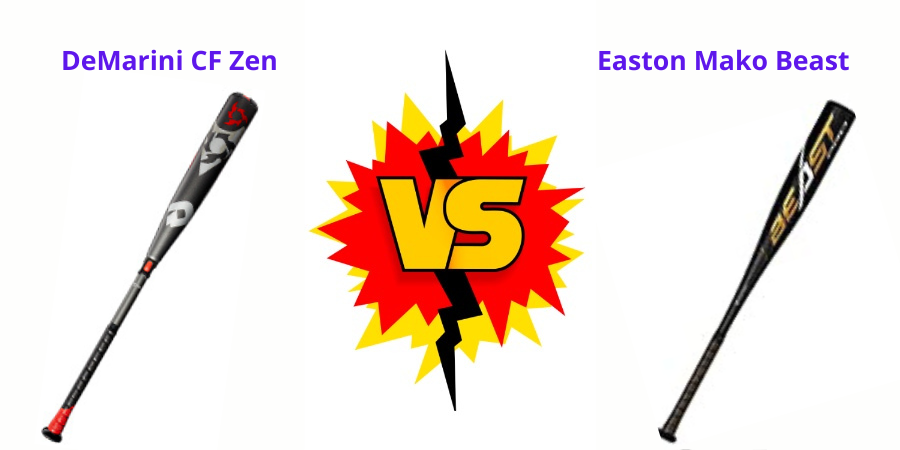 BEST RATED
CF Zen Bat 
It is a two-piece balanced baseball bat made from carbon fiber. The baseball bat is popular for its bat line, allowing for professional performance when hitting the ball. Let's check below for some of its features:
It has a larger-sized barrel than the other previous CF series. It is an upgrade to the DeMarini CF 7 bat and DeMarini CF 8 bat. 
The bat dominates the senior league and the big barrel.
The bat offers lightweight swing and balanced control. It also gives maximum performance with bat speed, bat control, and power. 
It is available in various sizes, including BBCOR sizing, big barrel 2 3/4, 2 3/4 junior barrel, Drop 10 2 5/8, and the youth barrel 2 1/4.
Manufacturers formed the barrel and the handle separately since it is a two-piece construction baseball bat. It is ultra-responsive for a great feel on contact, delivering unmatched pop. The construction gives an improved weight distribution, allowing for more control, speed, and outstanding balance.
The pairing of the 3Fusion system and Paraflex plus composite with a ReAction End Cap improves the performance and swing speed. The Paraflex Plus gives it a huge sweet spot with consistent responsiveness and performance.
The 3Fusion connection gives a greater feel and control. It reduces vibration sting on the hand, redirecting energy for maximum performance. 
The ReAction End Cap is a blend of lighter and stronger material to increase performance without affecting the swing speed. 
Watch this young man use the CF Zen bat!
Easton Mako Beast Bat 
BEST RATED
It has a TCT Thermo composite technology. It is a bat with patented ConneXion technology to maximize energy transfer. The swing speed is unmatched, thanks to its design. Let's check below for some of its other features:;
As it's designed with a cushioned Hyperskin grip, this baseball bat will enhance the grip for a softer feel every time. 
It is a smooth bat with an incredibly sweet spot. The swing is effortless.
The bat is both USSSA and BBCOR-certified for collegiate and high school play.
If you compare it to another Easton version, the swing weight index is the lowest, giving it a balanced swing.
Check this video out!
Comparing CF Zen and Mako Beast 
You may have asked, what are the differences? You are reading this right now to find out the similarities and differences between the two bats. 
Both of them have a lot in common. They are both two-piece composite bats, just like Louisville slugger prime bat. They are both built with the benefits of the players in mind. They also cost approximately the same amount. 
However, they have some differences attached to them. The advantages of reading reviews are to find out how products compare to each other. Let's check them below;
What are the differences between CF Zen vs Mako Beast?
Table Comparison Between CF Zen vs Easton Mako Beast:
| | | |
| --- | --- | --- |
| | | |
| | | |
| | | |
| | | |
| | | |
| | | |
| | | |
| | | |
| | | |
| | | |
| | | |
| | | |
| | | |
Construction: 
As earlier noted, both are two-piece constructed bats, i.e., the bat's barrel and handle are each constructed separately before they get joined.
Material:
The manufacturers of both bats use composite materials in creating them. However, the Zen bat is made from a carbon fiber with Paraflex plus. While the Beast is made from TCT Thermo technology, patented with ConneXion technology to maximize energy transfer. Another bat that is made of such materials is the Louisville slugger bat.
Size:
The Beast bat baseball has various drops for youth barrel (2 1/4") space, including drop 10, drop 11, and drop 12. The Beast bat baseball is also available in 2 5/8" (adult), 2 1/4" (youth), and 2 5/8" for senior leagues. The Zen bat only comes in drop 11, and it is available in 2 3/4 and 2 5/8.
Performance:
Both of them perform well when used to hit the ball, though the Beast seems to edge the Zen baseball bat because it has a longer barrel. Both of their performances generate sweet spots after hitting. The Beast, however, seems to give the fastest swing of the two.
Pedigree Differences:
Mako line of bats has been available since 2012, longer than the CF series that came to the limelight in 2014. The MAKO baseball bat has gained more ground than the CF Zen baseball bat.
Barrel:
The Beast seems to have a longer barrel, giving it an edge in performance. 
Balanced Swing:
They both have balanced swing weights. The recently manufactured Beast and Zen baseball bats are both associated with balanced swing weights.
Which One Stands Out? 
All things considered, the CF Zen is the better alternative between the two baseball bats. Still, there are situations wherein the Mako Beast would prove to be the more appropriate option.
CF Zen Good Option for -5 Bats
The CF Zen bat is better for balanced drop 5 bats than the Beast because it weighs around 5 oz. It is lighter than the length. 
Mako Beast Better for Youth
The Beast is more preferred for the youth barrel.  
BEST RATED
FAQs 
We hope you have been able to find out how CF Zen vs Mako Beast bats compare. You would surely prefer one over the other by now. Let's check some related questions often asked concerning this topic.
Is the 2020 CF Zen illegal? 
No, the 2020 CF Zen bat is not illegal. Only the 2017 DeMarini CF Zen bat is baned. The three main CF series that are illegal include:
1. 2017 Green/White drop 8 2 5/8 USSSA
2. 2017 Blue/White drop 10 2 ¾ USSSA
3. 2017 Custom and Zero Dark design
Is the Mako beast legal? 
The Beast is legal. The only Easton product that is illegal is the Easton USA Ghost 3.X30/203.3.
Is the 2018 CF Zen banned? 
In 2018, the authorities banned some sizes of 2018 CF Zen bats, including size 31" and 32". However, they are no longer banned, and they are now fully legal.
Final Thoughts
There is not much difference between these two baseball bats. Both of them have closely related performance. They are both two-piece constructed and made from composite materials.
You can never go wrong by opting for either of the two.
It may not be easy to state which of them is better than the other, and it is the major reason you should read reviews like these to see the fundamental difference between the two products.
However, if you want to consider the barrel's length, which is the primary difference, the Beast baseball bat seems to edge the Zen bat, allowing it to perform better. As well, considering pedigree, i.e., how well it has gained ground among baseball players, Mako line bats will be the best because they have been around since 2012. 
Updated on 06-11-21