For youth athletes, having a good quality bat can make all the difference to their performance. Not only can it increase their confidence, having a bat that is right for them will allow them to play at their full potential, without being held back by weight or sizing.
When it comes to baseball bats, youth athletes have tons of options to choose from. Finding the right one can be tricky, especially if you're not sure what type of material, weight, and design to look for.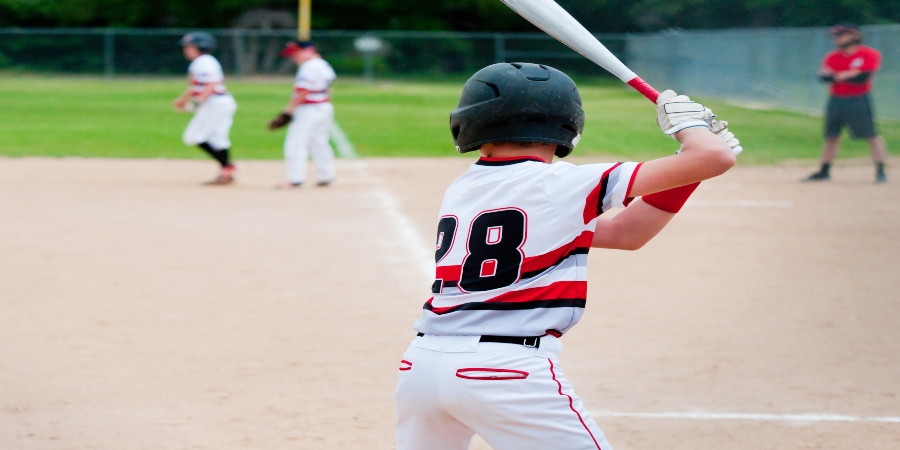 In this article we'll look at the best youth baseball bats, broken into three sections. Not only will we review the best youth bat on the market this year, but we'll also look at the best USA bats and the best USSSA bats.
Summary: Our Top 8 Picks for the Best Youth Baseball Bats
Best Youth Baseball Bats in 2023
There are infinite options when it comes to buying the best youth baseball bats, so you might be wondering just how you can narrow down your selection.
Finding the best youth baseball bats means balancing quality, durability, and budget. For young players who are still growing, you may want to opt for baseball bats which are budget friendly rather than paying out for more expensive models.
Louisville Slugger 2020 Youth Genuine Baseball Bat Series
Louisville Slugger is one of the best youth bats on the market due to its wide range of high-quality products for all player levels. This Louisville Slugger 2020 Youth Genuine Series allows you to choose between ash or maple bats and features a medium-sized handle- perfect for youth athletes and smaller hands.
In addition, the center of gravity lies near the middle of the bat for greater control of the swing and the medium-sized handle makes bats easy to grip.
Easton Xl3 2 5/8″ Big Barrel (-8) Baseball Bat
The Easton XI3 features an extra-long monster barrel is an engine that brings you power at every swing. This one-piece bat features enhanced durability and a large hitting zone to help you take full advantage of this bat's power. The bat's perfectly-balanced swing weight and new HYPERSKIN Performance Grip allows players to have full control. With its green and black colorway wrapping, this bat is sure to stand out in the field.
Marucci Cat8 Senior League Baseball Bat
Take your game to the next level with the new and improved Marucci Cat8 Senior League Baseball bat. This bat features a maximized barrel length that provides a wider sweet spot and an improved AZ105 Alloy. This grade of aluminum allows for thinner walls and a higher response rate with better durability.
The one-piece design youth bat blends durability with a traditional feel and its ring-free barrel eliminates dead spots while improving flex. In addition, the sting-free comfort knob with a micro-perforated soft-touch grip is made from ergonomically-molded nylon for increased comfort and control.
EASTON JBB16S400 S400
The New Easton S3 is a one-piece lightweight alloy that gives every hitter a chance to make those explosive hits. The balanced swing weight ensures maximum swing speed with no control loss whilst these bats provide value to young players looking to perform their absolute best.
In addition, this baseball bat for youth players is made from an alloy construction and is aimed at ages 8 and under. It also comes with a full 12-month guarantee.
Easton S50 Youth Baseball Bat
The Easton S50 is a youth bat constructed from a single piece of aluminum for a low swing-weight. Being one of the best little league bats, it will give your youth what they need to swing at the plate and hit their first home run, especially as it's constructed using an ultra-thin handle for better grip and performance.
Louisville Slugger 2020 Youth Flylite Baseball Bat Series
The Louisville Slugger Flylite Youth bat is a super-lightweight bat that was designed with young stars in mind. The poplar construction allows young hitters to get to the ball fast. The gray stain with red branding makes this bat pop on any field, while the -10 target drop keeps your young athlete moving with ease.
EASTON Mako -9 Ash Youth Wood Baseball Bat
The MAKO Ash Youth bat uses lightweight ash which imparts flexibility for increased hitting distance. The pro-balanced speed design is built to help youth athletes transition more easily to wooden bats. A 7/8″ handle and leather knob label with a cupped-end laser-engraved barrel gives the bat a solid look and powerful feel. Being one of the best youth bats out there, it has an approximate weight drop range of -7 to -10.
Rawlings VELO -5 Composite Wood Youth Baseball Bat: Y151CV
The Rawlings Composite Senior League Pro Wood VELO baseball bat is an excellent choice for your young athlete. Featuring the popular 151 profile with -5 oz weight drop and pro cupped end, this bat is sure to have your youth performing their best during practice or the big game.
The larger hitting surface and increased sweet spot allow maximum swing speed with a more balanced stick. In addition, it has been constructed from eco-friendly bamboo and the strongest maple wood available these bats are two times more durable than their previous models.
Summary: Our Top 13 Picks for the Best USA Bats
Best USA Bats in 2023
To help find the best USA bat for your youth player, we've put together 13 of the best options on the market. These USA bats combine durability, weight, and grip, ensuring that young athletes can make the most out of their bat during practice and gameplay.
Rawlings Raptor USA Youth Baseball Bat Series (-10)
With durable and high-strength aerospace-grade alloy construction, the Rawlings Raptor USA Bat Series is an excellent choice for any youth athlete. Rawlings' signature perimeter-weighted end cap helps transfer energy by reducing unnecessary weight, giving you an ultralight feel for faster swing speeds.
A premium, pre-wrapped bat grip helps to increase control and comfort when you need it most. With a drop 10 length to weight ratio and small 2 1/4-inch barrel diameter on this USA bat, it's one of the best youth bats on the market.
Rawlings Raptor & Remix Youth USA Tball Bat Series (-12 Dropweight)
The Rawlings Raptor & Remix Youth USA Bat Series is one of the best youth bats for entry-level players to use with soft-core tee balls. The lightweight construction and -12 drop weight allow your youth faster swing speeds. With its durable one-piece alloy construction and vibrant electric blue and lime green design, this bat will stand out for many seasons to come.
Franklin Sports Teeball Bats – Kids Youth Baseball and Teeball Bats – Aluminum – USA Baseball Approved
This tee-ball USA bat has a wide 2 5/8″ barrel for a larger sweet spot, making it easy for young players to make solid contact with the ball. Constructed from a durable aluminum alloy, this bat is designed for high performance while remaining lightweight and easy to control.
The extra tacky batting tape is designed for optimal grip, allowing small hands to control the bat easily. This budget-friendly USA bat is perfect for youth baseball.
EASTON Beast Speed -10 (2 5/8″) USA Youth Baseball Bat
The Easton Beast Speed™ -10 is made from ATAC Alloy one-piece construction that provides a light, yet powerful barrel. The new Speed Cap™ helps create a flexible and responsive barrel, while the -10 speed design provides a lightweight swing weight for more speed behind the ball. The Beast Speed™ USA bat model has a 2-5/8″ barrel and features a custom LIZARD SKINS™ DSP bat grip for a great feel, cushion, and tack.
Marucci CAT -10 USA Baseball Bat (MSBC10USA)
The CAT USA bat from Marucci features a high-strength AZ105 alloy with multi-variable wall design. This unique one-piece alloy design creates an expanded sweet spot with thinner barrel walls that are more forgiving. A -10 Length to Weight Ratio and a 2 1/2 Inch Barrel Diameter means that this precision-balanced bat can keep you hitting with the best of them.
The patent-pending SDX EXT connection increases stiffness to maintain energy transfer to the ball. This technology also helps to dismiss negative vibrations in the hands while giving you maximum power with a minimum sting.
Rawlings 2020 Storm USA Youth Tball Bat Series (-12)
The stylish storm alloy tee ball USA bat uses high-grade alloy material that provides a lightweight bat that offers great hitting performance. The bat has a drop weight of -12 and packs a 2 ¼ inch barrel for increased hitting speeds and the overall color theme is a vibrant pink that gives the bat a stylish look for any youth.
In addition, the cracked grip handle of the bat keeps the vibrant color theme in full view while increasing grip strength. The smaller frame bat is 25 inches in length and weight 13 ounces, perfect for younger athletes.
EASTON ALPHA -10 USA Youth / Kids Tee Ball Baseball Bat
The EASTON ALPHA -10 USA Bat is a 1-piece aluminum bat that features a speed balanced design with a rolled end. The lightweight and durable ALX50 TM aircraft grade alloy construction allow youths to have a greater hitting speed when the bat meets the ball.
The all-sports grip provides comfort and the USA baseball certification ensures a high standard of quality and features a Pro-Style Concave end cap.
EASTON TYPHOON -12 USA Youth Baseball Bat
The Easton Typhoon USA bat features a 2 1/4-inch barrel diameter and ALX100 military-grade alloy construction with -12 drop weight. This makes the bat lightweight and durable for easy swinging while ensuring that your bat lasts for many seasons. The bat's cushioned 2.2mm FLEX grip provides unrivaled comfort, letting players focus only on making contact.
EASTON Beast Hyperlite -12 (2 1/4″) USA Youth Baseball Bat
The Easton Beast Hyperlite USA bat is the perfect choice for your rising star. Made from ATAC aluminum alloy this bat is one of the strongest and lightest barrels available on the market today. The one-piece HYPERLITE balanced structure provides a light 2 1/4-inch swing weight for greater speed at contact. The new LIZARD SKIN grip provides a secure, comfortable hold that improves overall control.
Louisville Slugger 2019 Select 719 2 5/8″ USA Baseball Bat (-10, -8, -5)
This Louisville Slugger Select Hybrid 719 USA bat promises to increase your swing speed. The 3-piece hybrid construction makes for a strong, yet durable, baseball bat that has plenty of pop for those deep hits. The new Speed Ballistic Composite end cap slices through the air without sacrificing control while the patented VCX technology affords the independent movement and vibration control that athletes crave.
The balanced swing weight of this Louisville Slugger youth bat allows it to most of the work for you for maximum hitting power. With a drop 10 length to weight ratio, a 2 5/8-inch barrel diameter, and the coveted USA baseball stamp, this bat also features a composite handle for comfort.
Rawlings 2020 MACH 2 & Machine USA Youth Baseball Bats (-11, -8)
The Rawlings Kids' MACH 2 Aluminum Alloy USA Bat is crafted of ultralight aluminum alloy designed to ramp up your swing speed. The 2-5/8″ barrel diameter offers an extended sweet spot for the ultimate pop of the ball. With an ultra light weight construction, it's one of the best bats for youth baseball players to increase their swing speed.
In addition, this kid baseball bat has an extra large sweet spot, making it easier for youth players to connect with the ball.
Axe Bat 2020 Elite One (-8, 2-5/8″) USABat Baseball Bat / 1-Piece Alloy
The Axe Elite ONE -8 is one of the best USA Bat made from a one-piece alloy construction that combined with its variable-wall MX8 alloy barrel, can guarantee the kind of accuracy you need to be the highest-scoring batter.
The Endogrid technology protects you from the vibration of those home-run hits. The max barrel 2-5/8″ and its patented Axe Handle provides you with an unparalleled grip and greater control, which is why it's one of the best baseball bats for kids to improve their swing speed.
Marucci F5 2 1/2″ USA Baseball Bat (-11.5)
This Marucci F5 delivers performance when you need it most. The Multi-Variable wall design guarantees a large sweet spot and good durability. The one-piece construction and evenly-weighted design impart a simplicity to the bat that is perfect for young ballplayers.
Ring-free barrel technology offers greater performance with no "dead" spots. These baseball bats for youth athletes also include a micro-perforated soft-touch grip, which provides extra tack and improves the overall feel as well as control.
Summary: Our Top 5 Picks for the Best USSSA Bats
Best USSSA Bats in 2023
In this section, we'll look at the best USSSA bats on the market. These bats are designed to allow the ball to be hit further, so their construction differs slightly from those of the standard USA bats.
Marucci 2018 F5-10 USSSA BB BAT 2-3/4IN 17F
The F5 series Marucci baseball bat is of one-piece aluminum alloy construction that promises to deliver a traditional and consistent feel with a balanced swing weight for increased control. Marucci utilizes a multi-variable wall design inside the barrel that creates a large sweet spot with incredible durability.
Their ring-free barrel technology maximizes performance while guaranteeing zero dead spots. A custom micro-perforated soft-touch grip increases tack and overall comfort. This bat features a drop 10 length to weight ratio and a massive 2 3/4-inch barrel diameter.
EASTON SPEED -11 USSSA Big Barrel Youth Baseball Bat
This lightweight and durable ALX50 aircraft-grade alloy youth baseball bat provides lightweight swing so players can utilize their full control. The cushioned FLEX grip is 2.2mm thick and provides excellent comfort and absorbs some of the vibrations on contact.
One aspect which makes this the best bat for youth baseball is its 2 5/8-inch barrel provides a wide sweet spot, allowing the ball to travel faster and farther. The concave end cap enhances the impact of the barrel while imparting structural integrity.
EASTON Ghost X Hyperlite -12 (2 3/4″) USSSA Junior Big Barrel Youth Baseball Bat
The Easton Ghost X Hyperlite USSSA one-piece composite baseball bat is crafted from EXACT carbon materials for a better feeling bat with optimized barrel performance. Designed to be one of the best baseball bats for youth players on the market, it also features a cushioned 2.2mm FLEX grip on the composite handle which gives this bat an ergonomic hold with the perfect balance that keeps athletes feeling comfortable.
This lightweight baseball bat has greater flexibility and a more responsive barrel while enhancing the sound when contact is made. A 2 3/4-inch barrel diameter and a -12 drop weight make this bat a great choice for any athlete.
DeMarini 2020 CF Zen 2 3/4″ USSSA Baseball Bat Series (-10, -8)
The 2020 DeMarini CF Zen -10 USSSA Baseball Bat features a large sweet spot and lightweight construction that allows for maximum bat speed, and the new Paraflex Plus Composite barrel is an advanced alloy material that gives the ball a sweet pop. The re-engineered 3-Fusion Connection handle technology transfers the vast majority of kinetic energy to the massive sweet spot on the barrel of the CF Zen, and away from the hands.
With a -10 drop weight, this CF Zen baseball bat youth series is very quick, allowing ballplayers ample opportunity to create magic with the ball. This bat is equipped with the DeMarini ReAction end cap- giving the bat greater rigidity and power.
COMBAT B2 ATB USSSA Baseball Bat
The Combat B2 bat utilizes ATB Composite construction, incorporating computer-controlled precision that provides the most technologically advanced barrel in the game. This one-piece, fully composite model is stiff on contact and offers a well-balanced swing weight. The large sweet spot makes this bat a great option for any type of hitter. A 2 5/8 inch barrel diameter and -5 length to weight ratio make this bat a great choice for any young baseball athlete.
How to Buy a Youth Baseball Bat
Buying a good quality baseball bat involves looking at the material, weight, barrel size, and league requirements. Finding the right bat is as essential as having the best cleats for wide feet or the best catchers equipment when it comes to baseball equipment. But with all types of gear, specifications differ and each brand will adjust sizing or material composition.
Check this Video Out:
Materials
With a wide range of materials and manufacturing techniques to choose from, selecting baseball bats for your youth player can be daunting. There are different materials, separate pieces, and even different shaped handles to choose from.
Aluminum
Metal- typically aluminum alloy, is the most common metal used in baseball bats. An alloy bat is built to be light to allow for maximum swing speed. Swing speed is especially important in aluminum bats as they don't offer as much of a "pop" compared to other materials.
Wood
A wood bat cannot claim a strong pop sound, and these bats are heavier to swing- they typically require more commitment. A wood bat is often disregarded as it doesn't offer much competitive advantage and is harder to use effectively at young ages.
However, using wooden bats will typically make you a better hitter in the long run. Wood makes a great option for youth baseball bats, because it is excellent for practicing due to its incredible durability, and will make other bats easier to swing. Different types of wood bats have different hardness, flexibility, durability, and sound.
Composite
The composite material is usually made up of carbon fiber polymer and give the greatest "trampoline effect" out of any type of material. A composite bat is also the lightest of the bats, even lighter than aluminum, with higher durability making it a good option when looking for youth baseball bats.
A composite material made from carbon fiber is also less prone to denting and features a larger sweet spot which means you'll achieve decent power even if you don't make contact with the best part of the bat. Bats made from composite material need a break-in period, so a composite construction full potential game ready from day one. A composite bat needs hundreds of hits to break them in and consistent rotation after every hit.
Weight and Drop Weight
Drop is a term is the difference between the bat length in inches and the bat weight in ounces. For example, a 28-inch bat that weighs 18 ounces has a drop of -10. A drop will make a significant impact on performance.
The bigger the drop is, the lighter the bat compared to length. Typically lighter baseball bats are much more comfortable to control for greater contact, whilst higher drops are good for speed but sacrifice durability.
Barrel Size
The barrel is the thickest and widest part of the bat that is the ideal place for hitting the ball for maximum performance. Barrels come in different sizes and are measured in inches, and like weight drop, certain leagues limit the size of a bat's barrel. Typically, these are the most common barrel diameters:
How to Size a Baseball Bat?
Length
Choosing the barrel length largely depends on the height and weight of the person using it. There are charts you can follow to get a baseline, and then adjust based on preference. If the bat is too long, it may have unnecessary weight and make you tired, but if it is too short, you may not be able to hit those outside pitches.
Age and League
Typically different Little League divisions have their own set of restrictions on length. Tee-ball is capped at 26" and the minor league division is limited to 33". Make sure to check your specific requirements.
USSSA rules are typically more relaxed, so bats approved for USSSA are not always accepted in USA Baseball Leagues. All USA Approved bats can be used in USSSA. The biggest difference is that USSSA allows a larger barrel size than USA Baseball Leagues- you can use a bat with a barrel of up to 2 3/4".
One Piece VS Two Piece Bats
One-piece bats are a single piece of aluminum, wood, or composite. These bats typically have higher vibration even if baseball bat grip is of high quality, however, they also have a more even weight distribution- suiting contact hitters best.
Two-piece bats consist of a handle and barrel that are connected to allow more flex and reduced vibration. This flex creates a whip effect for greater bat speed and lower vibration for greater comfort.
FAQs
Conclusion
The best youth baseball bats need to combine a mix of swing speed, comfort, and durability. This is possible to find without spending too much, especially if you have a younger player who might need to change bats more frequently as they grow.
We hope this article guides you to find the best baseball youth bats for your child or league, and remember to follow the guidelines when searching for the right type of material or sizing for your young player.
Updated on