Are you looking for the best Wiffle ball bat or Wiffle ball set? If so, we've got you covered. Wiffle ball is a brilliant way to introduce young players to baseball or softball, as the bat and balls are made from durable yet lightweight plastic.
This makes hitting safe and it's easy to build on those hitting skills from the convenience of your backyard (without the fear of smashing a window).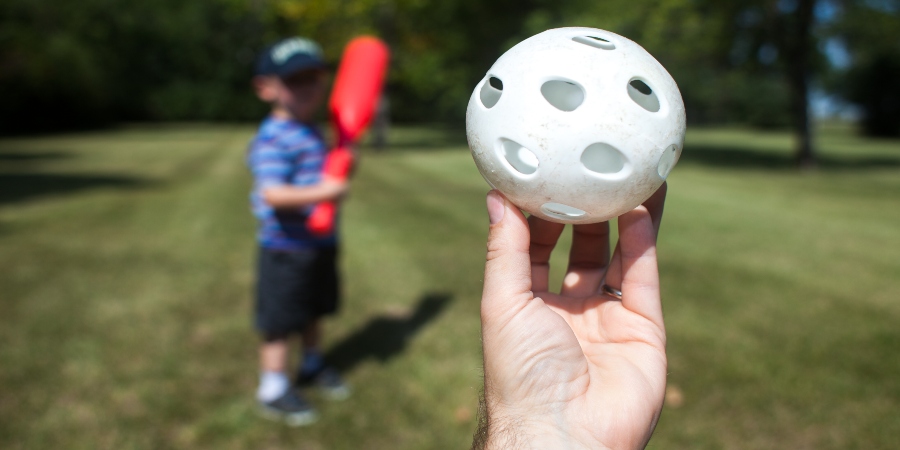 But, as with any sporting equipment, it's a good idea to know where to buy Wiffle balls and bats, so we've composed a great list below for you. In addition, our handy guide will help you narrow down your selection so you can find the perfect bat for you and your family.
Summary: Our Top Pick for the Best Wiffle Ball Bats Set
Includes three Wiffle balls

Franklin Sports MLB Kids Jumbo Baseball Bat

Champion Sports Lightweight Plastic Bat

Louisville Slugger Replica Bat and Ball Combo

Features an authentic wood grain look

C271 Louisville Slugger replica bat

EASTON PRO STIX Plastic Baseball Bat & Ball Set

Includes a small Wiffle ball

BLITZBALL Dude Perfect Starter Pack

WIFFLE Ball U.S.A Set - 32" Bat with Red, White, and Blue Official Balls - 4 Pack

Sturdy plastic yellow bat

Three official Wiffle balls included

Wiffle 32' Bat and 3 Baseball Set Bundle

Option to purchase one or two bats

High-quality plastic used
8 of the Best Wiffle Ball and Bat Sets in 2023
We know how tough and time-consuming it can be to search the internet for the best Wiffle ball bat or set, so we've done the hard work for you.
Below, you'll find eight of the best Wiffle ball bats and sets, all perfect for the whole family to use. We've also included a good range of prices and specifications, so there's an option for every requirement and budget.
BLITZBALL Starter Pack
TOP PICK
This Blitzball bats and ball starter pack set is ideal for backyard baseball. With an incredibly lightweight design, each Blitzball weighs just under 1 oz, so they can be safely used in the backyard. The set includes one Wiffle bat and three Wiffle balls.
For the best Wiffle ball bat, it's important to go for a durable plastic. The Wiffle bat included in this set is made from high-quality plastic polymers, a material that is long-lasting and sturdy.
Franklin Sports MLB Kids Jumbo Baseball Bat
BEST BUY
Franklin Sports is a well-known brand in baseball, and this 24″ plastic Wiffle ball bat for kids upholds that high-quality reputation. With a 3.25″ jumbo-sized barrel, the large sweet spot is perfect for young players who want to improve their hitting skills.
In addition, the Wiffle bat has a soft foam grip, making it easy and secure to hold onto the bat at all times, without causing discomfort to young hands.
Champion Sports Lightweight Plastic Bat
BEST RATED
When it comes to plastic baseball bats, this Champion Sports offers a sleek design at an affordable price. The use of a molded handle on this Wiffle bat means that grip is secure and easy to hold onto, without sacrificing comfort.
At 31″, this Wiffle bat is made with durable composite plastic that ensures it can handle powerful hits and will last multiple seasons.
Louisville Slugger Replica Bat and Ball Combo
The Louisville Slugger Wiffle ball bats are designed to be an exact replica of the C271 34″ baseball bats, but made from plastic instead for a safe gaming experience the whole family can join in on. Even better, to keep that authentic look, the Louisville Slugger replica bat in this Wiffle ball and bat set has a wood grain design.
The Wiffle ball bats by Louisville are made from sturdy plastic and are ideal for all ages to use due to the lightweight design.
EASTON PRO STIX Plastic Baseball Bat & Ball Set
The Easton Wiffle Ball bats and Wiffle ball gear are designed to suit all ages, and the ultra-lightweight bat is easy to use. At 33″, these pro Wiffle ball bats are strong and durable and can handle the use of softballs due to their sturdy design.
Included in this Easton Pro Stix bat and ball set is a seamed plastic training ball, ideal for helping young players learn how to hit safely.
BLITZBALL Dude Perfect Starter Pack
As the name says, this Blitzball Dude is the perfect starter pack for young players who want to improve their hitting skills in baseball or softball. This set includes three Wiffle balls and a study Wiffle bat made from plastic. Included on the bat is the DP Blitzball logo for a stylish look.
The design of this Wiffle bat is aimed at offering powerful distance, speed, and maximum curve, and players of all ages can join in on the fun.
WIFFLE Ball U.S.A Set – 32″ Bat with Red, White, and Blue Official Balls – 4 Pack
If you're on the hunt for a yellow Wiffle ball bat that also includes Wiffle balls in the pack, this set is one of the best. Alongside the bat, you'll also receive three of the best Wiffle balls, in different colors.
This baseball Wiffle balls set is made in the US and is suitable for all ages, making it perfect for the whole family to join in on the fun. The bat is lightweight but sturdy enough to hit the balls with ease and precision.
Wiffle 32′ Bat and 3 Baseball Set Bundle
This professional Wiffle ball set is designed to make you feel like a pro, and there is the option to purchase one or two bats (alongside six Wiffle balls). Made from high-quality plastic in the US, the bat in this set is durable but still lightweight.
The balls are long-lasting and can withstand impact, making the whole set easy and fun to use for both adults and kids.
How a Wiffle Bat Can Help You as a Hitter
Since Wiffle ball isn't as intense as baseball or softball, it's the perfect way for families to play together or for young learners to get to grips with some of the basic skills needed for playing other sports in the future. Here are just some of the ways using a Wiffle ball bat can help improve hitting skills:
Teaches Proper Mechanics
Learning to swing and hit the ball whilst keeping composure and facing curveballs and sliders can be tough, and it's even more difficult if a young learner uses a wood or metal baseball bat. You may want to invest in gear such as the best baseball radar gun to help older youth athletes, but ultimately, for young players, using a Wiffle ball bat is a good start.
Since Wiffle ball bats are much lighter and easier to handle, kids can learn without fear of continuously missing the ball.
Teaches the Secrets to Hitting
Practicing and playing with a Wiffle ball bat (which is generally quite thin) makes it a fun challenge for young players to hit the ball, and a lot of coordination, technique, and reaction work can be practiced, perfect for young athletes who want to get into softball or baseball.
Hand/Eye Coordination
From a young age, kids need to practice hand/eye coordination, and using a Wiffle ball bat is a great way to accomplish this. It'll make them much better athletes in the future and will help their reflexes in other areas, too.
Fun and Relaxing
When it comes to sport, keeping kids interested and engaged can be a real struggle, but one of the great things about Wiffle ball is that it's easy going and fun. Kids and adults can enjoy it, in fact, whole families can get together for a game.
Check This Out!
What are the Considerations Before Buying
What is your Wiffle ball bat going to be used for? Is it for a child or for an adult who wants to practice at home? All of these considerations need to be taken into account before looking for the best Wiffle ball bat.
Age
If you want a Wiffle bat for young players, it's best to opt for a lighter, shorter bat. Adults can go for longer, heavier bats that are better suited to being used with more force.
Skill Level
A key question to ask here is who will be using the Wiffle bat and ball set, is it for a family game in the park? Or for practice purposes? Either way, the skill level of the player should be taken into account, as you don't want to go for a bat that isn't suitable and uncomfortable to use.
Intended Usage
Before purchasing your Wiffle balls and bats, you need to work out who it's for and how much it's going to be used, and in what type of setting. This will then help you pick out the best Wiffle ball bat to suit your requirements.
Features to Look Out for
As with all types of bats, whether you're going for a wood Wiffle ball bat or a plastic bat, it's important to know what the key features are and what is essential to making a bat good-quality and worth purchasing. Below are some features that shouldn't be overlooked:
Grip
A good grip is something that can't be sacrificed – it's what makes the difference between a hesitant and a confident batter. Make sure the Wiffle bat you go for has a comfortable, snug grip that you can easily hold onto.
Durability
As with all sporting equipment, from the best baseball bags to the best baseball sunglasses, durability is essential.
There's nothing worse than investing money into something that breaks after the first few uses, and when it comes to the best Wiffle ball bats, it's a good idea to purchase a sturdy, durable plastic bat. At the very least, your Wiffle ball bat should be sturdy enough to take on softballs.
Watch This Review for Wiffle Ball Bats:
Dimensions
Wiffle ball bats come in a variety of sizes, with heavier, longer options suiting adults and shorter, lightweight plastic bats ideal for young athletes and children. Before purchasing your Wiffle ball bat, make sure you've checked the dimensions out and that it's suitable for you or your child to use.
Barrel
The larger the barrel is, the easier it will be to connect with the ball. For children especially, a wiffle bat with a decent sized barrel will help them practice and boost their confidence. Having a larger barrel makes it easier to connect with the ball, thus allowing kids to excel in their hitting skills.
FAQs
How can I make my Wiffle Ball Bat better?
You can modify your Wiffle ball bat by cutting off the top of the bat and inserting bouncy balls in until the bat is full. Then reattach the top using duct tape to keep it in place securely. This will make the bat heavier and more powerful to hit with.
How far can you hit a Wiffle ball?
A Wiffle ball can travel up to 150 feet away, so quite an impressive distance. To make your bat heavier and better at hitting those home runs, you can custom Wiffle ball bats by inserting bouncy balls or newspaper inside to add weight.
Is bunting allowed in Wiffle ball?
A much-discussed subject – when it comes to a Wiffle ball game, bunting isn't deemed acceptable and the hitter can't get a base on balls.
Why is Wiffle Ball called Wiffle Ball?
The Wiffle ball first got its name when David N. Mullany decided to design a ball that would curve easily to help his young son. He had heard his son call a strikeout a "whiff" and so the name Wiffle Ball was born.
Final Thoughts
Whether you're on the hunt for yellow Wiffle balls, a Wiffle ball bat, or a whole set, there's plenty of great options to choose from. The important point to take away from this article is that it's essential to find a bat that suits your needs and is comfortable to use.
Overall, Wiffle ball can be a great family sport to play in the backyard, and as listed, there's plenty of skills for young learners to pick up to prepare them for baseball and softball as they get older.
If you need to transport your Wiffle set around, we've also put together a great list of the best baseball bags on the market, so you can play and practice comfortably anywhere.
Updated on