Whether you're a coach or a parent looking for the best radar gun for baseball or softball, you'll want a device that is both accurate and easy to use, and when it comes to playing baseball, having a good quality radar gun can really improve speed and technique.
The main purpose of a radar gun is to measure the speed of the ball and some of the best radar guns on the market will record down the results so you can keep an accurate overview of a player's performance.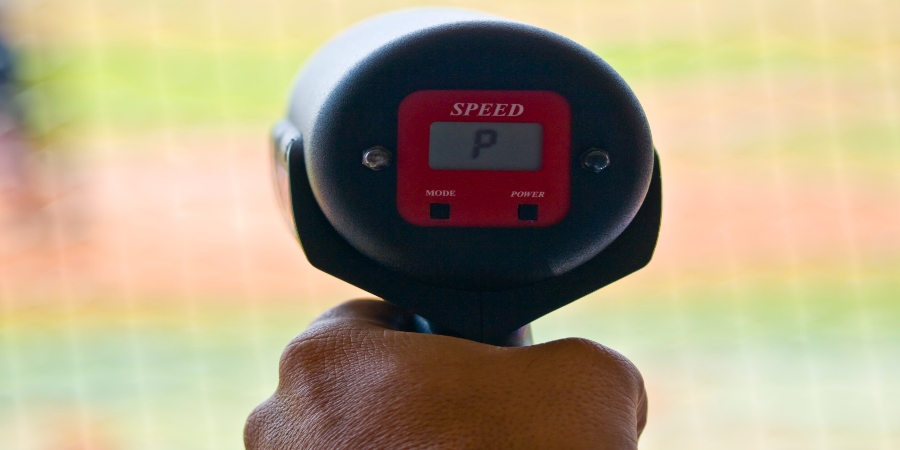 In this article, we'll cover everything you need to know about radar guns – from the best on the market to what features and qualities to look out for before you make your purchase.
Summary: Our Top 10 Picks for the Best Baseball Radar Guns
Bushnell Velocity Radar Gun


Pocket Radar Ball Coach / Pro-Level Speed Training Tool and Radar Gun


Bushnell 101911 Velocity Speed Gun

Supports both KPH and MPH

Sports Sensors Glove Radar


Weather-resistant and durable design

Jugs Gun — Sports Radar Gun

Accuracy index of +0.5 MPH

Uses rechargeable batteries

Supports both KPH and MPH

Bushnell Speedster III Radar Gun


SKLZ Bullet Ball Baseball Pitching Speed Sensor


Pocket Radar Smart Coach App

Data can be stored on your smartphone

Uses rechargeable batteries
10 of the Best Radar Guns for Pitching in 2023
So, when it comes to finding the best baseball radar gun, you'll want one that fits all your requirements. Do you need it to be hands-free? Are you looking for the best radar gun for youth athletes or older baseball players?
Other factors include the design of the radar gun, how accurate it is, and the brands – we've included popular choices below such as Bushnell Velocity Radar Gun, Stalker Sport Radar Gun, and the Radar Ball Coach.
Bushnell Velocity Radar Gun
TOP PICK
First up is the Bushnell Velocity Radar gun, which features a large, easy-to-read display that can measure the speed of 10-110 MPH up to 90 feet distance, and can be set to show speed in KPH as well as MPH. The Bushnell Velocity Radar is ideal for little league or high school athletes.
Additionally, the Bushnell Velocity speed gun is simple to use with a trigger-style design and uses alkaline C batteries to operate, plus the size means it's easy to carry around or take to different locations.
Pocket Radar Ball Coach
BEST BUY
The next in our line-up is the Pocket Radar Ball Coach. It's easy to use and features a clear display. This speed gun includes hands-free, automatic triggering, built-in memory, and constant-on mode, everything you need.
In addition, the Radar Ball Coach has a speed range of 25 – 130 MPH, and a range of 120 feet when it comes to tracking a baseball. The accuracy of the speed gun is between +/- 1 mph and the small size means it can easily be transported around and is lightweight to hold and use.
Stalker Sport 2 Radar Gun
BEST RATED
The Stalker Sport is one of the best radar guns on the market thanks to its easy to use design yet precise accuracy, so much so that it rivals much more expensive radar guns on the market.
Stalker Sport includes AA batteries (although they aren't rechargeable) and parents and coaches can measure pitching and running speeds using the two-speed functions. In addition, a sturdy, solid carry case is included for easy transportation of the Stalker Sport speed gun.
Bushnell 101911 Velocity Speed Gun, 10-110 mph
The Bushnell velocity speed gun for pitching uses the traditional point and shoot pistol style with a comfortable grip on the handle, whilst the LCD display is large and easy to read. With a speed range of 10-110 MPH, it's one of the best choices for all baseball athletes as well as other ball sports.
The Bushnell Speedster requires 1 C batteries and can measure speed from 90 feet away, making it easy to track athletes and keep a record of their progress. In addition, this speed gun uses DSP (digital signal processing) for accurate results.
Sports Sensors Glove Radar Gun
These sensors swing radar gloves attach to the back of a baseball glove and record the speed of the incoming ball, which means that there isn't a need for a long-range capability making it the best radar gun for distance and positioning.
Designed to reduce the chances of arm strain, this radar gun for pitching can help improve consistency and in addition, can process a speed range of 12-120 MPH and uses a 3-volt lithium camera battery. Finally, this radar gun is made from extremely durable, weather-resistant materials so you can use it in any type of weather.
Jugs Gun Sports Radar
Featuring a continuous mode for non-stop results, this speed gun featuring Digital Signal Processing technology which provides accurate readings and has a speed range of 5 -140 MPH – ideal for baseball players of all ages and abilities.
This pitching speed gun operates using rechargeable batteries, and six batteries will last a week of regular, standard usage. In addition, the Jugs Gun features two modes – trigger and continuous mode and can measure in both MPH and KPH.
Bushnell Speedster III Radar Gun
The Bushnell Speedster III radar guns are designed to be comfortable and easy to use thanks to a textured pistol grip and easy to read fast speed display. Whether you're a parent or coach, the continuous mode on the Speedster III speed gun will make it easy to collect readings and can pick up ranges from 10-200 MPH.
Requiring 2 C batteries, these speed radar guns accurately measure velocity speed per hour and wireless data can be transferred to your device so you can use it hands-free.
SKLZ Bullet Ball Speed Detection Training Ball
This innovative yet stylish design offers the chance to measure the speed without using radar guns. The ball itself is a radar ball, so as athletes hit it, the radar ball will record the velocity speed per hour, and can measure the speed up to 120 MPH.
The distances on this speed gun can be adjusted from 46″ to 60.6″, and requires a replaceable LR-41 mercury battery (which is included). This design stands out from the rest due to the radar being incorporated within the ball itself, which makes it super extremely easy to use – all you have to do is throw it.
Pocket Radar Smart Coach/Bluetooth App
For the ultimate easy to use best radar gun, the Pocket Radar Smart Coach covers everything a parent or coach needs – plus being able to view, record, and store readings on your mobile phone mean it's never been easier to integrate technology into basketball practice. There's even a setting to announce recordings via speaker so results are always accessible.
The Smart Coach Radar speed gun uses AAA batteries but also accepts rechargeable batteries, and offers accurate speed readings whilst also being small and convenient to carry around. In addition, this radar gun can be used to record auto-edited videos that can be shared with others (via text or social media) with just the tap of a button.
Stalker Radar Pro II Baseball Radar Speed Gun
The Stalker Radar Pro II is the ideal baseball radar gun, with an impressive speed range of 1-890 MPH. Wireless connectivity makes this radar gun for sports easy to use for baseball coaches and parents alike.
In addition, this speed radar gun uses rechargeable Li-Ion batteries and comes with a battery charger as well as a solid, protective carrying case. The materials used are durable and long-lasting, so this speed gun can be used in all weather conditions.
Factors to Consider Before Purchasing a Radar Gun
Being clear on what specifically you need from a speed gun for baseball will save you time and money, and you'll be able to look for the best radar gun to suit your needs.
There are plenty of factors to think about, such as the price, portability, and accuracy. Here are some tips to get you started:
Your Present Level
If you're a coach, the level of your players will be a big factor when choosing a radar gun for softball or baseball. Factors like the velocity speed range and distance will vary on whether you coach high school level or little league baseball.
One of the main benefits of using a speed gun is being able to give feedback in the moment – the more you can do this with young or older athletes, the quicker they'll be able to improve their speed velocity.
Budget
How much is a radar gun? The price varies massively, but if you want to buy the best baseball radar gun, you should be prepared at least $100-$200. A cheap radar gun for baseball will still offer some benefits but might lack in accuracy and durability.
For those on a very tight budget, you might prefer to opt for a used radar gun, but be aware of any wear or tear that comes from an overused cheap baseball radar gun.
Read Reviews About a Baseball Radar Gun
When it comes to buying the best baseball radar gun, you don't want to waste time testing out lots of different brands until you find the right speed gun, and that's where reading baseball radar gun reviews can save you a lot of time.
In addition, a baseball radar gun review will break down all the features and requirements of each speed gun so you can clearly make a choice based on your budget and needs.
Check This Out!
What to Look for While Purchasing a Radar Gun for Baseball?
Before buying the best radar gun for baseball pitching, it's a good idea to look out for factors such as the size, consistency, and what you want to use the radar gun for as this can vary depending on the type of athlete it's for and what level they are.
And, just as it's handy to know this information beforehand, whether it's the best baseball bag or the best baseball sunglasses that you're after, it can never hurt to be on the ball when it comes to buying a radar gun after all the prices can vary and you should be only investing in a product if it really works for you.
Size
There is a range of sizes to choose from when it comes to a radar gun, like a pocket baseball radar gun to larger speed gun styles, but size doesn't play a huge significance in the quality of the device.
In this case, it really comes down to how much you need to transport around your baseball speed gun when it comes to size and which type of design you personally prefer.
Distance
When it comes to choosing the distance range of your baseball radar gun, you first should consider what you need it for. If you're a coach, you'll want a speed gun with a higher distance range for major league baseball players, and less for the little league.
Consistency
To be able to monitor and improve the players' abilities, it's essential to buy a speed gun for softball and baseball that is consistent in its readings so that no confusing errors come up. The best radar gun will provide accurate results every time you use it.
Portability and Use
Another key feature to look out for in a radar gun is portability – you should invest in a baseball speed gun that can be taken anywhere you go and doesn't weigh you down on top of all the other gear you have to carry for baseball.
You should also consider what you need to use the radar gun for, is it a radar gun for speed? Or do you want a speed gun to improve your technique with? Some speed radar guns will record down readings so that you can review them after the session.
Accuracy Index
The best baseball radar gun for baseball will have a high accuracy reading, and that's essentially the purpose of buying a gun in the first place so it's not an area you want to skimp out on.
A cheap speed radar gun won't always be as accurate when measuring the velocity speed per hour, but the best way to test a radar gun is by comparing its performance against other radar guns. Additionally, as we mentioned before, reading reviews can also be a great way to determine how well a speed gun works and how accurate it really is.
Battery Life
It's always a good idea to check beforehand what type of batteries are required for the radar gun before you buy it – most require AAA/AA batteries but it's also important to know how long batteries will last when the radar gun is on continuous mode.
If they're compatible with your pitching radar gun, you might want to invest in rechargeable batteries that will save on the cost overall of using your radar gun all season.
Speed Range
The speed range of a baseball radar gun usually ranges from 5 – 150 mph – this will depend again on whether you're a coach or a parent. Coaches will need a wider range in their radar gun for older athletes such as high school players, whereas youth coaches for little league baseball can opt for a radar gun with slightly smaller ranges.
Watch the Video Below:
Tips for Using a Baseball Radar Gun
To make sure you get the most out of your radar gun for baseball, follow these tips below.
Some, like using a stand for your radar gun is optional and come down to personal preference and budget, whereas knowing how to position yourself correctly will make using the radar gun much easier.
Position Yourself in an Open Space
To achieve the best results from your radar gun, it's essential to have direct contact with the pitcher. Removing any obstacles that could slow down the accuracy is also a good idea to put any bags or extra equipment out of the way.
You should point the gun so that it's directly facing the oncoming ball, or is placed directly behind the outgoing ball for the most accurate readings – to make it easier to imagine, draw an invisible straight line from the pitcher to the gun.
Buy a Stand or a Gorilla-stand
Using your radar gun by hand is still an effective option if you don't have a stand, but investing in one will make your life much easier, plus you can buy a decent stand or gorilla stand for your radar gun for less than $50.
Record all the Results
There's little point in using a baseball radar gun unless you actually record all the results down. The aim is for you to then be able to monitor and make improvements to the player's performance and their velocity speed when hitting the ball (which can be hard to mentally keep count of).
On the other hand, though, it's always useful to provide instant feedback to players so they can make improvements there and then instead of implementing new techniques or styles later once the results have all been recorded.
Compare Results
Once you've got a series of readings from your radar gun, it's a good idea to sit down and go over the results. This is the best way to highlight any strengths and to work on any weaknesses the athlete has when it comes to technique and speed.
Trying Baseball Radar Gun
FAQs
How accurate are baseball radar guns?
Overall, baseball radar guns are very accurate when measuring velocity speed per hour, with the most expensive being able to measure up to 1 mph. Even less expensive radar guns will offer high accuracy levels, but they may vary +/- 1 mph.
Do baseball radar guns work on cars?
Yes, most baseball radar guns will work for other purposes, such as measuring the speed of a vehicle or any other moving object. The key is to be able to place the gun facing parallel to the vehicle, so positioning is essential for an accurate reading.
What does a radar gun measure?
In baseball, a radar gun will measure the speed of the ball, and this allows coaches and parents to monitor their athletes' performance and their velocity speed and make improvements to technique or speed where needed.
Can radar guns be used at night?
Although a police radar gun is equipped to function at night and in very low light, baseball radar guns don't yet have this function. It's hoped that this function will be incorporated soon so athletes can practice whenever it suits them.
Conclusion
Baseball athletes can benefit massively from having their speed recorded and reviewed regularly, so don't overlook a speed gun as an essential training tool.
The best radar gun for baseball needs to be easy to use, precise in measurements, and consistent in readings – so ensure that your radar for baseball includes these key elements.
Finally, it will come down to your budget, personal preference, and whether you need extra features like hands-free or Bluetooth included in your radar gun.
Updated on