Investing in a good pair of softball cleats is a must for anyone who plays softball more than recreationally. Wearing the wrong type of shoe can result in damage to your feet and will take a definite toll on your performance on the field, so it's not a piece of gear to skimp on.
Luckily, there are plenty of reputable brands that offer affordable cleats with several different styles and designs to choose from.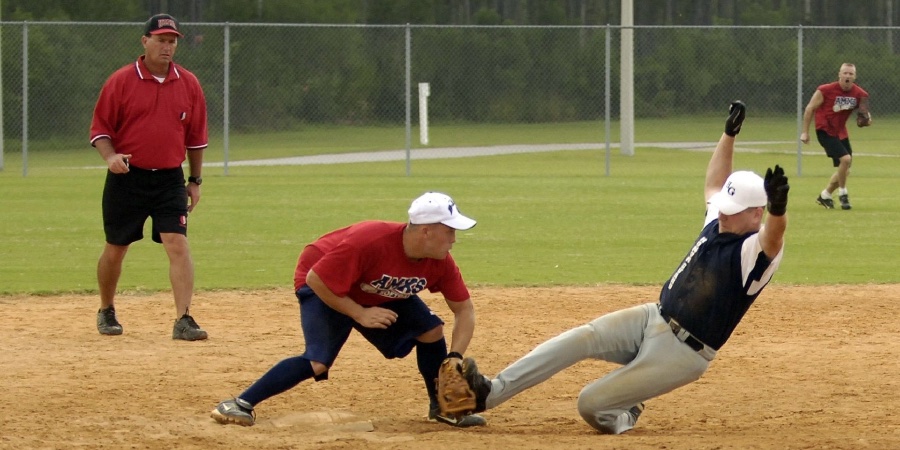 So which cleats are best for softball in 2023? We'll be looking at the top 11 picks, as well as how to properly size your cleats and break them in once you've found the right pair for you.
Summary: Our Top 11 Picks for the Best Softball Cleats for Men
| | | |
| --- | --- | --- |
| | New Balance Men's 4040 V5 TPU Molded Baseball Shoe | Wide fit options available |
| | Mizuno Men's Dominant Ic Baseball Shoe | Suitable for all surfaces |
| | Adidas Men's Icon Bounce TPU | Stealtrax TPU outsole plate for traction |
| | Under Armour Men's Leadoff Low Rm Running Shoe | |
| | Adidas Men's Icon V Bounce TPU Cleats Baseball Shoe | |
| | Under Armour Men's Leadoff Mid Rm Baseball Shoe | |
| | Adidas Men's Afterburner 6 Grail Md Cleats Baseball Shoe | |
| | Under Armour Men's Harper 4 Mid Rm Baseball Shoe | Ankle support from the strap |
| | Adidas Men's Adizero Afterburner V Baseball Shoe | |
| | New Balance Men's 4040 V4 Metal Baseball Shoe | Mesh upper for breathability |
| | Under Armour UA Harper 2 RM | EVA midsole for cushioning |
11 of the Best Cleats for Softball (Men) in 2023
We've lined up some of the best softball cleats so that you can easily compare the different types of cleats. Softball players should look for a mix of comfort, durability, and traction in a cleat, so check out our top picks below.
New Balance Men's 4040 V5 TPU Molded Baseball Shoe
TOP PICK
The New Balance Men's 4040 V5 are made from 100% synthetic leather materials, making them lightweight and comfortable to wear. In addition, they have a durable design making them last many seasons, and a Kinetic Stitch Upper for flexibility and stability.
There are also 15 different colors to choose from including white softball cleats, and the addition of wide-fit sizes means there are options for all preferences and needs.
Mizuno Men's Dominant Ic Softball Spikes
BEST BUY
The Mizuno Men's Cleats are affordable yet comfortable. Designed with an inner bootie construction, they have a snug fit and keep feet stable, whilst a U4ivX midsole gives the ultimate cushioning. For athletes who want to keep their feet cool, these softball cleats feature a breathable upper so you can play in comfort.
Feet are also well protected with these molded cleats as the outsole offers protection to the cleat in addition to its 9-spike design, and the full-length midsole absorbs shock on impact.
Adidas Men's Icon Bounce TPU
These Adidas softball cleats use bounce cushioning technology so athletes can perform with complete flexibility without sacrificing support. Great for all year round use, they feature a well- ventilated Nubuck upper for breathability and are made from synthetic leather.
In addition, these softball shoes have an Ironskin toe cap which is abrasion resistant so that the cleat is always protected, as well as 9 spike cleats for ultimate traction.
Under Armour Men's Leadoff Low Rm Running Shoe
For the ultimate comfortable cleat, look no further than Under Armour Men's softball cleat. Designed with a mesh tongue for breathability, a full-length EVA midsole, and a leather top, these cleats are designed to protect and comfort feet. The EVA midsole offers complete shock absorption, dispersing any pressure upon impact.
In addition, being made from textile, synthetic, and leather materials means these softball cleats are extremely durable and robust.
Adidas Men's Icon V Bounce TPU Cleats Baseball Shoe
Available in eight different colors, these Adidas Men's Icon V softball cleats feature a textile upper and an abrasion-resistant Ironskin toe cap for protection. The addition of an extended lace loop for closure means these shoes are not only stylish, but they also support the foot. These shoes also have a 9 spike rubber Strealtrax outsole plate for turf traction
This is enhanced further by the sock-like construction, which allows the cleats to hug the foot. Athletes can also keep cool due to the breathable textile upper.
Under Armour Men's Leadoff Mid Rm Baseball Shoe
Alongside a full-length EVA midsole for comfort and shock absorption, these Under Armour Men's Leadoff have a padded collar and are mid-tops, so they offer a bit more protection around the ankle. The use of a synthetic upper means there's plenty of ventilation for comfort and coolness.
The rubber molded spikes offer the ultimate grip and traction, and a double overlay on the toe cap for complete protection.
Adidas Men's Afterburner 6 Grail Md Cleats Baseball Shoe
For athletes searching for the best softball cleats for speed, these Adidas Men's Afterburner shoes are super lightweight so athletes don't get slowed down on the field. An Ironskin toe cap offers protection to the cleat and is abrasion-resistant for durability.
Additionally, these softball cleats have a one-piece Nubuk upper, and to provide maximum support, the laces are widened. The use of a molded rubber outsole gives athletes perfect grip and traction so they can move with confidence.
Under Armour Men's Harper 4 Mid Rm Baseball Shoe
These Under Armour Harper 4 Mid RM baseball and softball cleats offer plenty of ventilation so they can be worn all year round, even in the hottest months. The use of an adjustable ankle strap gives the ultimate feeling of security and comfort, especially around the ankles.
In addition, the synthetic upper is durable and lightweight, whilst the full-length EVA midsole provides ample cushioning at all times.
Adidas Men's Adizero Afterburner V Baseball Shoe
The Adidas baseball metal cleats are designed to be some of the lightest cleats on the market thanks to their Litestrike EVA midsole which weighs less than most midsoles. For complete protection, an Ironskin toe cap is used, which is abrasion-resistant and durable.
In addition, these metal cleats for softball with an external heel also have Sprinstuds and a rotational traction zone, so athletes have full control and traction on the field, as well as a range of colors including softball white cleats.
New Balance Men's 4040 V4 Metal Baseball Shoe
New Balance has designed these men's 4040 V4 to be even lighter than their predecessors. A durable synthetic leather provides comfort, whilst the TPU mesh in the upper provides breathability. These are perfect for those in search of the coolest baseball cleats.
Also, these softball metal cleats have toe protection and a lace cage, making the shoes not only protective but stylish too. Athletes can get stuck in with the metal 8-cleat configuration which provides the ultimate traction.
Under Armour UA Harper 2 RM
The Under Armour softball cleat is ideal for athletes who want quality at an affordable price. With an adjustable strap, these cleats offer the ultimate level of protection and support for ankles, and a full-length EVA midsole is designed to cushion the feet by dispersing pressure upon impact.
Also, the molded synthetic upper ensures that these cleats are comfortable and provide a supportive fit, perfect for athletes during practice and gameplay.
Types of Cleats
With three different types of cleats to choose from, ultimately you'll have to decide which suit your playing surface. Other things to take into account are the rules of your league, as some don't accept metal cleats, and whether you might play on turf.
Metal Cleats
Metal cleats are the best in terms of traction on the field as they are strong and sharp enough to dig into the ground, and they allow athletes to rotate and change direction quickly. The only disadvantage of metal cleats is that some leagues won't accept them because they can cause damage to the playing surface or other players if there's a collision.
Turf Cleats
Turf cleats are designed to protect turf surfaces so athletes can play without damaging the ground. They offer more traction than normal shoes, but slightly less on muddy grounds than metal or molded cleats do. However, on artificial grounds, turf cleats offer the best traction and grip.
Molded Cleats
Molded cleats are a popular choice amongst high school athletes (as well as older players) because many leagues won't accept metal. They're lightweight and are usually made from rubber or plastic, which in turn makes them fairly durable too.
Molded cleats can be worn on most surfaces except for turf, and although they offer a great amount of grip, it's still less than you'd get with metal cleats.
Check the Tips on the Video Below
How to Pick the Proper Fit for You
Just as important as the brand and pricing are, it's essential that you find the best men's softball cleats for your feet. Comfort is one of the most important things as well as sizing – you don't want to be out on the field with painful feet.
Here are a few suggestions to help you fit your cleats properly:
Wear Your Softball Socks
Wearing the socks you'd normally play softball in, try on the cleats. They should fit snugly, but not too tight or restrictive when you're moving around. Wearing softball socks will give you an accurate measurement so that you can measure the tightness of the cleat.
Snug Fit
The best softball cleats will fit snugly but still allow for one finger to be put in between the cleat and the ankle. This shows that the cleat isn't too tight and won't cause painful blisters.
Keeping Dirt Out
Cleats with a thicker tongue are better at keeping dirt out, as well as keeping your laces tied and in place. It's best to opt for a mix of thickness and breathability because as well as keeping dirt out, you also want to have cool baseball cleats so feet stay dry whether you're playing softball or baseball.
Watch the Video Below:
Other Things to Consider
Now that we've got the right fit, it's time to think about the price, your position on the field, and the materials of your cleats. All of this weighs a big part in choosing the best softball cleats, and if you opt for a good quality pair of cleats, you'll save money in the long run.
League Restrictions
As mentioned above, some leagues won't allow metal cleats. Therefore, it's really important to find out your league's restrictions before buying shoes. Most young leagues will require athletes to wear molded rubber cleats for their own protection and to avoid injuring others.
Comfort Over Price
Everyone has a different budget, but you must put your comfort first regardless of whether you're searching for the best cleats or the best big barrel bats. It's much better to invest in a high-quality cleat that will last multiple seasons rather than have to buy cheaper, low-quality shoes every year. The good news is that many brands now offer affordable prices so that you don't have to splash out too much for a decent pair of cleats.
Field Position
Your position on the field is one of the most important factors in your decision making. For example, outfielders benefit more from traction, whilst pitchers need a shoe with a reinforced toe area. Having the right cleats for your position will allow you to play with much more confidence and accuracy.
Materials
The best cleats for baseball or softball should be made from durable materials. Leather is the ideal material because it's extremely comfortable and long-lasting, but can be very expensive. The average shoe is now are made from synthetic leather which is great due to its breathability and lightweight construction. It's also very affordable compared to real leather.
Reinforced toes
Having a reinforced toe is important to keep the area from wearing down and deteriorating. For players such as pitchers having a reinforced toe is essential. Without it, you'll end up going through multiple cleats in one season.
Cushioning
The key to protecting your feet and keeping them comfortable at all times is to find cleats with adequate cushioning. The more padding the shoe has, the more shock gets absorbed on impact which in turn puts less pressure on your feet.
Cleat Height
Cleats come in three different heights: low, mid, and high. High top cleats for softball offer the most ankle protection, but they often weigh more which might hamper speed.
Mid-top cleats are the comfortable middle, with some ankle support but still a fairly lightweight shoe. Low- top cleats don't offer much support at all but are the best for athletes who want speed.
Check This Out!
How to Break In Your Slowpitch Softball Cleats
To ensure that you don't injure your feet with blisters, it's a good idea to be prepared and break them in before playing in them. There are a few different things you can do which should get your cleats comfortable and ready to play in.
Foot/Shoe Soak
For an easy way to break in softball cleats, fill up a bucket with warm water. Wearing your softball cleats, submerge your feet into the water and stay in the bucket for around half an hour. Make sure to do it on a warm sunny day, as you'll need to wear your cleats for the rest of the day.
Before submerging them, make sure they're done up properly and with a comfortable fit. Doing this allows the cleats to mold to the shape of your foot so that they fit you perfectly.
Use Petroleum Jelly to Prevent Blisters
Whether it's softball cleats for girls or men, blister prevention is essential. The last thing you want is to get out on the field and feel intense discomfort.
Using petroleum jelly, rub it onto the areas of the cleat which could rub against your foot. Not only will it soften the shoe, but it'll also act as a moisturizing buffer on your feet. The areas of the foot most prone to being rubbed against are the heel, top of the toes, and the sides.
Use Two Pairs of Socks During Practice
Some athletes break in their softball cleat by wearing two layers of socks when they practice. Because the shoe will fit tighter, it'll naturally start forming the shape of your foot. This means that when you remove the second sock the shoe should fit perfectly.
Two-Hand Twist
The two-hand twist involves literally taking your softball cleat and twisting it like you would with a wet towel. This shakes out any stiffness and makes the material more flexible so that when you wear the shoes during practice or a game they won't feel so rigid.
FAQs
Can I use soccer cleats for softball?
There are no rules to say that you can't use soccer cleats for softball, but due to their differences, it's best to stick with a proper softball cleat. Softball requires rapid movement and changes in direction, so thicker support is needed on the feed as well as a toe guard.
Are metal cleats better for softball?
Men's and women's metal softball cleats have an advantage because the metal has more traction, so they can take off at speed. The only downside is that many leagues don't allow metal cleats so it's best to find out your league's rules before buying.
Are metal or plastic cleats better?
The best softball cleat is metal because it stays hard and rigid in the dirt, also making it more durable. Plastic cleats can bend and wear down over time, although they are more widely accepted in many leagues.
What are the best cleats for softball?
If you're looking for the best cleats, try brands like Addidas, New Balance, Under Armour, and Mizuno. The best cleat should be lightweight yet supportive and have a toe guard to resist abrasion.
Final Thoughts
Baseball and softball equipment, from cleats to the best wood bats, shouldn't be bought without comparing the specifications beforehand as each brand differs in their style and construction.
The best baseball cleats and softball cleats should be well-fitted, long-lasting, and have sufficient traction, but most importantly should be comfortable for you to wear. The cleats featured in this article are all designed to balance quality with affordability so that you can enjoy high-quality cleats that won't let you down after just one season.
Updated on