Whilst metal bats may be the most popular out there now, there's nothing like hearing the pop of the ball against a wood bat. And the great news is that many popular brands have affordable, high-quality wood bats for both adult and youth players.
The best wood bats should be made from high quality, durable wood, be well balanced, and of a weight which suits the player. In our guide below the 11 best baseball bats, we'll look into all of the different components which make up a great wood bat.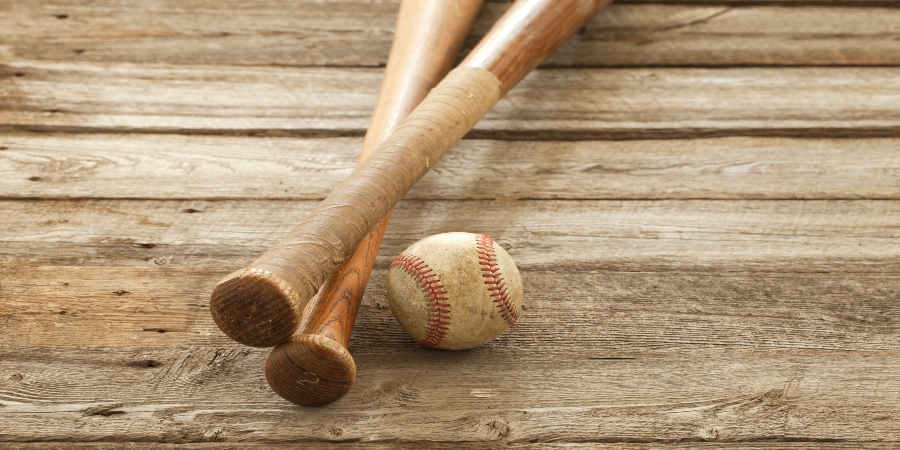 Summary: Our Top 11 Picks for the Best Wood Baseball Bats
| | | |
| --- | --- | --- |
| | EASTON PRO 110 Ash Wood Baseball Bat, 2021, Pro Grade Ash, Balanced l Medium Barrel And Handle, Longer Taper, Traditional Knob, Handcrafted in the USA | |
| | Mizuno Maple Elite Baseball Bat - MZM 110 | |
| | EASTON MAKO -9 Ash Youth Wood Baseball Bat, 2021, -7 to -10 Drop Weight Range, Traditional 271 Profile, Handcrafted in USA | |
| | EASTON PRO 271 Ash Wood Baseball Bat, 2021, Pro Grade Ash, Balanced, Medium Barrel And Handle, Longer Taper, Larger Knob, Handcrafted in USA | |
| | Marucci Albert Pujols Maple Wood Youth Baseball Bat: MYVE2AP5-N/BK MYVE2AP5-N/BK | |
| | Louisville Slugger Pro Stock Ash Wood Baseball Bat Various Styles | |
| | Marucci PRO Cut Maple BAT Natural | |
| | Louisville Slugger 2020 MLB Prime Wood Bat Series | Many colors to choose from |
| | Marucci AP5 Maple Baseball Bat | |
| | Louisville Slugger Genuine Series 3 Maple C271 Baseball Bat | |
| | Louisville Slugger 2020 Genuine Maple Wood Bat Series | |
11 of the Best Wood Baseball Bats in 2023
Although most brands now specialize in selling aluminum or composite bats, wood bats have still kept their popularity over the years. To help you narrow down the top choices, we've put together a list of the 11 best wood bat selections of 2023.
EASTON PRO 110 Ash Wood Baseball Bat
TOP PICK
The Easton Pro 110 is one of the best wood bats in baseball due to the use of lightweight ash. This wood bat has a slight flex aimed at an increasing distance and a medium barrel. The use of a thick handle is featured so athletes have better control over the bat.
In addition, this wood bat, made in the USA, has a well-balanced feel thanks to the medium barrel and cupped end. A traditional knob completes the look and feels of this Easton Pro 110, and it's best suited for contact hitters who want to make a strong impact when connecting with the ball.
Mizuno Maple Elite Baseball Bat – MZM 110
BEST BUY
The best wood baseball bats should be made to be durable and able to receive balls at great impact, and Mizuno has achieved just this with their rock-solid maple baseball bat. With a larger barrel aimed at an increased sweet spot, athletes can play with full confidence in their bat.
In addition to being lightweight, Mizuno has also added their exclusive supra-helix grip to the handle which ensures athletes have full grip and control over the bat, as well as a comfortable feel. Finally, the cupped end results in lighter swing weight.
EASTON MAKO -9 Ash Youth Wood Baseball Bat
BEST RATED
Made using 100% USA lightweight ash, these Easton Mako wood bats are great for young players who are transitioning from metal to wood bats. As it is slightly end-loaded, these 271 turned wood bats are perfect for both power hitters and contact hitters, and the slight flex in the bat gives more distance to hits.
With a balanced feel, athletes will feel confident using this bat. The thin handle makes for easy gripping, and it has a weight drop range of -7 to -10 and a medium-sized barrel. In addition, the cupped bat end gives the bat a powerful, solid composition.
EASTON PRO 271 Ash Wood Baseball Bat
Easton is one of the best brands of baseball bats which consistently manufacture high-quality wood bats for youth and adult athletes. The PRO model 271 features a medium-sized barrel and handle, which offer great balance. As ash has a good level of flexion, there's the promise of sending the ball further with these types of wood bats.
One of the best wood bat for speed, Easton PRO 271 also comes with a traditional knob with a cupped end. This design is to ensure that the swing weight is reduced, and speed is increased.
Marucci Albert Pujols Maple Wood Youth Baseball Bat: MYVE2AP5-N/BK MYVE2AP5-N/BK
Marucci wood bats have a good reputation due to their solid construction. The Albert Pujols is one of the best wood baseball bats made from high-quality maple, and it is bone rubbed to ensure complete wood density. The large barrel gives the bat an explosive hit, and the balanced feel makes it comfortable for youth players.
In addition, this wood bat is most suited for powerful players, and it is end-loaded to give athletes more power in their swings. A gloss finish gives this wood bat a natural, flawless style.
Louisville Slugger Pro Stock Ash Wood Baseball Bat Various Styles
These Louisville Slugger Pro Model Stock wood bats have a lightweight yet solid feel. Made from ash, these wood bats give a good flex rather than break, so athletes have a much larger sweet spot to hit the ball with. In addition, these wood bats have a pro cupped end to help control the weight and balance, making it a smooth, easy bat for athletes to use in both practice and during games.
Marucci PRO Cut Maple BAT Natural
Marucci uses only the best wood for a baseball bat, grown locally in the USA. Maple offers durability and a solid feel to the bat, whilst the pro cupped end keeps it well balanced and comfortable to use. To ensure that the maple material of this wood bat stays hard, each wood is bat is bone rubbed to keep the quality of the wood. In addition, this bat has a -3 length to weight ratio and medium barrel size.
Louisville Slugger 2020 MLB Prime Wood Bat Series
Available in a range of colors and different types of wood (maple wood, ash, and birch) these Louisville Slugger 2020 are the perfect options for any type of athlete. The use of MLB prime grade wood and a craftsman-style cup is used to avoid breakage and keep hardness in the wood.
With a balanced swing weight and an EXPOPRO finish, these bats come with a guarantee of durability and comfortable usage. The addition of being bone rubbed means longer-lasting wood.
Marucci AP5 Maple Baseball Bat
With an end-loaded feel, tapered knob and handle, and a large barrel, this Marucci Ap5 Maple wood bat is sure to enhance your performance. Made from strong, durable maple, extra density is ensured by the wood being bone rubbing.
This wood bat is ideal for experienced athletes who have had plenty of practice hitting with wood. With the end-loaded design, athletes can expect an explosive finish and powerful batting with this wood bat.
Louisville Slugger Genuine Series 3 Maple C271 Baseball Bat
This Louisville Slugger Genuine Series 3 Maple baseball wood bat offers a balanced swing, with an ideal weight. In addition to having a satisfying pop, this wood bat also features a large sweet spot making it easier to hit the ball with force, and a medium-sized barrel. The regular black finish gives it a stylish appearance, and for the price, this is one of the cheapest wooden bats for sale by Louisville Slugger.
Louisville Slugger 2020 Genuine Maple Wood Bat Series
The Louisville Slugger 2020 Genuine Maple Wood Bat Series is ideal for those looking for a stylish, affordable bat. These bats are made with maple of high quality and are suitable for high school and collegiate play. In addition to being one of the best youth wood maple bats, it also features a large sweet spot for hitting. It's a well-balanced wood baseball bat which also comes in size 34″, which is less commonly found in maple bats.
Brief History of Wood Baseball Bats
Back when baseball first started becoming popular, the most common choice of baseball bats was wooden, as there wasn't as much access to the materials used now. It's believed that the very first wood baseball bats were in play in the 1840s, and were commonly made from scraps of wood such as old axe handles and wagon wheel spokes. The most popular type of wood baseball bat was made from hickory.
Because there weren't any governing rules or specifications on the shape, width, length, or size, most bats differed in construction. Although players soon began to realize that rounder bats offered a better point of contact, the first bats were actually flat and tapered at one end, so that athletes would have a better grip on the bat.
It wasn't until the 1970s that aluminum bats started entering the market, and their popularity grew rapidly since they were much lighter than wooden bats but offered the same amount of strike force. Although aluminum bats are hollowed out, their larger sweet spot made them even more attractive when compared to wood bats.
Types of Wood Bats
In the search for the best wood bats, it's important to remember that there isn't one top winner. There are different types of wood used, each offering their own unique benefits and limitations. The most common type of wooden bat is maple, with ash being a very close contender.
Your choice will depend on your personal preference when it comes down to durability, swing speed, pop and weight. The type of wood should be one of the first considerations to take into account when purchasing wooden baseball bats.
Maple
One of the most popularly used types of wooden bats, maple wood bats are extremely durable. They have a tight grain structure, and the wood is very dense making it very responsive when making contact with the ball. To keep a maple wood bat in good condition, it's best to hit on the grain.
Some maple wood bats have an ink dot test which shows athletes the straightness of the grain in the wood. The straighter the grain of the maple bats, the more durability, and the ink dot on maple bats also serve as an indication of which side of the bat is hardest and best to hit on.
Ash
Ash bats are extremely flexible and are one of the lightest types of wooden bats. They are best suited for swing speeds, and they allow for greater control during swing and precision. For those who master the use of ash wood and work with the flex of the bat during a swing, a 'whip effect' can be added to increase speed.
An ash baseball bat is more prone to breaking if the bat is hit against the grain of the wood, so it's advised to keep the logo of the bat straight down or straight up to ensure that the bat remains durable.
What Types of Wood are MLB Baseball Bats Made From?
Bamboo
Bamboo wood is one of the best wooden bats for baseball in terms of durability and flexibility, even though it's technically a form of grass rather than wood. Although durable, bamboo bats are not as common as ash or maple.
Bamboo wood gives a much lighter swing weight and has a stronger tensile strength than steel making bamboo bats a great option. If you're searching for the best wooden bats for youth athletes, you'll need to find bamboo bats which have a BBCOR.50 certification, which is a requirement in high school or collegiate adult leagues. In addition, BBCOR wood bats are usually used during the transition from metal bats to wood.
Birch
Slightly lighter than maple, birch is just as hard and have a similar flex to ash. They are a popular choice of the bat for the pros, especially as the more they are used, the harder they become. Although a birch bat has a higher level of durability when compared to ash or maple, it does require a little bit of a break-in period.
Composite
If you're looking for durability in the best wood bats, composite wood is one of the best options to go for. Some composite wood bats are wrapped in a composite sheath, or they have a composite core which is then wrapped with a maple laminate. Other types of composite wood bats have a composite handle with an ash or maple barrel.
Although the results are similar to using a wood bat, composite wood is much stronger and longer-lasting. The only downside to this type of bat is that some may need a break-in period. In addition, some leagues won't accept a composite bat so it's always best to check with your league before purchasing a composite wood bat.
Hickory
Being one of the best wood bats in the beginning of baseball, a hickory wood bat has a good pop to it but became less popular as players starting focusing more on speed. Hickory is extremely heavy, and this type of bat has little to no flex, but still makes a good option for players who wish to build muscle.
Types of Wood Bat Cuts
Some of the factors which are considered in turn models include the barrel and handle diameter, taper, and the balance/end load. These factors are all used by different brands/companies to ensure they produce high quality, ready to play wood baseball bats.
110
Specifications:
Check This Out!
If the balance is what you're after, the 110 turn model is a good option to consider. It's more suited for players who are new to using wood bats, as the thick handle ensures durability whilst still providing a fast swing.
243
Specifications:
Out of all the types of wood bats, the 243 turn model is the most end loaded. Featuring the thinnest handle, this type of bat is better suited for more experienced athletes who are power hitter batters rather than contact hitters, as it's difficult to keep control over the bat.
271
Specifications:
This type of baseball wooden bat has a thinner handle and faster taper, providing the bat with a higher-end load which helps boost swings. It's very similar to the 110, but the 271 turn model features a quicker taper between the handle and barrel, which distinguishes this type from the 110. In addition, the 271 turn is suitable for both power hitters and contact hitters.
I-13
Specifications:
Slightly more loaded than the 271, this type has a quicker taper situated between the barrel and handle. The end load of the bat makes it a great option for athletes looking to improve their power hitting.
Things to Consider When Choosing the Right Wood Bat
As well as the type of wood, there's a lot of factors which make the best wood bats. Knowing what these factors are, such as your experience with bats, the weight, handle and barrel diameter, and weight drop will help you find the best wood bats to suit your level of batting.
Watch This!
Types
As mentioned earlier, there are different types of wood for baseball bats to consider. They are categorized according to the different wood types, with the most popular being maple, ash, birch, and bamboo. You should assess what qualities would benefit you most, such as durability or having a lightweight bat to help with swing speed.
Experience
Another factor to take into account is how much experience you have with using wood baseball bats. Players with less experience with wood should go for bamboo or ash, which will increase accuracy when hitting the ball. For more experienced players, maple is slightly heavier but has a smaller sweet spot, so it's better suited for those who can use it effectively.
Weight
The weight is one of the most important factors when searching for the best wood bats for baseball. Depending on the type of wood, the weight can vary considerably. The more weight a bat has, the slower the swing will be, so if you want to achieve high swing speeds, a lightweight bat such as ash.
With a lightweight bat comes a lower ball exit speed. This is because the barrel won't be as hard or dense as a heavy bat. An example of this is maple, as it's extremely hard and dense, heavier than others but has a better ball exit speed.
Power hitters tend to opt for heavier bats which feature a more solid barrel, whilst contact hitters prefer a lighter wood bat which gives them those swing speeds.
Handle Diameter
The handle diameter has an impact on the swing speed and the durability of the wooden bat. Smaller handles are best for those with smaller hands, whilst larger diameter handles will serve those with large hands.
In addition, smaller handles allow players to swing the bat at much greater speeds but are more susceptible to breaking. Larger handle diameters are much more durable. Contact hitters tend to prefer a thinner handle for the speed, whereas power hitters benefit more from having durability.
Barrel Diameter
The larger the barrel, the more hitting force they have, as well as weight. Generally, larger barrel diameter bats are better suited for power hitters, however, they are more difficult to control and can slow down the swing speed considerably. Therefore, if you consider a large barrel, ensure that you have the good arm strength and the ability to control the swing momentum and speed by using force.
A small barrel is easier to wield and is more lightweight, giving them better swing speeds. The downside of a small barrel compared to a large barrel is that they lack in how far and hard they can hit, but they still make a good option for contact hitters.
Length To Weight Ratio
The length to weight ratio is also known as the weight drop, and this is what makes the bat easier to swing. It's also important in knowing how much balance is in the bat. For high school and collegiate players, around -3 is the right weight drop, whereas power hitters can go towards a -2 wood bat, for a heavier feel.
The higher the weight drop, the lighter the bat is, and the lower the weight drop means the bat will be heavier, so it's important to know what type of weight drop to go for in accordance with your style of batting.
How Baseball Bats Are Made
Questions to Ask Yourself When Deciding on Wood Bats
Before purchasing a baseball wood bat, it's helpful to ask yourself some of the questions below. They will guide you to picking a bat that will help you excel as an athlete and will compliment your skills rather than hinder you.
What Will You Use the Bat for?
As there are a few different reasons why players need a bat, it's good to be clear on your use of the bat before you buy one. If you want a bat for casual use and to play at the park, going for cheap wood bats is the best option. Alternatively, if you're looking fr the best wooden baseball bat for league play, it's best to go to a reputable brand that offers high-quality wood and construction.
How Many Bats Do You Need?
The number of bats you'll need will depend on how serious a hitter you are, and how much live playing you plan on doing. Even the best wood for bats will break eventually, so having a backup wood baseball bat is required. Knowing this beforehand will allow you to check out any deals on bundles that some brands offer.
Are You a Contact Hitter or Power Hitter?
To determine which are the best wood bats for you will depend on whether you're a contact hitter or power hitter. Wood type is an important element here, as maple bats are usually preferred by power hitters due to their heavy nature, whereas ash bats or a birch bat is the usual choice for contact hitters (because they are lighter).
In addition, take into account the taper. A slower taper will give more of a balanced wing (usually preferred by contact hitters) whilst a fast or medium taper is more suited for power hitters. This is due to being slightly more end-loaded.
Approved for Leagues?
Always check with your league before purchasing a bat. Not all allow wood baseball bats and even fewer allow composite wood bats. Each league will have their specifications on what is acceptable, and it can save you money to know these rules in advance.
What Bat Brand Do You Like the Most?
There are numerous brands to choose from, each differing in style, price and manufacturing. Even though most players tend to have clear preferences on brands and usually stick to the one they know best, it's always a good idea to check around to see what other brands have to offer.
When it comes to finding the best wooden baseball bats, not many top brands manufacture them. Therefore, you'll have to test out a few different brands which do offer wood baseball bats and find one which suits you.
Watch the Video on Making a Baseball Wood Bat
Choosing the Best Wood Bat Manufacturer
Just as you would consider which brand to go for when searching for the best oil for baseball gloves or the best batting helmets, finding a good brand of wood bat manufacturers is equally important. Looking at the different brands and determining their expertise in making the best wood for baseball bats will leave you more confident in your choice of the bat, especially if it's a manufacturer you haven't used before.
Victus
A lesser-known brand is Victus, but that doesn't mean they don't pack a punch when it comes to the humble wood baseball bat. Pro players such as Dustin Pedroia, Mookie Betts and Kris Bryant have favored Victus bats over the years.
As the bats are custom made, players have more choices regarding whether they want birch, ash or maple wood, what type of weight they prefer and whether the bat has a full cupped end or half. Players can also choose the handle and barrel colors so it can be truly customized to each individual style.
Easton
Easton is another household brand name which many are familiar with. They first started producing wood bats back in 1999. Their bats are made from composite, ash or maple wood, with a range of prices and options, even wood bats for youth players.
Louisville Slugger
In general, Louisville Slugger bats are made from maple, birch and ash, and they use different stains to give a unique edge and style to their bats. Being the original manufacturer to make the modern-day wood baseball bat, they've had players such as Curtis Granderson, Christian Yelich, Cody Bellinger, Zack Cozart, David Wright and Andre Ethier use their bats.
Marucci
Marucci comes in at a close second to Louisville Slugger, with many MLB players making them the brand of their choice. Such athletes include the likes of Buster Posey, Jose Bautista, Anthony Rizzo, Andrew McCutchen and David Ortiz.
With high standards of craftsmanship, Marucci has built a fantastic reputation based on having consistently well-built wood bats. They've gained a name for themselves in the wood bat industry for making high-quality maple and ash bats.
DeMarini
DeMarini has been on the baseball market since 1989 and offers a variety of gear aimed at athletes of all levels. They usually specialize in maple-composite wood bats, however, these types of bats are only certified for a few leagues, such as Perfect Game, Rookie Ball, and Short-Season A.
Rawlings
Whilst Rawlings has gathered a strong following for their baseball gloves, they also manufacturer a number of baseball wood bats. In addition to composite wood bats, they also use maple wood, birch, and ash. For how well known the brand is, they usually have a selection of cheap wood bat for sale, so those who don't want to spend a lot can still afford high quality.
Bat Maintenance
Keeping your bat clean won't just make it look good, it'll extend its longevity and retain durability. As you play, particles such as dirt will become embedded on the baseball wooden bats. Over time, this can harm even the best baseball wood bats.
To avoid this build-up, wipe your bat with alcohol after each use, making sure to clean the handle as well. Take good care of your wood bat by keeping it safe when not in use, and keep it away from direct sunlight or water which could erode the wood or cause it to become brittle.
In addition, wood bats can be bone rubbed at home, not just by manufacturers. To do this, use a smooth piece of bone or another wooden bat to smooth out any dents that come from baseball.
FAQs
What wood bats do MLB players use?
The most popular brands favored by MLB players include the likes of Marucci in the first place, followed by Victus, Louisville Slugger, and Old Hickory. Other less popular brands include Rawlings, Chandler and Sam Bat.
What kind of wood is used for bats?
There are different types of wood, each offering their unique benefits to baseball bats. Ash, maple, hickory, bamboo, and birch are the main types of wood used, with hickory being known as one of the heaviest types of wood, and Ash is one of the lightest.
Do wood bats lose their pop?
Wood bats do not lose their pop. They will usually crack, splinter, or break before they ever get to the point of losing their pop. Different types of wood offer stronger pops than others.
What wood bat is the hardest to break?
Maple is one of the hardest types of wood to be used in baseball bats. The more a maple bat is hit, the tighter the grains will compact and stick together, and it's not common to see maple breaking around the barrel or handle.
Final Thoughts
When it comes to wood bats, there are certainly a number of areas to focus on. Making sure you purchase the right type of wood, with the appropriate diameters and weight for you is essential to having a baseball bat that you'll feel comfortable and secure using.
In addition, you'll need to consider what your bat is going to be used for, and the level of experience you have with wood bats, as well as your price range. Luckily, there are plenty of high-quality bats at pro-grade which won't cost you a fortune, so you can swing your bat with confidence.
Updated on