Whether it's for baseball or softball, catchers have a tough job and they need the best protection possible.
The best youth catcher's gear is designed so that young athletes are completely protected and ready to play with full confidence – so it's important to find a set with a good fit and durable design.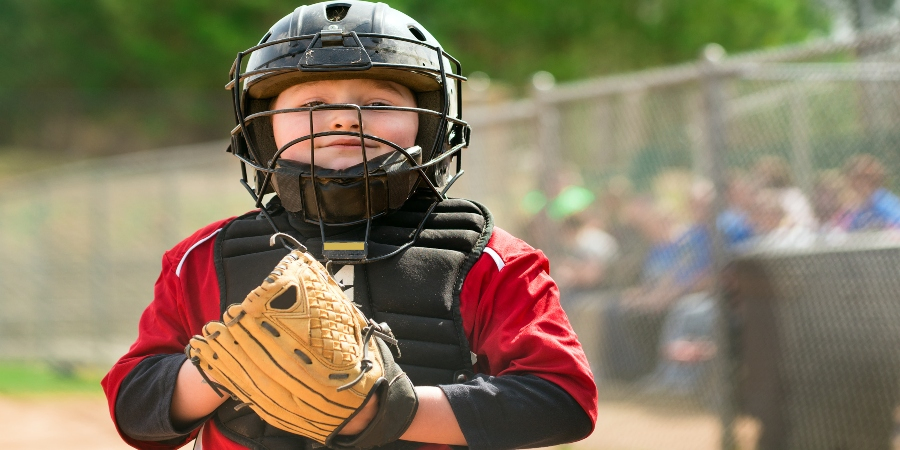 In this article, we'll cover everything from the best youth catcher's gear in 2023 to which materials and accessories to look out for in our guide below.
Summary: Our Top 11 Picks of the Best Youth Catching Equipment
EASTON BLACK 2.0 Youth Baseball Catchers Protective Box Set, Youth

Back adjustment mechanism

Dual-density foam liner in the helmet

Mizuno Youth Samurai Box Set (Black/Grey)

Complete protective padding

All-Star Youth System7 Axis USA Pro Catchers Set

Louisville Slugger Youth PG Series 5 Catchers Set

Shin guard double knee flexibility

Moisture-wicking material in the helmet

All-Star Youth Players Series Catcher Kit

Includes throat guard and carry bag

Protective design with hockey-style helmet

Dual-density foam liner in the helmet

Champro Hel-Max Ages 9-12 Youth Baseball/Softball Catcher's Set

Easton Youth Black Magic Catcher Box Set

Great visibility in helmet

All-Star League Series Youth Ages 7-9 Baseball Catcher's Set

Meets NOCSAE safety standards

Mizuno Samurai Youth Baseball Catcher's Gear Box Set

Champro Triple-Play Youth Catcher's Set

Extra coverage from leg guards

Optimus technology for ultimate protection

All-Star Youth League Series Catchers Gear Sets Ages 9-12
11 Best Catchers Gear for Youth in 2023
When choosing the best baseball catcher's gear for youth players, you should go for a set that offers maximum protection but is also comfortable and easy to fit. Many brands offer adjustable straps so that the gear sits comfortably without restricting young athletes as they perform behind the plate.
Below are some of the best youth baseball catchers sets on the market, and we've put together a mix of affordability, durable designs, and sizes.
EASTON BLACK 2.0 Youth Baseball Catchers Protective Box Set, Youth
TOP PICK
The Easton youth catchers gear set includes a chest protector, leg guards, and a hockey-style helmet, the complete set for ultimate protection. As well as meeting NOCSAE standards, the Black Magic helmet has an ABS shell that offers full protection against ball impact, which is further enhanced by using a dual-density foam liner for a snug fit.
In addition, the use of dual-density foam liner means a snug fit whilst also ensuring complete shock absorption, whilst a back adjustment mechanism lets you size it perfectly for your youth player.
Mizuno Youth Samurai Box Set (Black/Grey)
BEST BUY
This Mizuno youth catchers equipment set includes the basics of a steel-framed helmet, padded chest protector, and protective triple-knee cap shin guards. There's plenty of ventilation in the helmet, including an adjustable jaw pad for a comfortable fit and sweat control.
The chest protector has a DryLite inner lining so young athletes keep cool at all times, whilst the detachable wings offer enhanced protection. The shin guards also feature DryLite lining and the triple -knee cap allows for full flexibility.
All-Star Youth System7 Axis USA Pro Catchers Set
BEST RATED
The all-Star youth catchers gear set features high-impact ABS plastic shell helmet with a backplate strap so that youth players have the perfect fit. One of the best features of this helmet is the removable inner lining which can be washed for hygiene and comfort.
In addition, the NOCSAE standard chest protector has diamond vents for full breathability and PE protective plates designed for ultimate safety. The leg guards in this baseball youth catchers gear set have a pivoting hinge feature for complete flexibility.
Louisville Slugger Youth PG Series 5 Catchers Set
The Lousiville Slugger catchers gear for kids features NOCSAE approved youth catchers helmets that are designed with a moisture wicking chin pad for comfort and dryness. A sleek design is used to keep this gear set looking stylish. The chest protector in these catchers gear sets uses high-density foam padding for the best protection and an over the shoulder harness to ensure that the gear stays in place at all times.
In addition, the double knee design of the shin guards means that there's full flexibility, and the leg guards have a better fit.
All-Star Youth Players Series Catcher Kit
The All-Star youth catcher gear set is designed to provide protection alongside comfort. The ABS impact-resistant helmet features a steel cage that still provides full vision and meets NOCSAE safety standards. The helmet also has a dual-density foam liner so ensure no harm comes during gameplay.
Additionally, the catchers gear sets also include a chest protector with internal PE plates so the body is protected at all times.
There's a four-point adjustable harness so your youth player can have the perfect fit without any hassle. The leg guards have double-knee protection and straps for an easy fit.
Champro Hel-Max Ages 9-12 Youth Baseball/Softball Catcher's Set
The Champro catchers gear sets include a helmet, chest protector, and leg guards. The durable ABS shell offers full protection, whilst the layered padding gives a snug and comfortable fit. The addition of the "V" shape extends over the throat for extra protection.
This reasonably priced youth catcher's gear set also features a single-piece Optimus MVP chest protector which absorbs shocks and has a detachable shoulder extension. The shin guards are lightweight yet flexible and designed to last.
Easton Youth Black Magic Catcher Box Set
Ideal for youth catcher's aged 9-12 years old, the Easton catchers gear set has everything needed to protect your young player. The ABS shock-resistant shell offers maximum protection without compromising the bar vision. The fit is snug and comfortable and comes with velcro tapes for adjustability.
In addition, the chest protector in this set has a double back adjustment so it fully protects the whole body, whilst the leg guards offer durable yet flexible coverage.
All-Star League Series Youth Ages 7-9 Baseball Catcher's Set
As well as including the basics, the All-Star youth catcher's gear sets come with a throat guard so your young player has full protection. The 5-point adjustable back harness and internal PE plates allow for a comfortable fit whilst still offering maximum safety in the chest protector.
The leg guards feature a double knee design and durable plastic to withstand even the hardest of shocks, whilst the wrap-around padding ensures full protection.
Mizuno Samurai Youth Baseball Catcher's Gear Box Set
The Mizuno Sumari catcher's gear features a chest protector that uses low rebound foam technology to lessen the impact of balls, whilst the grippy surface design allows players to catch the ball with ease. The helmet in this set has a 3-layer EVA foam padding for a snug fit, whilst the ventilation system ensures sweat reduction and comfort.
In addition, the Samurai gear sets offer great protection with the K-pad and Triple Knee cup leg guard. They keep legs safe behind the plate without compromising flexibility.
Champro Triple-Play Youth Catcher's Set
Available in sizes 6-9 and 9-12, this Champro Triple-Play Youth Catcher's set features an Optimus MVP chest protector and leg guards. The chest protection uses a compression-molded single piece to reduce shock impact, and the leg guards have an extra knee cap that provides extra coverage to the upper leg.
In addition, the helmet is a hockey-style ABS shell with plenty of air circulation to keep youth players cool even in the hot summer months. The multi-density pad system offers full protection behind the plate.
All-Star Youth League Series Catchers Gear Sets Ages 9-12
The final in our list is the All-Star Youth Catcher's gear set which comes with a helmet, chest protector, leg guards, and a throat guard thrown in as an extra. The helmet is NOCSAE approved and features an ABS plastic shell as well as dual-density moisture-wicking foam to keep young players cool at all times.
The leg guards have a double knee design and traditional harness straps so they are easy to adjust, whilst the chest protector features an adjustable back harness. The fit of this set is high quality and no expense has been spared in the durability of the design – it's suitable for ages 9-12.
A Brief History of Catcher's Equipment
In the beginning, catchers would stand quite far away from behind the plate because they didn't have any type of protective equipment.
As time went on, catchers started to realize that the closer they stood to the plate, the better their performance was – but this didn't come without its problems.
It wasn't until Nat Hicks nearly lost his eye during a game in 1873 that athletes realized how important protective equipment is and that catchers would need them in order to stay protected and perform better by being close to the plate.
The first piece of equipment was a mouth guard, followed closely by a helmet. Interestingly, the first catcher's mask was actually a modified fencing mask, which later evolved into a catchers helmet.
In 1883, the first catcher's chest protector came onto the scene when a Detroit catcher's wife decided to stitch a chest pad for her husband. Earlier designs included players wearing sheepskin under their jersey – a far shot from the protection offered now.
To protect their legs, catchers would often use newspaper or material wrapped around their shins – but the reason for this was because many catchers were mocked for wearing protective gear.
Back in those days, there wasn't such an understanding of how important gear was, and wearing it made the athletes seem less 'manly'. Therefore, early forms of protective gear were often designed to be hidden under their uniform so that athletes could avoid being mocked during games.
Check This Out!
What is in a Catchers Gear Set?
Here are the main components that come in catchers equipment for youth players, but it's always best to check if any other accessories come in the set depending on the brand you choose.
The basics include helmets, chest protectors, and leg guards, which are all designed to protect key areas of the body where injury might be sustained from high-speed balls.
Helmets
The best youth catchers gear should have a helmet that provides complete protection with plenty of padding, and generally have moisture-wicking materials to keep athletes dry and comfortable.
It's important that they give full visibility – the best youth helmets should be lightweight so they don't weigh down on the head but easy to see through.
Chest Protectors
The chest protector should be lightweight, easy to move around in, and breathable – but its primary job is to protect the chest from any rogue balls. Their lightweight design should keep youth catchers cool whilst new technology allows for the fit to offer full protection and comfort.
Leg Guards
Whether it's adult catchers gear or the best youth catchers gear, leg guards are essential for protection and coverage, and the best one should have moisture management material that keeps the leg dry and comfortable at all times.
Throat Guard
The throat guard should cover down to the base of the neck and offer protection against any foul balls. Many catcher gear for youth sets won't include these so it may be a case of purchasing one separately but ensuring that it will fit well onto the helmet.
Things to Consider When Choosing a Youth Catchers Gear Set
From the size of your youth catcher's helmet to the ventilation of their chest protector, it's a good idea to know what you should look for in the best youth catchers gear before making your purchase.
Comfort
Comfort is essential – whether you're searching for the best big barrel bats or the best batting helmets. When it comes to kids' catcher's gear, you don't want complaints that their gear is too restrictive or hinders their playing ability, so always ensure the gear is comfortable from the start.
Size/Weight
The size should fit comfortably without restricting the movements of the youth player, whilst the weight of catcher gear set should be lightweight and easy to move around in.
Heavy youth catchers gear will only slow players down and won't be suitable to use during summer when it's hot. Therefore, the best youth catcher's gear should be as lightweight as possible.
Sizing Catching Gear
Price
The prices of catching gear for baseball vary significantly, but unless your youth catcher only wants it for casual playing, it's best to pay the price for high-quality catcher's gear that will last longer and offer complete protection and comfort. Cheap catching gear may degrade quickly and offer less protection.
Protection
Protection is essential in baseball, and that's why it's important to find catching equipment that covers all vulnerable areas of the athlete, from catchers helmets made from ABS plastic and chest protectors that use dense foam to soften the impact of high-speed baseballs.
The best youth catchers gear should leave your young athlete feeling safe and confident when they stand behind the plate.
Competition Level
Depending on the level of your player, you should be able to work out just how much to invest in their catchers gear. If they're non-competitive and fairly new to the game, inexpensive gear will do the job just fine.
Alternatively, if they're super competitive and plan on playing baseball for the foreseeable future it's definitely worth investing more into a set that will last longer.
Flexibility
The whole point of youth catchers gear is to provide protection, but it shouldn't impact the comfort of the athlete. The best youth catcher's gear will be flexible to allow youth players to get into the game and perform without limitation.
Durability
Whatever you're buying, from the best softball cleats to youth catching gear, durability should be at the top of your priority list. Rather than spending money multiple times a season on cheap catchers gear, investing in good quality, long-lasting catchers gear for youth players will save you money (and time) in the long run.
Airflow
Using strategic venting systems, many of the best youth catchers gear sets are designed so that athletes stay cool even in those hot summer months.
There's nothing worse than protective equipment that weighs down and causes excessive sweating, so airflow is an important feature to keep in mind. Many of the top brands will include multiple ventilation airflows, so make sure to check that out before purchasing your gear set.
Shoulder Flaps
The purpose of shoulder flaps is to protect the throwing shoulder but also allow full motion so that athletes can throw freely and comfortably. Some brands offer both shoulder flaps whilst others only include one (with or without velcro). This allows players to choose which side they want to put the flap on.
Rebound Control
It can be extremely annoying for catchers to lose track of the ball, so investing in high-end catching gear ensures that there's sufficient rebound control. That's because special technology is used in the form of padding, which absorbs the energy of the ball and stops any rebounds.
Not only does this save time, but your youth player will be able to focus better and hone their skills without having to chase after the ball every time.
Adjustable
The best youth catchers gear should come with velcro fitting tapes and moldable knee and shoulder guards which are adjustable, so that young players don't have to waste time trying to get their gear to fit comfortably.
It's also important that they can adjust their gear to be as flexible as possible so that they don't feel restricted during gameplay or practice. The last thing your youth player needs is to feel held back by their protective gear.
Extra Features
The essentials in your gear kit will include a helmet, chest protector, and leg guards, however, some brands may throw in an extra accessory such as a throat guard or mitts. Check this beforehand because you may save money purchasing a set that includes these extra accessories rather than purchasing them separately.
Watch the Video Below:
Why Become a Catcher?
From a development point of view, being a catcher can teach young athletes valuable skills that will stick with them long into adulthood.
Firstly, catchers are the only ones who face their entire team – this means they see everything and can take on a directive role of their teammates. They have to think on their toes and always be ready to react within a split second of their teammates' decisions.
Secondly, catchers need to be able to take on many responsibilities – from pitch selection and teammate's defensive alignment to opponents' base running. In addition, they need to be able to make quick, responsive actions – that can go on to help them later in life in their careers.
Finally, catchers need to have clear communication and a good relationship with the pitcher, which teaches relationship-building skills. This can be applied to every aspect of their life as they grow up.
It's clear to see that even though they have a tough role, catchers learn an incredible amount from the position they play, especially when it comes to long term skills that will benefit them in the future.
FAQs
How do I choose catchers gear?
Choose the best catchers gear based on the position you play, in addition to how professional or casual you play. It's important to find gear that is protective, comfortable, and durable, but which isn't too heavy either.
What catchers gear do pros wear?
When it comes to mitts, many pro athletes chose Rawlings, whilst Under Armour take the lead in producing the best chest protectors. Other popular brands include Wilson, All-Star, Mizuno, and Nike.
What size is intermediate catchers gear?
Intermediate catcher's gear is the best fit for players aged 13 and 14, whilst adult sizes are more appropriate for ages 15 and over. For players 12 and under – youth gear is the best size to go for.
How much does catchers gear weigh?
Different brands usually differ slightly in their weights, but a general estimate puts a catcher's helmet roughly between 2.5 and 3 pounds, leg guards between 3 and 3.5 pounds, and the chest protector between 1 and 1.5 pounds.
How long does catchers gear last?
How long catchers gear lasts largely depends on how much it's used, how much wear and tear it sustains and the quality of the gear. Investing in good quality catchers gear sets will ensure they last longer.
Final Thoughts
The best catchers gear for youth players undeniably needs to be good quality and offer maximum protection, but we know how hard it can be to narrow down your choice.
That's why we hope the list above helps you find the right type of baseball catcher gear set for your youth player so that you can be sure they'll be fully protected during gameplay and practice.
And, using the guide should help you work out exactly what your youth player needs from their gear set in order to play to the best of their ability.
Updated on