Marucci has been producing high-quality bats ever since the founding of the Company in 2004. The Company started producing the CAT series in 2009.
The first was CAT 5, and amateur players, both youth and old, eagerly accepted its entry into the fold. Since that time, they have released several models with the development of CAT6, CAT7, CAT8, and CAT9.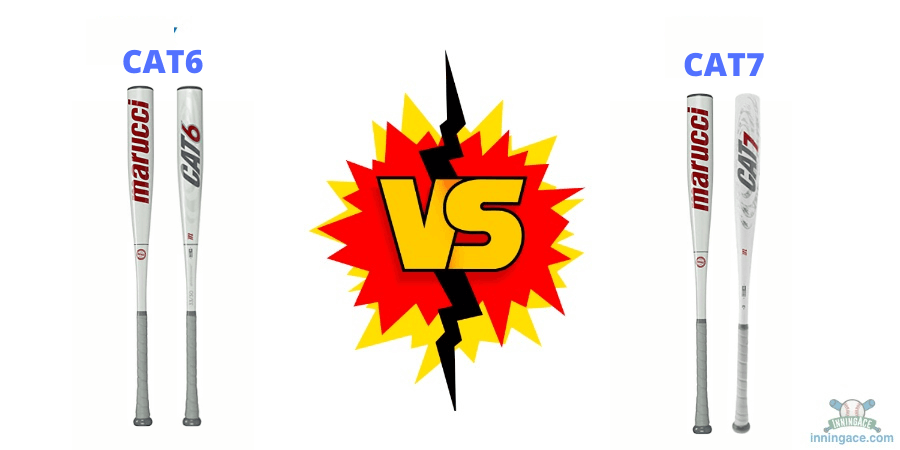 For the past few weeks, we've done a lot of research and have now reviewed both Marucci Cat 6 and Cat 7.
In this article, you will find out a series of information, including our recommendations about CAT6 and CAT7. You can also check out how they compare to each other to will help you make your choice when deciding between them.
Marucci Cat 6 Baseball Bat
Released in 2014, Marucci CAT6 is an upgrade to the CAT5 squared baseball bat. It has an extended ring-free barrel design that enhances maximum performance, faster swing speeds when hitting, and bigger sweet spots than CAT5 squared.
Check below for some of its extended features:
Made of one-piece alloy construction that gives it a traditional feel. It is durable, thanks to the AZ3000 alloy design, allowing it to have proven performance.
The barrel is a ring-free technology, and it has patented AV2 (Anti-vibration knob). The anti-vibration knob helps to eliminate vibration on the hands.
The CAT6 bat also has an optimized barrel design and wall thickness for faster swing speeds.
Manufacturers shaped the knobs to inspire more improved balance and control. If you compare it to CAT5, it has a better grip for more feel with the micro-perforated soft-touch grip.
The bat could either be BBCOR or USSSA certified, depending on the type you opt to buy.
Marucci Cat 7 Baseball Bat
Released in 2017, Marucci CAT7 is a baseball bat that offers a consistent swing when hitting the baseball because it is a one-piece bat. The alloy and precision-balanced design give it a more traditional feel.
Let's check below for some descriptions that make it outstanding:
Made of AZ4X alloy construction that produces a higher response rate and increased tinsel strength. The alloy allows up to seven variables of wall thickness. More variables mean thinner walls, and that interprets to more sweet spots.
CAT7 is more responsive than CAT6, and it has more optimized ring-free barrel designs. It creates larger sweet spots, twice as much as that of CAT6.
It features a second-generation anti-vibration knob (AV2) upgraded and finely tuned with a harmonic dampening system – a feature that gives a better feel and reduced negative vibration.
Also equipped with ring-free technology, the CAT7 barrel, just like the CAT6, gives an impressive performance without dead spots.
It gives a faster swing speed than its predecessors thanks to its barrel profile end wall of thickness.
It is also both certified by BBCOR and USSSA.
A variety of Marucci CAT7 available is the CAT7 connect. 
Check This Video Out!
If you're interested in browsing for a different Marucci Cat 7 model, check out this post!
Difference Between Marucci Cat 6 Vs Cat 7
This section is likely to be the section you've been looking forward to. We want to find out the differences between CAT6 vs CAT7.
Table Comparison Between Marucci Cat 7 vs Cat 6 Baseball Bats
To check the differences between CAT6 and CAT7, we will break them down into these categories:
Size
Both CAT6 and CAT7 are available in different sizes. You will most likely find them in sizes such as 31″/28oz., 32″/29oz.,33″/30oz., and 34″/29oz. They mostly have a barrel diameter of 25/8 inches in diameter with a bat drop of -3. Their barrel diameter could sometimes be 21/4. Bat drop is a ratio of length to weight.
Material
Both of them are aluminum bats. Although made of alloy material, there is still a very slight difference from each of these bats.
While CAT6 is made from AZ3000 alloy, CAT7 is made from AZ4X alloy. The AZ4X alloy gives CAT7 increased tinsel strength and seven variables wall of thickness, allowing for a sweeter spot than the Marucci CAT6 baseball bat.
Performance
When comparing their performance level to each other, Marucci CAT7 has better performance than CAT6, thanks to the upgrade of materials. CAT7 is stronger and more durable because of the AZ4X material. It means it will last a bit longer than CAT6.
Also, CAT7 has a larger barrel, giving it a more "sweet spot" because of the seven variables wall of thickness. The CAT7 barrels have a sweet spot that is double that of CAT6. CAT7 also has a faster swing speed when hitting, thanks to its end wall thickness, having a higher response rate and better feel, as discussed above.
Design and Construction
Both CAT6 and CAT7 have a one-piece construction design. Only CAT7 Connect has a two-piece design; carbon composite handle and AZ4X alloy barrel. The patented (AV2) anti-vibration knob is an upgrade and finely tuned in CAT7.
The anti-vibration knob gives it lower negative vibration feedback. Generally, the design and construction of CAT7 is an upgrade of CAT6.
Grip
CAT6 has a micro-perforated soft-touch grip attached to it. However, CAT7 has two ounces of places with "dead weight" under the hands. It ensures you have a lighter swing, allowing you to get a faster swing speed.
Barrel
The barrel attached to CAT6 is mostly with an extended optimized ring-end barrel technology that enhances its predecessors' performance. However, the CAT7 baseball bat's ring-end barrel technology is even more optimized for better performance.
The barrel is larger than that of CAT6, giving the bat more "sweet spots." It is twice as much as the sweet spot associated with CAT6. The larger barrel also ensures more responsiveness than that of CAT6.
Price
Generally, the CAT baseball bat series are more expensive than some other bats of their counterparts. If you are trying to save money, you might not buy a CAT series bat. The upgraded materials used in designing CAT7 are generally more expensive than the CAT6 bat.
CAT7 is designed with Alloy AZ4X that is stronger, more durable, and more expensive than Alloy AZ3000 used in designing a CAT6 bat. Also, the upgraded patented anti-vibration feature associated with CAT7 makes it more expensive than the CAT6 baseball bat.
Certification
Considering certification, both CAT6 and CAT7 are USSSA and BBCOR bats. Being BBCOR means they are both eligible for college and high school tournaments and could also serve as travel bats. You are likely to find more CAT6 and CAT 7 BBCOR certified bats.
Which One Stands Out? 
All things considered, the CAT7 is the better alternative between the two baseball bats. Still, there are situations wherein the CAT6 would prove to be the more appropriate option.
CAT 6 Good Option for Those on a Budget
CAT6 is better for people who have a low budget. It is less expensive as compared to CAT7. CAT6 is also excellent for people who prefer to go for a bat that is not heavy. CAT7 is heavier than CAT6.
CAT 7 Better for In-Game Performance
When you want to consider performance, the Marucci CAT7 is better than Marucci CAT6. CAT7 has upgraded features that enhance all-around performance, including faster swing and more durability.
FAQs
We answer the questions most of you might ask about these two products.
Final Words
Both Marucci CAT6 and Marucci CAT7 are USSSA and BBCOR certified baseball bats, and they are both of high quality, providing fast swing speeds. It means you can use either of them. However, for better performance, CAT7 has the edge over CAT6 because of the upgraded materials used in manufacturing it. It also offers a more balanced swing weight.
Both Marucci CAT6 and Marucci CAT7 are USSSA and BBCOR certified baseball bats, and they are both of high quality, providing fast swing speeds. It means you can use either of them. However, for better performance, CAT7 has the edge over CAT6 because of the upgraded materials used in manufacturing it. It also offers a more balanced swing weight.
Updated on