America's national pastime – that is what baseball has been called for the longest time. Whether people watch games or play themselves, there is no denying that they are completely enamored by baseball. As a matter of fact, many would claim that there is no other sport like baseball.
It has been more than 150 years since the sport had taken the nation by storm. The game had grown so much in popularity that it became the first sport to have a professional league, Major League Baseball (MLB), in the U.S. and Canada. Until now, baseball remains beloved by countless people all over the world.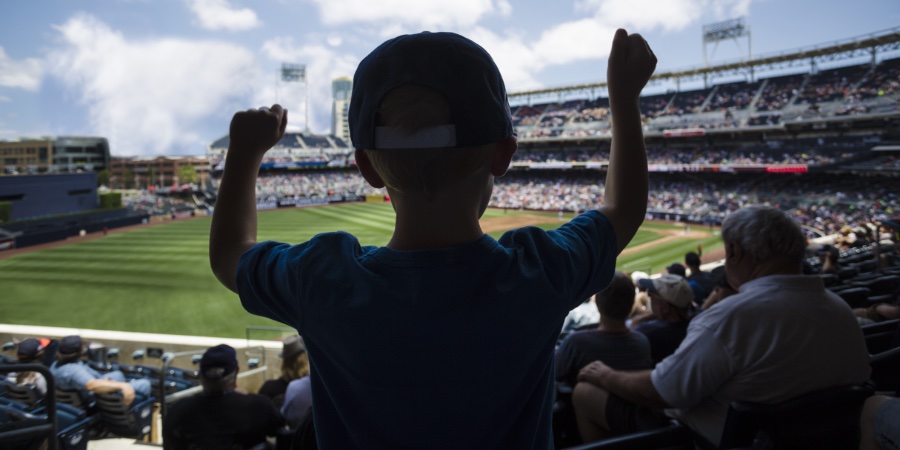 11 Reasons Why Baseball is the Best Sport
"Why is baseball so popular?" "What makes baseball so great?" "Why do people love baseball?" These are just some of the questions that might run through your head when you hear about baseball. There is no single answer to any of those questions as players and fans have a variety of reasons why they believe baseball is great.
Below are some of the arguments that make the case for why baseball is the best sport:
Anyone Can Play
Most sports require players to be physically gifted to become exceptional in that field. For example, basketball typically favors those who are tall or agile. In soccer and football, those who usually stand out or become successful are players with athleticism and strength. In hockey, you also have to skate exceptionally well in order to be a decent player.
Baseball does not have such physical demands. You only need to work hard and focus on honing your talent or skill. Children can also start playing at an early age and do not have to wait for their body to develop before being able to play.
Values History
There is so much history to learn and appreciate baseball. Baseball as an organized sport traces its root back to the American Civil War. It became a unifying activity or recreation among soldiers, who then brought it to their respective homes, resulting in increased popularity of the game.
Baseball was also at the forefront of the abolition of the color barrier that had pervaded sports and society for centuries. In 1947, Jackie Robinson became the first African-American to play in the major league. Prior to that historical event, there had been racial segregation in professional leagues. Robinson helped pioneer the gradual end of racial discrimination in sports. Consequentially, baseball also played a huge role in the civil rights movement in the U.S.
Check This Out!
Source of Fun and Excitement
Whether you are a fan watching from the stands or a player taking part in the game, baseball delivers a good thrill. Unlike most other sports where games can be won early on, anything can happen in a baseball game. Hitters can get hot at any moment, while a pitcher can start throwing unhittable pitches. You need to keep your eyes peeled during all plays and throughout the entire nine innings or even beyond.
The Ballparks
You can experience baseball at its best when you visit a ballpark and root for your home team. Most baseball parks or stadiums have a plethora of stories to tell and are designed uniquely. For example, Wrigley Field, which was built in 1914, is known for its iconic red marquee over the main entrance at the front, ivy-covered brick outfield wall, and hand-turned scoreboard.
Numerous baseball fans have put visiting as many ballparks as possible in their bucket list because it is one of the reasons why baseball is the best sport.
Family Game
Baseball is as much a sport as it is a family game. What makes it even more special is that numerous kids grow up playing or watching games with their family or friends.
Furthermore, because there are plenty of opportunities for the youth to play, such as Little Leagues or high school games, families also have the chance to get together to attend matches, support the members who are playing, and bond with one another.
MLB Iconic Moments!
Mental Game
While most athletes need to be at the peak of their physical conditioning, a baseball player also has to take care of this mental fortitude. Famous sports icon Yogi Berra once hilariously quipped, "Baseball is 90 percent mental. The other half is physical." His math may be intentionally off, but it is true that every baseball game is a mind game.
As a matter of fact, even most MLB teams have acknowledged the need for mental skills coaches or sports psychologist. Back in 2018, a record 27 of the 30 major league clubs hired a mental skills coach to help players manage the mental challenges of regular-season games, as well as in the postseason.
The difficulty of strengthening one's physical and mental acuity has some people thinking that baseball is the hardest sport. Even so, it is also what makes baseball an exciting one and a huge reason why you should play baseball.
No Time Limit
Why play baseball? A huge reason is that a game is not bound by a time limit, unlike some other sports. Basketball consists of four quarters with 12 minutes of playing time each. Soccer is played in two 45-minute halves. Baseball, on the other hand, needs teams to reach 27 outs, no matter how long it takes. This makes every possession in a baseball game exciting because every pitch, at-bat, and base running count. Players have to give their best in every moment of the game.
Played During the Summer Months
Another reason baseball is the best is that it is played only during the summer months. Aside from the occasional rain shower, baseball players do not have to worry about harsh weather conditions, such as thunderstorms or freezing temperatures. Fans can also attend a game without having to fret about bringing an umbrella or jacket. They could comfortably come wearing shorts or flip flops.
Full of Drama
Every baseball game is filled with drama and excitement. The majority of the games on baseball fields usually go down the wire. On the rare occasion that a game has been so far a blowout, there is always the possibility of a comeback as long as the offense picks it up and the defense breaks down.
Imagine a baseball game at the bottom of the ninth inning with the defense only up by one point, the batter already has two strikes, and a runner is in scoring position. Imagine another scenario wherein the bases are loaded and there is an opportunity for a baseball team to widen or narrow the gap between its points and that of the opponent.
These kinds of situations are common in baseball games and cause the crowd to be on the edge of their seats at any given moment. These are also just a few of the many reasons baseball is the best.
Fans
Baseball fans are some of the best fans in the world. They follow the sport and their teams with admiration and passion. The atmosphere they set during the game makes playing or spectating even more exhilarating. If you want to see for yourself how zealous fans can be, try visiting Fenway Park and watch a Boston Red Sox game. The team has the most loyal fanbase among all professional franchises.
MLB Craziest Crowd Reactions!
Home Run Competitions
One of the baseball events numerous fans look forward to is the MLB World Series. After all, it is the culmination of a whole season of the premier baseball league where a world champion is crowned.
However, another event that has found extreme popularity is the Home Run Derby. It is an annual competition where American League and National League baseball players make it a goal to hit as many home runs as they can to win the coveted honor of being named the world's best slugger.
Little Leagues and other baseball leagues have also organized their own home run competitions that provide batters, both young and old, the opportunity to showcase and even level up their strength and timing.
FAQs
Is baseball a dying sport?
There are ongoing debates that discuss the question, "Is baseball a sport that is losing popularity? "According to a study by the Sports and Fitness Industry Association in 2019, around 15.9 million Americans played baseball in 2018. That is a 21 percent increase from the numbers in 2014. Furthermore, MLB also reported that baseball fan engagement and participation grew last year. Nearly 110 million fans tuned in to watch Major League and Minor League games in 2019. Also, around 170 million people call themselves MLB fans last year. Records clearly show that baseball is as beloved as ever.
Why do people like baseball?
Why is baseball popular among people of all ages? While that question has been answered by some of the points above, another reason for people liking the game is that it provides equal opportunity to all players. Everyone has a chance to be on baseball fields. Baseball does not hand-pick athletes. Your body can come in any size and shape, and you can still find progress and success in the field.
Final Words
Baseball has been around for nearly two centuries now. Over time, it has seen several changes in rules, equipment, materials used in balls, technology, strategies, and more. Even as the game continues to evolve, one thing remains: baseball is the best sport.
Updated on