Baseball training aids are useful for many different purposes, from improving reaction skills to honing technique. There's no doubt that using them can help you or your team make significant improvements in how you perform out on the field.
But knowing where to start and which training aids are right for you is where things can get a little complicated. There are numerous different models and brands, all promising success.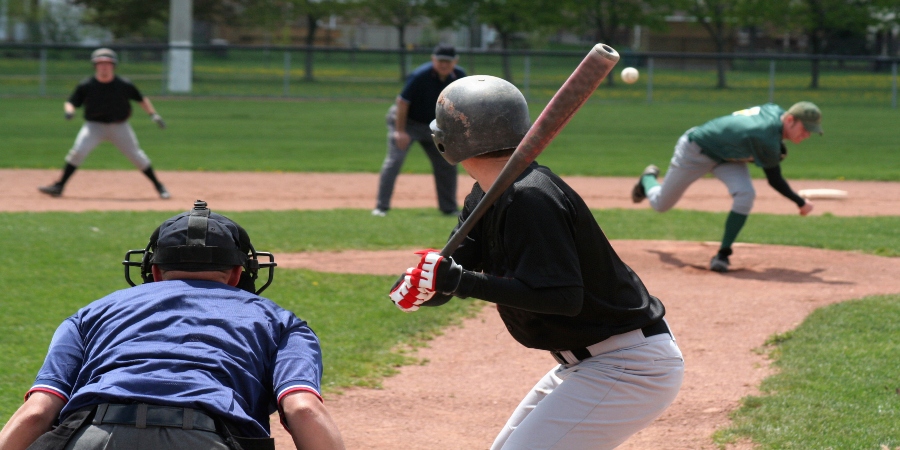 So to make it easier for you, we've come up with the following recommendations after having tested a mix of training aids. From batting tees to hitting sticks and more, we've covered it all and selected the top 16 that is suitable for any ability, any age.
Summary: Our Top Picks for the Best Baseball Training Aids
16 of the Best Baseball Batting Trainers in 2023
For the ultimate gear to help you or your youth player improve their batting skills, we've compiled the following list covering a mix of training needs and styles. We'll start off with a popular brand in the world of training gear:
SKLZ Hurricane Category 4 Batting Swing Trainer for Baseball and Softball
If your goal is to develop faster bat speed, power, and confidence, SKLZ Hurricane is a great option for all ages due to its adjustable features. As well as being easy to set up and store, it features a high-visibility-ball so players can focus better on the ball and improve their eye contact and reaction skills.
Also, this training aid can be used as a moving pitch stimulator (with different pitch speeds that players can choose from) or as a static batting tee. The non-slip 4-foot base allows the swing trainer to stay grounded indoors and outdoors and it features a steel frame for durability and stability.
Prohitter Batters Training Aid
For batters who want to improve bat speed, prevent bruises, and correct their grip technique, this Prohitters Batters Training Aid is one of the best options to go for. Made from durable materials, the device is worn around the thumb holding the bat.
Also, it is designed to fit both left and right-handed batters (and there are different sizes for adult and youth players so it fits perfectly).
SKLZ Hit-A-Way Portable Baseball Training-Station Swing Trainer with Stand
Ideal for both left and right-handed batters, this SKLZ Hit-A-Way baseball trainer is one of the best picks of this year for improving and perfecting young players' swing – and it can be used for solo practice or the entire team. A great feature of this training aid is how mobile it is, take it anywhere, and enjoy hours of practice.
As well as increasing power and improving batting average, the trainer will help with bat speed, muscle memory, and eye coordination. It's also perfect if you're on the go a lot, as the all-in-one design is easy to collapse, store and carry.
SWINGRAIL Baseball/Softball Swing Trainer
Perfect for all levels and ages (above 9 nine years old), the SWINGRAIL Trainer for baseball and softball is the ultimate stimulator to let players feel their swing. Using a breakaway guide strap, players receive immediate feedback and can make necessary adjustments.
This is ideal for anyone who wants to improve their posture, swing, bat speed, and power, whilst also learning how to position the body correctly when hitting. To help players even more, the set includes 15 instructional videos that can be viewed online.
SKLZ Hit-A-Way Batting Swing Trainer for Baseball and Softball
If a convenient, easy-to-set-up practice is what you're after, the batting swing training aids by SKLZ are best for mobility – all you need is a pole or tree and you can stimulate real pitches (without ever having to chase the ball).
Aimed at improving hitting consistency, hand-eye coordination, and stance mechanics, it can also be adjusted to suit different heights. Enjoy hours of practice wherever you are and with an easy focus on the attached yellow ball.
Rope Bat – The Ultimate Hitting System w/Smushballs – Baseball & Softball Swing Trainer, Training Tool, Batting Aid
For an innovative way to improve bat speed and body connectivity when swinging, this rope bat with Smushballs is one of the best out of there. Designed to suit all ages – from T-ball to professional teams, this complete hitting system will iron out any mistakes players make when hitting.
Included are 12 Smushballs, a downloadable hitting guide, a tote bag to make it easy to carry around, and a rope bat.
SKLZ Power Stick Baseball and Softball Training Bat for Strength
For players who want to increase their strength, this Power Stick Baseball and Softball Training Bat is one of the best training aids to go for. It features 30 oz. weight in the narrow diameter barrel which helps players improve power and bat speed.
In addition, this design is great for improving hand-eye coordination, so you can get a proper swing with plenty of power and direction behind it.
Flair Sports – 9 Pack Baseball and Softball Weighted Training Heavy Balls for Hitting and Pitching – Improve Power
Not only are these neon orange balls easy to see, but they also stimulate players' vision and improve focus. Being weighted, they're ideal for arm exercises, throwing, and hitting with more power, and they can be used anywhere since they don't travel far.
If a player isn't hitting or throwing correctly, these training aids balls will make it clear by not traveling a sufficient distance. Finally, if they become deflated they can easily be pumped back up using a standard pump.
SKLZ Hitting Stick Batting Swing Trainer for Baseball and Softball
This SKLZ Hitting Stick is great for one-on-one coaching, and the soft, comfortable grip handle makes it ideal for coaches to hold on to. Use this to improve swing mechanics and contact with the ball. Also, it's adjustable so it can be used for different baseball or softball drills or as a warm-up practice.
Insider Bat Baseball Softball Batting Swing Trainer Hitting Training Aid Tool Device
The Insider Swing Trainer Hitting device is suitable for all levels at any age, from little league to major league. Ideal for building muscle memory, this device will provide instinct feedback so they can quickly adjust and improve.
Whether you want to improve your swing, work on your technique or teach the basics of how to hit, this hitting trainer will offer durable, efficient practice, every time.
Blast Baseball Swing Trainer
Another fantastic way to improve your skills is to use a Swing Analyzer like this from Blast Baseball. Whether it's for little league or adults, this hitting and swing analyzer uses smart video capture which can be set in slow motion to really analyze every hit.
As well as being fun to use and informative with plenty of improvement drills, you can track players' progress and set goals to achieve.
Tap The Shoulder Tube
If you're suffering from a weak shoulder, or you just want to build-up strength and prepare yourself for throwing, this shoulder tube will do the trick. Using a rhythmic motion with counterweighted ends, the shoulder tube will either stretch or shorten the muscles.
Not only is this great for muscle building and strengthening, but it also increases flexibility and blood flow. Whether you want to use it as a warm-up or cool down, it's completely controlled by you and therefore easy to adjust according to your needs.
EASTON HITTING Training Stick | Baseball SoftBall | Ideal Hand Eye Training for Adults + Youth
Easton is known for their baseball gear and this continues into training products such as this hitting stick. These training aids are flexible and offer a texturized vibration dampening handle so there's little effect on hands.
Being 63″ inches in length, it can be used comfortably by youth and adult players who want to improve eye coordination, stance, bat control, and contact.
GoSports Baseball & Softball Xtraman Dummy Batter Pitching Training Mannequin | Practice Pitching Aid for Improved Accuracy and Safety
Developed by the pros, this XTRAMAN Training Mannequin offers players the chance to improve their accuracy, confidence, and safety awareness. As well as being reversible for left or right-handed batters, it's also life-sized for easy visibility and training.
The durable material of this mannequin is designed to withstand rogue pitches, and it can be used for all ages and levels.
Varo RAP Hittable Training Sleeve, 4oz, for Baseball (MLB Authentic) – Bat Protection – Live Batting, Extends Bat Life, Develops Swing Speed, and Reduces Vibration
The ultimate bat protection for improving swing speed and power, this Varo RAP Training Bat sleeve offers a sleek, comfortable experience due to its vibration dampening technology. In addition, the dispersed weight over the barrel and taper helps with control and power.
If that wasn't enough, this baseball bat training sleeve is constructed with durable materials and can be used on or off the field for all levels (recommended from ages 8 through to adults).
Line Drive Pro Trainer Baseball/Softball
To help players improve their swing mechanics, stance, and muscle power, Line Drive Pro has created these training aids that'll fit on any bat size. Suitable for all levels and ages, baseball and softball players can easily attach the lightweight cup to their bat in a matter of seconds.
This trainer is also great for leveling out swings and reducing early twists, whilst instant feedback is given to players so they can correct themselves when needed. Included is a mesh bag, velcro straps, and three practice tennis balls.
What are Batting Practice Tools?
Baseball training aids are essentially pieces of equipment that are designed to help you improve technique, increase accuracy, eye coordination, power, and refine your overall performance. They allow you to practice alone or with a team, and most are versatile so they can be used for adults or youth players.
Different training aids will be aimed at different positions within baseball and softball, for example, a pitching machine is ideal for batters to practice with, whilst products like the Tap The Shoulder Tube are designed for strengthening muscles and preparing them for play. Coaches might opt to use equipment like the best radar gun to keep track of players' performances.
What are Baseball Swing Trainers?
Baseball swing trainers are used to help players with their swing, speed, and contact with the ball. From a young age up to pro athletes, these trainers in their many different forms are ideal for improving hitting skills.
As well as a pitching machine, other types of swing trainers include using a stationary tee that players can practice hitting, with the best offering instant feedback and real-life experiences. Some of the best baseball swing trainers include the SKLZ Hit-A-Way Portable or the SKLZ Hit-A-Way Batting Swing Trainer.
Finally, other types of swing trainers include EASTON HITTING Training Stick and theRope Batting training which offer players a different type of batting experience that is aimed at improving skills and strengthening muscle memory.
Check This Out!
Benefits of Baseball Swinging Aids
The best baseball training aids offer athletes the chance to tackle their limitations, make improvements, and importantly, learn the techniques and skills required to play baseball or softball well. Here are some of the main advantages:
Save Time & Resources
Sometimes, no matter how great the coach is, athletes may struggle to learn a new technique or to push their skills to the next level. The best thing about training aids is that they offer easy, focused ways to improve baseball or softball skills, often saving a lot of time.
Improve Overall Performance
Training the muscles, perfecting stance and increasing power are just some of the benefits that come with using a training aid. When a player uses the best baseball aids continuously, they're embedding these skills and with time, their overall performance will improve.
Win Games
It goes without saying, improving the overall performance means more wins. This is one of the best ways to keep young athletes (especially) interested because they start to see for themselves just how much improvement they're making.
Sharpen Reflexes
Reflexes are an important part of baseball and any sport. Without working on reflex skills, players will struggle to make steady progress. As important as the technique is, there has to be a balance and reflexes need work – that's where training aids come in.
What Are the Considerations When Choosing the Best Baseball Training Aids?
When it comes to buying anything baseball related, from the best catchers bag to the best wiffle ball bats, it's important to know beforehand how you'll benefit from buying it. Take into account the intended use, the position you or your child plays, and also how much you're willing to spend.
Type of Training Aid
Not every training aid will suit every position or player. Typically, if you're a batter you'll tend to go for a pitching machine, or a net, whilst fielders for example will focus more on training gloves and balls.
As you narrow down your search, keep in mind whether the training aid is something you'll benefit from and whether it addresses the problems you want to improve.
Brand and Model
As you'll have noticed above, we've got a good mix of brands and models. It's easy to assume that only the top names in baseball create the best training aids, but ultimately it all comes down to quality and durability, which even some of the lesser-known brands offer.
Watch the Video Below:
Intended Use
What do you plan to use your training aid for? Is it purely for muscle memory and improving power? Do you want to learn how to avoid hitting weak ground balls? Or do you want something that will improve your stance and positioning?
Ask yourself these questions first, and it'll be much easier to determine the right aid for you. Other important considerations are whether you're buying for a team or an individual player, and where you'll primarily be using it (some equipment is better suited outdoors than indoors and vice versa).
Game Position
As mentioned, the game position is an important aspect when choosing your training aid. You won't benefit from buying training gear aimed at pitchers if you play the position of a batter.
Price
The price is another important element to consider . There's a wide range of brands out there all offering different prices, but it's crucial to go for quality where your budget allows for it. The picks we've listed above have a range to suit every ability and price range.
Final Thoughts
There's no doubt that with so many baseball and softball training aids available, it can be hard to narrow it down to the best option, but hopefully, the guide above will make the job a little easier for you.
Finally, your decision should be based primarily on what you need the training aid for, and how much time you're going to spend using it. If it's for intensive training, it's best to opt for high-quality gear that will last longer, rather than shelling out for something you'll hardly use.
Updated on